Resident's artistic endeavors explore nature and the inner workings of the brain
December 13, 2013 - 2:38 pm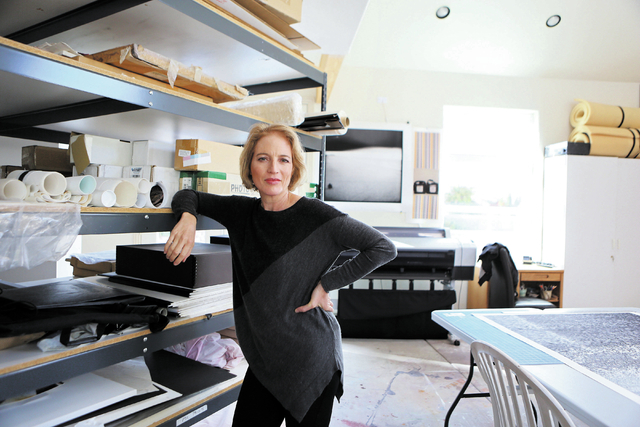 Linda Alterwitz is an artist by vocation and calling but an award-winning artist by choice.
The Centennial Hills-based visual photographer was recently handed a $5,000 fellowship from the Nevada Arts Council, an award given to two artists annually and one she has fallen short of twice in the past.
Alterwitz was thrilled — not, she said, because of the recognition but because of what the award means for the state of local art.
"This is the first year in which there has been two fellowships awarded in each of the arts categories," the Las Vegas native said. "It has usually been one for each category.
"That's a positive direction for the Arts in Nevada, to be sure."
The June award caps off a good couple of years for Alterwitz. Her work has seen recent stops at Las Vegas' Contemporary Arts Center and the Los Angeles Center for Digital Art. Some of it can also be found hanging in Mayor Carolyn Goodman's office and on display in City Hall.
Other pieces — including a series of thermal camera portraits revealing webs of human veins and orbs of radiant heat — featured prominently in Smithsonian magazine's October profile of the artist.
Years past haven't been so easy on the University of Denver graduate. A tumor discovered on Alterwitz's pituitary gland in 2010 immediately explained her three-year-old headache but took months of worry and hours of MRI scans before doctors figured it out.
The growth turned out to be benign, but the work it inspired, now on display at the Charleston Heights Arts Center, 800 S. Brush S., is anything but.
"It was just a difficult time in my life," Alterwitz said. "But it does make you think. In fact, that's what started this whole (exhibit).
"All of these pieces are about where science and art meet, but a lot of these pieces are also about coping, and this is my way to cope."
Alterwitz's work features shots of Santa Monica beach scenes overlaid by microscopic algae in a petri dish and X-rays of a dog's knee stitched together alongside a panorama of palm trees.
One piece features some of the dozens of MRI panels doctors shot of Alterwitz's brain during her cancer scare, overlaid by pictures of a cherry blossom tree in her mother's front yard.
Alterwitz said the exhibit aims to find an intersection between art and science, to develop a shared frequency between creativity and logic.
She counts the pieces among some of her most personal work.
"I'm fine now; my brain's working well," Alterwitz said. "Maybe that's the lesson I want to portray: It's not about getting ill; it's about how you deal with it."
Longtime friend and co-exhibitor Ruth Thomas has known Alterwitz since the mid-1980s, when the two shared a studio at Lady Lodge Arts Centre in Peterborough, United Kingdom.
Reunited at the Charleston Heights Arts Center more than three decades later, Thomas —who works with collage prints inspired by "unknown or overlooked" natural objects — said Alterwitz's work sits well beside her own.
"Her work was very different then, as was mine, but certain elements have carried through into later work," Thomas said. "Linda combines medical images of the body, scans, X-rays, parts of the body we are not able to view otherwise, with images of the external landscape. So we have that in common — bringing out what is normally hidden from view."
Thomas and Alterwitz's co-exhibit, "Inside Out: From Vegas to Wales," is set for display through Jan. 6 at the Charleston Heights Arts Center.
For more information on Alterwitz, visit lindaalterwitz.com.
Contact Centennial and North Las Vegas View reporter James DeHaven at jdehaven@viewnews.com or 702-477-3839.