Residents looking to battle it out over free-roaming livestock in rural preservation area
December 14, 2013 - 4:35 pm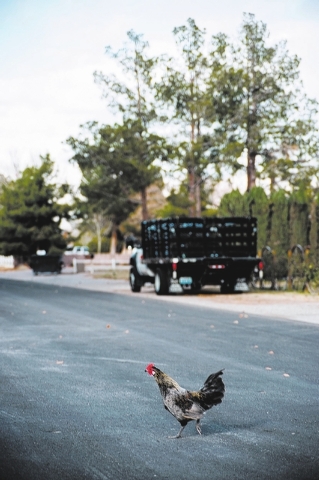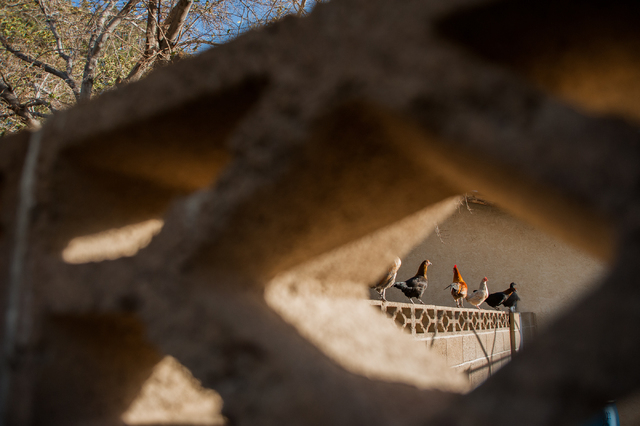 Eric Flo answered his door on the first knock, armed with a snub-nosed pistol.
"As you can tell, we're not anti-gun around here," Flo said, slipping the weapon into a nearby drawer, "or anti-animal, or anti-anything except when they're destroying property.
"We don't mind the horses or pigs or dogs; they're penned up."
It's the chickens that have Flo up in arms.
The 69-year-old North Las Vegas resident settled onto a half-acre in Desert Aire Estates, one of the city's only rural preservation areas, in July.
The six-square-block neighborhood, northeast of Decatur Boulevard and Alexander Road, is home to five animal rescues and untold dozens of horses, pigs, goats and chickens.
Within weeks of his arrival, Flo said, some of those chickens had already set to work destroying his front yard.
Not long after, he filed the first of what he suspects will be many lawsuits to keep the neighborhood's free-roaming birds off his lawn.
Flo, now retired, declined to comment on his former profession, which he said is still classified.
With that in mind, he doesn't doubt he'll have the resources to sue Desert Aire Estates' chicken-owning residents into submission, even if that means taking the whole block to small-claims court.
"There was nothing in the title paperwork saying that chickens in this neighborhood have the right to run all over the place or that the people living here have the right to disobey the law," Flo said. "I have my legal team working on it, and I have no problem pouring a lot of money into this.
"And to think, all this is over a bunch of chickens."
It's about more than a bunch of chickens to retired Metropolitan Police Department officer and 26-year resident Dan Holley.
Holley said Desert Aire Estates' chickens have never belonged to any one owner and, until recently, never attracted a whiff of interest from the city's Animal Control department.
For him, restricting their right to roam free threatens a whole neighborhood's way of life.
"Those chickens belong to nobody; they're not in a coop at night," he said. "They've been around since long before (Flo) got here, and they've just become part of the neighborhood.
"We're just fighting for our way of life. I can't tell you how much that means to us."
Holley, one of almost a dozen residents in attendance at two recent North Las Vegas City Council meetings, is spearheading attempts to change an existing city ban on chickens kept outside a "covered or fenced enclosure."
Desert Aire Estates residents have already succeeded in putting an informal stop to four-digit Animal Control citations in the area, one Ward 3 North Las Vegas City Councilwoman Anita Wood remembers fondly as a "great neighborhood," despite being attacked by a goose on her first trip there in 2001.
The neighborhood's chicken advocates can look for help from at least one other friend in high places: longtime Clark County Commissioner Tom Collins.
It's not clear what impact North Las Vegas' chicken ordinances might have on similiar restrictions in Las Vegas or Clark County, but Collins — who keeps a couple of bulls around the corner from Holley — looks to be in the fight for the long haul.
"I cannot remember a time since 1976 when roosters were not in that neighborhood," the District B commissioner told City Council members last month. "If you don't like that, move."
City leaders are looking into municipal code fixes that might better accommodate chickens on the rural preservation area, including measures that could reinstate earlier, more liberal livestock ordinances or exempt residents from existing chicken-related restrictions.
Residents hope to see the issue resurface on the City Council docket by the end of next month.
Contact Centennial and North Las Vegas View reporter James DeHaven at jdehaven@viewnews.com or 702-477-3839.