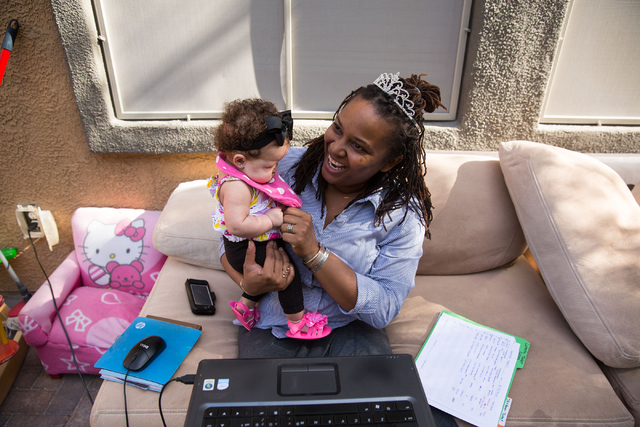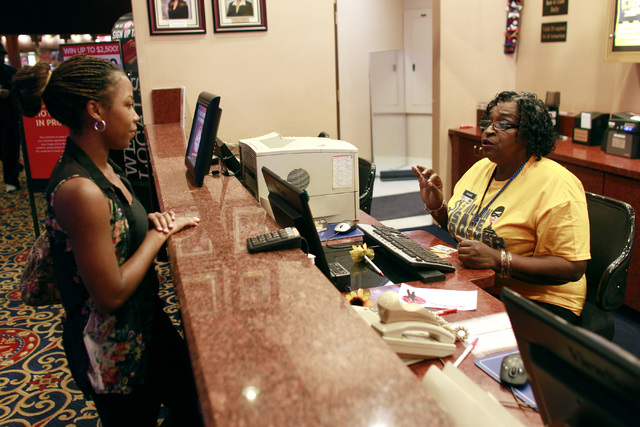 Once a year, people sit down with family and friends to reflect on their lives and count their blessings. This year, two northwest-area residents have a little more to be thankful for as they reminisce on their past and the turbulent journey that led them to find peace.
LIFE AFTER PRISON
LaTeefa Starks smiles as she fixes the tiara planted firmly on the top of her head.
"I wear it every day. It reminds me to keep my head up," Starks said. "After spending eight years in prison, I realized that life is really the combination of your choices. Just because you made one bad choice doesn't mean you have to make another bad choice."
Starks was charged with robbery and conspiracy.
"I fell in love with a young man who I thought was outstanding," Starks said. "For being with him and his friend at some point and time when they were committing robberies, I was charged as a principal."
At 26, she began serving a five-year sentence at the Florence McClure Women's Correctional Center and then three years at the Jean Conservation Camp.
After being released from the Jean Conservation Camp in January, Starks graduated from HOPE for Prisoners, a nonprofit that helps ex-offenders become productive members of society. She has since continued changing her life for the better.
"When I was in prison, I didn't let my new address denote who I was," Starks said. "I took advantage of every program and class that was offered."
Before going to prison, Starks said she was working as a Head Start teacher, taking care of her grandparents and going to church regularly.
During her eight-year confinement, Starks said she learned how to quilt, crochet and memorize Scripture. She also became a certified dog trainer, computer tutor and licensed minister.
Now she is enrolled at Lincoln Christian University in Illinois to pursue a bachelor's degree in human services with a minor in biblical studies. Last semester, Starks made the dean's list with a 3.75 GPA.
After working on the campaign for Brent Jones, who ran for Assembly District 35, Starks was offered an inside sales position at his company, Real Water.
"I used to be very closed off and very fearful because life has taken me on so many different roads," Starks said. "I was sexually abused from when I was 5 to 8 years old, and then my mother was murdered."
She continues to volunteer at HOPE for Prisoners and has aspirations to become a life coach.
"She is not letting her past define her future," said Jon Ponder, founder of HOPE for Prisoners. "She faced tremendous obstacles, but now she is doing phenomenal."
Despite having her apartment broken into and being involved in a car accident in June, Starks continues to see the positive in life and said she is thankful for every aspect of it.
"I'm grateful to have all of the people who have poured into my life," Starks said, "no matter what the circumstances were. Whether it was my co-defendants, my abuser or my mother's murderer, all of them helped make me the person that I am. I don't hold any grudges."
ESCAPING DOMESTIC ABUSE
Mayme Grant tears up when she recalls Sept. 29, 2013. That was the night her husband asked her to take a car ride with him, only to beat her senselessly.
"I think he planned it all out," Grant said. "We were riding down the street, and all of a sudden, he socked me on my head. I tried to get out of the car, but he grabbed a hold of me and started beating me. Then he threw me out of the car as it was rolling."
She said she sat bleeding and crying on a curb in the middle of a street in Sunrise for approximately 40 minutes as she tried to think of what to do next.
Around 3 a.m., Grant said a woman stopped her car to ask if she needed an ambulance.
"I just felt like I didn't want to live anymore," Grant said. "But the lady said the same thing happened to her. She said she knew where to take me to get help."
She drove Grant to the Shade Tree, a 24-hour accessible shelter for women, children and their pets.
Grant said her husband abused her for the last six years during their 30-year marriage, but she, like many others, believed he would change.
"It all started when I lost my job," Grant said. "My husband felt like he was taking care of everything. Then he started drinking. The bills were really straining him, and he took it out on me."
During her yearlong stay at the shelter, Grant was able to regain her self-confidence, work through her issues and receive job training, which helped her land a job at Texas Station.
After three months on the job, she advanced from promotion clerk to slot marketing representative.
Through the Shade Tree; Easter Seals Nevada, which helped pay for her work supplies; and Texas Station, Grant was able to save enough money to move into her own apartment.
Her family still doesn't know why she left her husband, but she said she plans to tell them on Thanksgiving.
"She's a tremendous success story," said Lori Nelson, spokeswoman for Station Casinos. "We opened the doors, and she has more than proved herself."
Contact North View reporter Sandy Lopez at slopez@viewnews.com or 702-383-4686. Find her on Twitter: @JournalismSandy.