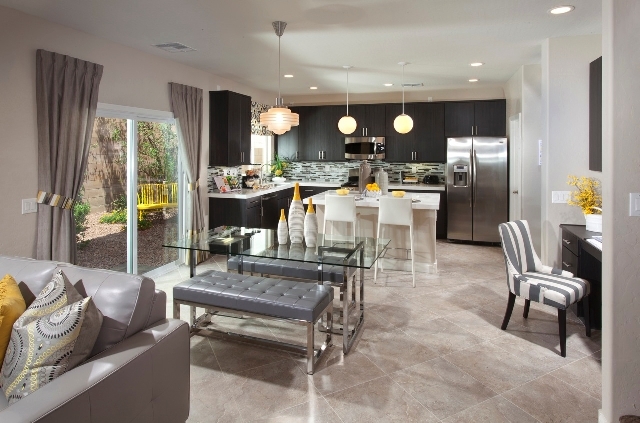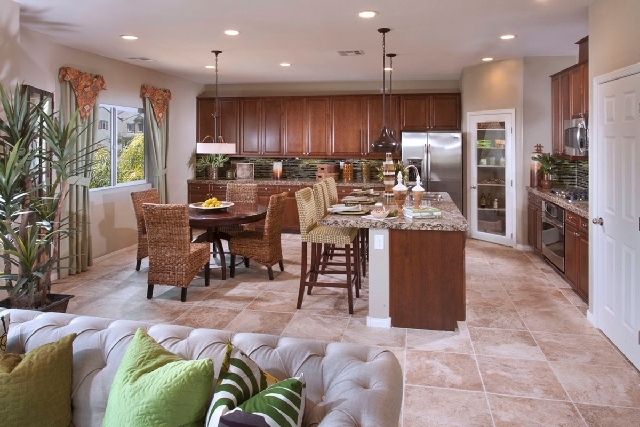 June was one of the hottest months on record in Southern Nevada, and Ryland Homes is helping its homebuyers cool off while saving money in energy-efficient new homes. This month, the specials sizzle right along with temperatures during Ryland's Summer Splash promotion.
"We are also celebrating Ryland Homes' recognition by the U.S. Environmental Protection Agency with a 2013 Energy Star Leadership in Housing award," said Desiree Van Leer, marketing director for Ryland Homes.
The award recognizes Ryland's contributions to energy-efficient construction and environmental protection.
"We have built 67 Energy Star-certified homes in the first half of this year alone," Van Leer said. "Collectively, they have already saved our customers more than $26,000 on utility bills and reduced 311,000 pounds of carbon dioxide.
The savings continues with the builder's Summer Splash promotion. "Every home purchased by July 31 will include a Wi-Fi-enabled digital thermostat and four ceiling fans. Our homeowners are staying cool without spending more this summer," Van Leer said.
Among Ryland's energy-efficient communities is Maravilla Vistas in the Mountain's Edge. Four two- and three-story floor plans range from 1,939 to 2,454 square feet and have as many as four bedrooms and 3½ baths.
"All of the homes at Maravilla Vistas are built with a radiant heat-barrier roof, low-e windows throughout and a thermostat on every level," said sales agent Mara Glaser.
Glaser said the collection also has a lower-than-average Home Energy Rating System score. "The average existing home has a HERS score of approximately 130, and a new home has an average score of around 100. Our homes average a 65 HERS score, which really shows how energy efficient they are."
At Ryland's Indigo at Hillside community, features include thermostats on every level, tankless water heaters and radiant heat-barrier roofs.
"When you have a home that is two or three levels, being able to regulate the temperature on each floor can be incredibly beneficial," said sales agent Bethann Frusco-Dumont. "You can adjust the temperature to wherever you are and to your own personal comfort level. It is one of the most popular features."
At the Monticello collection in the Providence, each home is built with a tankless water heater, radiant heat-barrier roof, low-e windows and a thermostat on every level.
"Low-e windows alone keep out 77 percent of ultraviolet rays and help save about 30 percent on monthly utility bills," said sales agent Shelly Strait. "The combination of these standard features really add up to great savings every month."
Nearly every Ryland Homes community in Southern Nevada is Energy Star-certified with features such as effective insulation systems, high-performance windows, tight construction and ducts, properly sized and installed heating and cooling equipment, and third-party verification of energy performance.
"These features not only help the environment but help your family budget with lower energy costs. Energy Star-certified homes save up to 30 percent in energy costs every month. That can amount to hundreds, if not thousands, of dollars in savings," Strait said.
Ryland Homes sales offices are open from 10 a.m. to 6 p.m. Sunday through Thursday and noon to 6 p.m. Fridays.
For information and directions to any Ryland Homes community in Southern Nevada, visit www.rylandvegas.com.