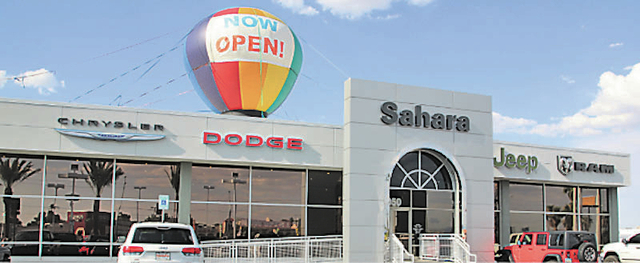 Sahara Chrysler Jeep Dodge Ram, a brand new dealership in Las Vegas, has changed the way customers go through the car-buying process.
According to John Grant, the store's owner, the staff at Sahara is not paid on commission. Most dealerships pay sales people on the profit of each vehicle transaction, but Sahara opts for a more customer-friendly process, he said.
"Our staff is paid on volume and customer satisfaction, we're 100 percent customer centric," Grant said.
He added, "Most compensation methods at dealerships are based on what a salesperson sells the vehicle for, and the profit. The higher the profit, the more the salesperson makes. However, not at Sahara."
Above all else, Sahara is more concerned with the customer's happiness during the car-buying experience, he said.
Grant added, "It doesn't matter what the selling price is or the profit is, our staff makes the same amount.".
Additionally, the Sahara Chrysler Jeep Dodge Ram business model is also based on a "one price store" approach, or as they commonly refer to it "no hassle pricing,: the cornerstone being no negotiation or haggling over the price.
"Every vehicle is priced well below retail pricing and that's the price everyone pays, or as we customarily say: 'Our price, is the price, and always the price.' "
Sahara also prides itself in not surprising customers at the end of the process with last minute add-on costs, he said. Everything is disclosed up front and in writing, he added.
"The back-and-forth game of negotiating ends up doing one thing — frustrating the customer," Grant said.
The Sahara process is first predicated on providing pertinent information to the customer. Within 30 minutes of a customer visit, the Sahara goal is to provide every customer with a free appraisal of their current vehicle, a top dollar offer for their trade, a "no haggle price" on the vehicle they're interested in, and an estimate of monthly payments if they choose to finance the car, he said.
The whole process is aimed at helping the customer buy a car, not just sell them a car, Grant added.
"Buying a car is a big decision and people just want to be treated right and want information to make a smart decision," he said.
With this in mind, when shoppers leave the dealership, Sahara takes the process to yet another level. Customers leave with an organized and tidy package to study, which even includes the factory invoice of the vehicle they're interested in. Customers can even comparison shop other dealers if they choose.
According to JD Powers &Associates, 78 percent of car buyer dislike the traditional way of buying cars. Therefore, Sahara Chrysler Jeep Dodge Ram is taking steps to turn that 78 percent into 100 percent satisfied customers, Grant said.
All practices and processes at the dealership also applies to preowned vehicles as well. In addition, every preowned vehicle at Sahara comes with a 24-month 100,000 mile warranty, he said.
Sahara is on 5050 W. Sahara, and can be found online at SaveOnSahara.com, by calling 702-479-2121, or emailing sales@saharaLasVegas.net.