San Martin hospital gets baby-friendly designation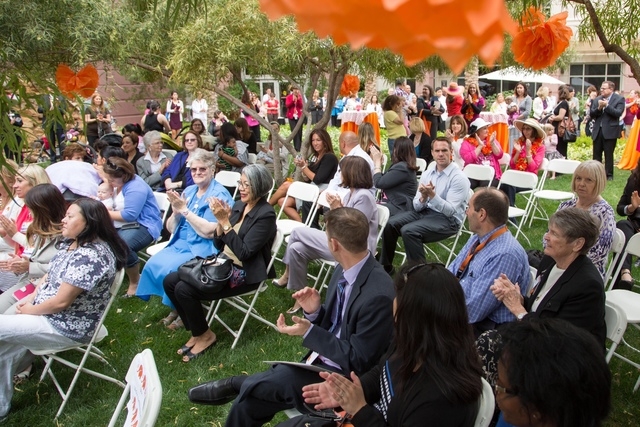 St. Rose Dominican Hospitals San Martin campus is devoted to improving the care of its littlest patients.
The facility, 8280 W. Warm Springs Road, was designated a baby-friendly hospital in May by Baby-Friendly USA.
The World Health Organization and the United Nations Children's Fund started the worldwide program in 1991 to reward and encourage facilities to offer high levels of care for infant feeding and mother-child bonding.
"It's a worldwide initiative, and it's becoming more and more the standard of care," said Lisa Melvin, labor and delivery manager. "It's one of those things that all hospitals are trying to do."
As of May 19, there are 181 designated facilities in the United States, according to Baby-Friendly USA.
"San Martin was the first facility to get the designation in Southern Nevada and second in the state of Nevada," said Karen Hartling, international board certified lactation consultant. "(Carson-Tahoe Regional Health Center) was the first in the state last year."
To become designated, the hospital implemented the program's 10 baby-friendly steps, which included helping mothers initiate breastfeeding within one hour of birth, practicing rooming in with mother and infant and training staff appropriately.
"All the nurses are required to take 15 classroom hours and five clinical hours out on the floor through the baby-friendly course," Melvin said. "Now our goal is to get all our nurses to become (certified lactation consultants) on top of the hours they have within the course."
Hartling said a few of the steps were difficult to implement because they required breaking old habits.
"We can no longer accept free formula from formula companies anymore," Hartling said. "We used to pass it along to the moms regardless of what feeding method they chose. Now we have to purchase it at market value and provide invoices that we're actually doing that."
Allowing babies and mothers to have skin-to-skin contact immediately after birth has also been challenging, according to Hartling.
"Babies go through nine stages of predictable behavior after they're born that are survival skills when they're born," Hartling said. "If babies get separated from mothers immediately, as they have over the years, we lose that window of opportunity for the babies to use their skills."
Skin-to-skin contact provides a bonding moment for mother and child and other physical and emotional benefits.
"It's not just the breast-fed baby that we want skin-to-skin, it's all babies," Hartling said. "It allows the baby's heart rate, breathing rate, temperature and blood sugars to stabilize. They become comfortable in their environment because, let's face it, it's like being stuck on a different planet for them."
The hospital worked for about a year to receive the designation, according to Melvin.
"Most of what we learned was brought over from our Siena campus," Melvin said. "We basically jumped on the bandwagon and learned from their mistakes and prior survey."
Melvin said the fact that mothers at the San Martin campus stay in the same room for labor, delivery, recovery and postpartum makes it easier for infants to room in and have uninterrupted skin-to-skin contact.
"Our process was a little ahead of the game because we don't move patients from room to room after they deliver," Melvin said. "Our nurses all do labor, delivery and recovery, as well, so that helps us quite a bit, too."
St. Rose Dominican Hospitals Siena campus, 3001 St. Rose Parkway Trail, Henderson, is set to be audited in September for the designation.
"I don't know if (the initiative) helps the hospital as much as it helps the patients," Melvin said. "It's about giving the patients, especially our littlest patients, the best start from the very beginning."
For more information, visit babyfriendlyusa.org or strosehospitals.org.
Contact Southwest View reporter Caitlyn Belcher at cbelcher@viewnews.com or 702-383-0403.