Sandoval's political action committee flexes fundraising muscle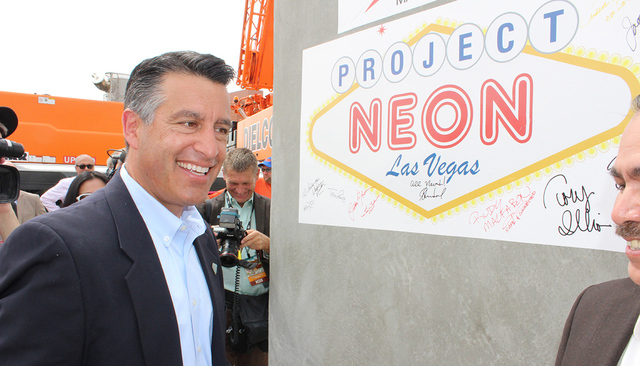 CARSON CITY
Gov. Brian Sandoval's political action committee raised $427,500 in the first five months of this year, showing the second-term Republican has fundraising muscle to flex.
"Not bad for a term-limited politician," said Eric Herzik, a political science professor at the University of Nevada, Reno. "That's a compliment to him."
Since its creation shortly after Sandoval assumed office in January 2011, his New Nevada PAC has raised $2.9 million to support Republican candidates and causes, reports filed with the secretary of state's office show.
His cumulative total outpaces the Nevada Republican Party Central Committee. While the state GOP raised about $700,000 in the first reporting period of 2016, Sandoval's PAC since its creation has eclipsed state party fundraising by $1.2 million.
The most recent contribution reports filed Tuesday with the secretary of state's office shows $315,000 — nearly half — of the Nevada GOP's 2016 haul came from the Republican National Committee, with the rest coming largely from small donors.
Sandoval's organization is fueled by large donations from corporate interests, including Nevada's biggest casino companies and owners, a national homebuilding trade group and a sports promotion company.
His fundraising success comes despite a rift with the grass-roots ranks of the state GOP opposed to a $1.5 billion tax package passed by the Republican-controlled 2015 Legislature to fund his budget and education agenda.
Republican critics paint Sandoval and other tax supporters as turncoats, and recruited candidates to run against incumbents who voted for the tax.
Sandoval pledged to help those GOP lawmakers who bucked the right-wing opposition to pass the tax package with the necessary two-thirds majority in the Senate and Assembly.
He's kept his word, endorsing candidates before Nevada's upcoming June 14 primary and padding their campaign coffers with donations from his PAC.
Sig Rogich, a Republican strategist, former ambassador to Iceland and consultant to former Presidents Ronald Reagan and George H.W. Bush, said Sandoval's fundraising was "impressive."
"People wouldn't support something unless they believe in the person who initiated it," he said. "So I give a lot of credit to the governor for putting together something that's become substantial and something that people believe in."
Herzik agreed.
Sandoval, now midway through his second and last term, is the most popular elected official in the state, he said.
"But many in the party run against Brian Sandoval," Herzik said. "They should maybe read these reports and realize Sandoval is the lead horse pulling the Republican wagon."
Contact Sandra Chereb at schereb@reviewjournal.com or 775-461-3821. Find her on Twitter: @SandraChereb