Scout's project documents stories of WWII veterans
September 14, 2013 - 9:50 am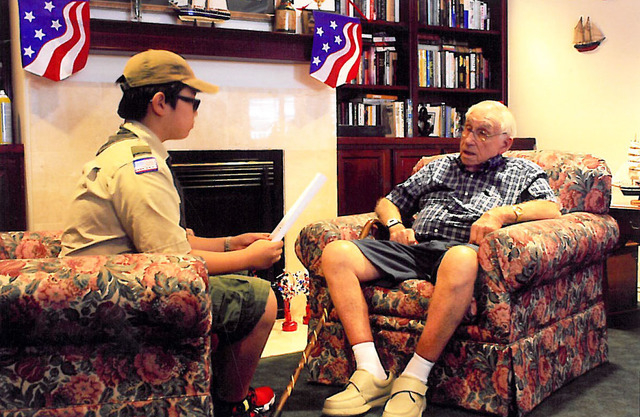 Some Eagle Scout projects build bridges over hiking trails or help renovate community facilities. Herbie Li, a 16-year-old who lives near Summerlin, had another idea, one that would have a historical impact.
"I was in history, and we're going over lot of World War II things," said the Las Vegas Academy student. "And I was coming (up on) my project, and I thought that I should do something on World War II. My grandmother found the website for the Veterans History Project, and I spent about two or three hours checking the other stories on that, and I thought, 'I should just do this one.' "
Mick Shepard is Scoutmaster of Boy Scout Troop 96. He said other boys had done Eagle Scout projects that required manual labor — cleaning graffiti off of walls, constructing raised beds at a community garden and clearing paths at national parks. Preserving the memories of those who were a part of history, Shepard said, was in keeping with Li's interests.
"It's unique and awe-inspiring," Shepard said. "I thought it was a fantastic idea because I have family members who were in World War I and World War II, and we should be able to pay homage to those who fought for our country and our freedoms."
Within three weeks, Li's proposal had been accepted by the Veterans History Project office.
The Veterans History Project of the American Folklife Center at the Library of Congress collects, preserves and makes accessible personal accounts of American war veterans for future generations. Congress created the project in 2000.
He contacted Atria Seville, 2000 N. Rampart Blvd., and requested permission to do the interviews.
Jill Ann Biondo, engage life director at Atria Seville, located eight male World War II veterans willing to be part of the project — Harold "Bud" Charlton; Leroy "Lee" Kusch; Raymond Sourd; Joseph Sparks; Edwin "Ed" Lewis; David "Briz" Brizzolara; Arthur Ouellette; and George DeTuerk.
Li gathered a crew to help him including his brother, Kirby Li; Christopher Potter; Sean Lee; Christopher Gaston; Mark McCrary; and Michael Guerrero. The interviews took place Aug. 14 and 15 at Atria Seville.
Biondo said the men were happy to talk to Li but not all of them understood what the project encompassed.
"Some of them answered the questions as briefly as possible. They didn't fully understand the purpose was to get stories," she said. "The first ones that were interviewed were gentlemen in their 90s and were in World War II. They are dealing with some short-term memory (issues), but their long-term memory was just fine. They knew the dates and everything. Some of them felt like, 'I have an opportunity to share these stories,' and I think they were flattered."
Li said he wanted to preserve such an important time in American history.
"I was hoping to get the personal stories of all these veterans, what they did during World War II," he said. "Some of them were in the Korean War. I was hoping to get their experience so that when other people went into the American Folklife Center, they could check all of the stories and see what they did and what they sacrificed."
While the men he interviewed did not sustain any life-threatening injuries, they all were injured in some way. One man lost his hearing from working in an environment that required constant shrill whistles. Another was sent to various hot spots —the Philippines, Africa and Japan — and was in charge of radio operations, which put him near the front-lines combat.
"He said it was pretty scary, but he was lucky that he didn't get (badly) hurt," Li said.
One veteran, Brizzolara, 75, joined the Navy at 17. He was assigned to a ship that was testing helicopter assaults. Brizzolara said this was the first time a teenager had asked him about his service. Not all of his recollections included war movements. While at Camp Pendleton in California, Brizzolara's commander made a bet with him over target practice.
"We were shooting for beer for the company," he said. "… I hit 10 bullseyes with 10 shots."
The commander, he recalled, didn't bother to shoot. Brizzolara said he and his buddies got plenty of beer that night, compliments of their commander.
Li said the veterans were forthcoming with their information.
"One of them told us that he was given three Bronze Stars from being in a plane crash with the general," Li said. "He saved three of the general's children, and he was given one Bronze Star for each child."
Just recording the stories on camcorder was not the end of things. There was official paperwork, about 10 hours worth. He burned individual stories onto a DVD. By mid-August, everything was mailed to the Veterans History Project of the American Folklife Center. The project will be entered into the Library of Congress.
As for Li, he plans to attend the University of Oregon and be part of its ROTC unit. He also plans to make the Army his career and hopes to be in the Stryker division.
Contact Summerlin/Summerlin South View reporter Jan Hogan at jhogan@viewnews.com or 702-387-2949.