Scuba diving classes offer to take residents off the deep end
February 26, 2015 - 2:00 am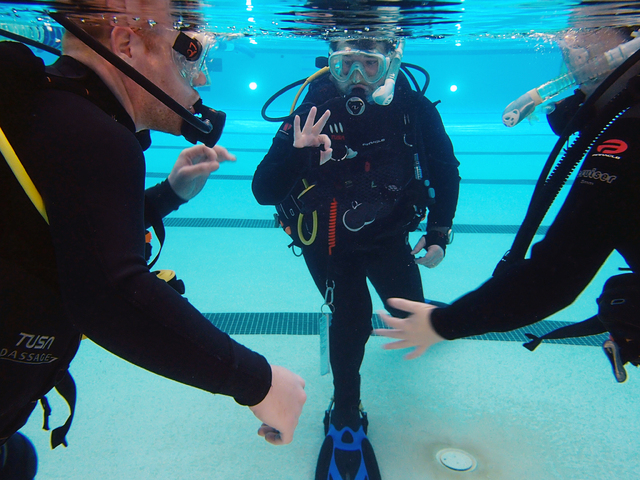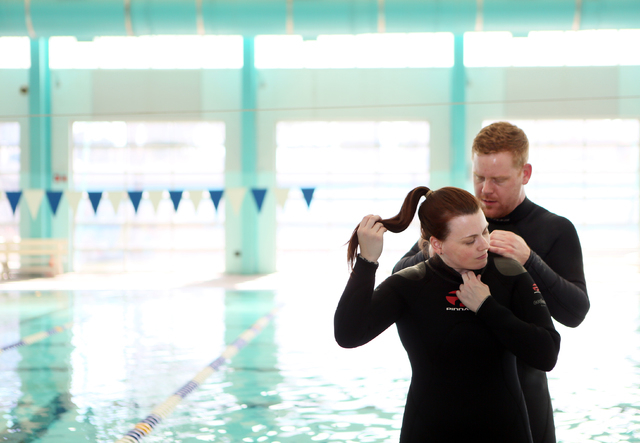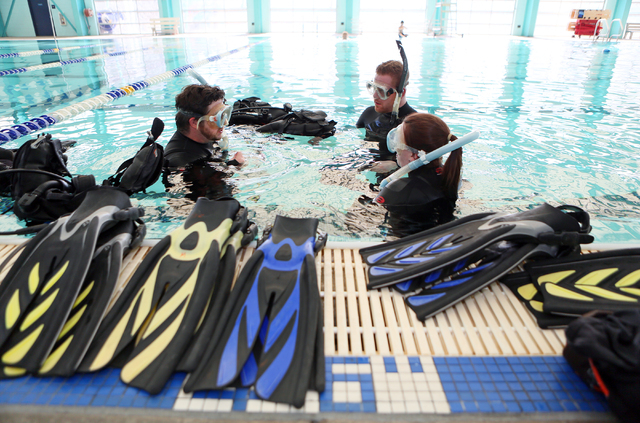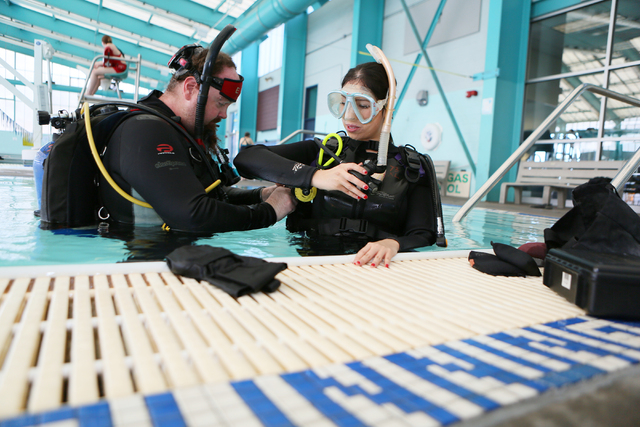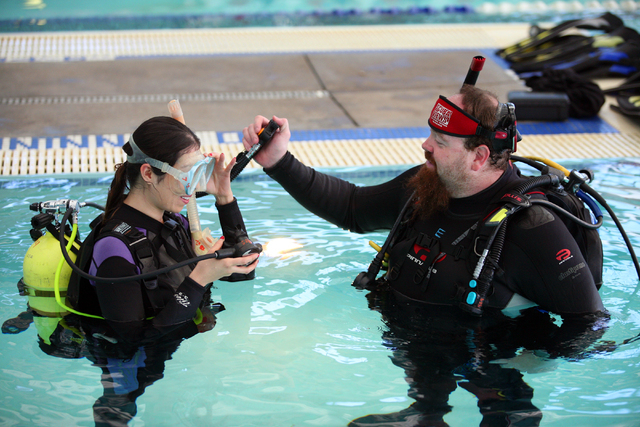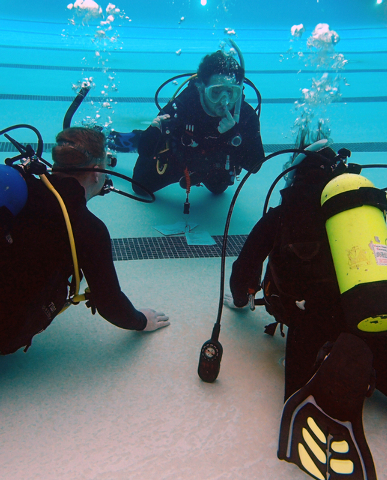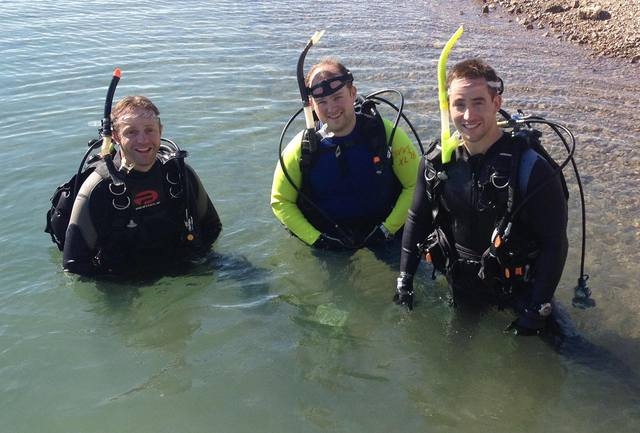 Before taking my first introductory lesson, scuba diving inside the Las Vegas Municipal Pool seemed like an easy task.
After experiencing sky diving a few years back, I thought nothing could beat the fear of jumping out of a plane. But once I dive into the shallow end of the pool, I soon feel an anxiety about breathing under water. My instructor, Eric Duckro, said it has to do with the panic button implanted in our subconscious that is designed for our survival.
"As long as scuba diving is done properly and safely, the experience should be nothing short of enjoyable and fun," Eric said. "Statistically speaking, scuba diving is safer than bowling. Movies about sharks cause most people to fear scuba diving and worry."
Eric, an instructor at Scuba Views, has me go through a series of skills, such as mask clearing, equalizing and emergency air sharing, before we swim our way to the deep end of the pool.
His father Bill Duckro is a professional scuba diver and instructor having made more than 7,000 dives. As the general manager and owner of Scuba Views, Bill relocated the shop to North Las Vegas in November.
Scuba Views started out as a television show on recreational diving that ran from 1999 to 2009. Bill hosted more than 100 episodes during the show's 10-year run. The store opened in 2006.
"The whole point of the show was to show people what it's like to go out on a dive," Bill said. "Even today, some T.V. shows use old clips of me for the filler. I've had several customers come in and say that they just saw me on T.V."
Before turning his hobby into a career, Bill worked as a chief of police and a minister. He performed weddings at the Excalibur hotel for 17 years and said he has married approximately 30,000 people.
Bill learned how to dive at 51 after being pressured by his brother to go out on a dive during a cruise.
"I remember feeling anxious, but because of that experience, I've been very good at dealing with people and their anxieties," Bill said. "When you're under water for the first time, your subconscious tells you that you can't breathe under water. It can be a very scary feeling."
Eric soon followed in his father's footsteps.
With approximately 700 dives, Eric said he learned the hard way about the importance of equalizing, or ear clearing, when he blew his eardrum during his early years of diving.
Regardless of his experience, Eric said scuba diving has similar risks as any other sport. The key is to practice to get comfortable with the techniques and skills.
"Every customer we receive is a gift," Eric said. "It doesn't matter what their age is; we can teach them how to dive at their own pace and help them feel comfortable under water."
The store achieved the Professional Association of Diving Instructors 5 star instruction development center status, placing it in the top 20 percent of all dive shops nationwide, according to Bill.
The store offers an open water scuba diver course for $379, an advanced scuba diver course for $350, a rescue diver course for $399 and a dive master course for $595.
In addition, an emergency first response course is offered for $145 where participants learn primary and secondary care, care for children and CPR and automated external defibrillator courses.
Bill said the most popular course is the open water diving class, which takes students to Lake Mead.
Divers are loaned masks, fins, snorkels and tanks, among other gear, as part of the courses. They are also given scuba diving introduction booklets to study and take home.
Those who want to pursue dive master status can continue to take experienced and specialty courses.
Levi Henley was a customer before becoming a professional diver and instructor at the shop.
"It was one of those things that was always on my bucket list," Henley said. "I took the plunge and just fell in love with it. Under water, there are no cellphones, and you can't talk to anyone. It's the ultimate disconnect."
Dive meetings are also scheduled at the store at 6:30 p.m. on the first Thursday of every month.
"Scuba diving is a fantastic thing to do," Bill said. "You have the opportunity to see things that not many people will ever have a chance to see. I've gone swimming with a 17-foot tiger shark, manta rays and have taken trips all over the world."
For more information, visit scubaviews.com or call 702-645-0516.
Contact North View reporter Sandy Lopez at slopez@viewnews.com or 702-383-4686. Find her on Twitter: @JournalismSandy.