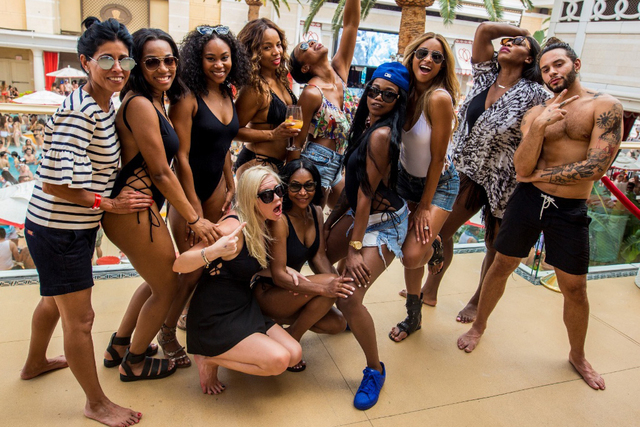 Serena Williams lay down on her elegant Las Vegas suite bed, held a phone over her head, and gave the hotel constructive criticism via video.
"It really grinds my gears when I go in a hotel room, and the music is playing. I don't want to hear the music. I just want to be in peace and I want to be quiet," the soft-spoken tennis hero said.
Williams put on a one-piece swimsuit and danced a sexy twerk in her mirror, one hand between her thighs (coy, not raunchy) while a rap song grooved, "She liked to do the freaky thing when she come around."
How do I know she did these things?
She posted the videos on Snapchat. What's more, we have posted a video of these Snapchats with my column online.
Williams was here this weekend for what everyone assumed was a bachelorette weekend for singer Ciara, who's engaged to Seattle Seahawks quarterback Russell Wilson.
Williams, Ciara, singer Kelly Rowland and other friends arrived at the Wynn-Encore on Friday, saw "Le Reve — The Dream" that night, danced in unison on camera at Encore Beach Club on Saturday in a balcony bungalow, then dined at Wynn's Lakeside restaurant (Maryland crabcakes, filet mignot, dessert).
At Encore Beach Club, while Zedd DJ'd to a packed crowd of very happy revelers, Williams ran into Brazilian soccer star Neymar, so the two athletes made an Instagram photo moment.
In other words, they had adult Las Vegas fun. Although, Ciara has said one of the things she likes about her fiance is that he is a God-fearing man, so this outing appeared not to register on the debauchery scale.
In fact, Williams' friend Val Vogt had some work to do, while Williams shot video in a room.
"So Val booked a flight to Manchester," Williams Snapchatted. "But it's Manchester, New Hampshire, not London. She's working on changing our flight."
Summary: Constructive criticism, twerking, friends — match, set, love.
$2,651 RIDE
That was the winning auction bid an unidentified adventurer paid to Sundance Helicopters for two seats on a chopper scheduled to hover over the Strip early Tuesday morning to watch the Riviera implosion from the sky.
TIMING
Comedian/actor Bob Saget took his girlfriend Kelly to see "Absinthe" at Caesars Palace on Sunday night after Tweeting this joke:
"I am a really good lover. I have been told that by all the women who have left me."
Saget was in town celebrating his 60th birthday with "Full House" comrade John Stamos and comic friend Jeff Ross. Saget turned 60 on May 17.
On Sunday, Saget and hip hop musician T-Pain joined DJ Dillon Francis' DJ booth in the Wynn's XS nightclub.
FAMOUS IN BRITAIN
Some actor named Mark Wright from some British scripted reality soap called "The Only Way is Essex" (aka "TOWIE") partied with bros over the weekend at Drai's Beach Club, while his wife, actress Michelle Keegan, is on location in South Africa filming BBC's "Our Girl."
Or as the London Mirror sensationally reported this story, next to scads of pool photos, the "hunk" was "on the phone for an hour" with his wife, "and some of the lads were going mad," because he wasn't "getting into the spirit of things" while surrounded by women in bikinis in Las Vegas.
British tabloids are unbeatable.
SELF-PROMOTION
I'm competing against TV newsers Beth Fisher and Dave Hall in a pizza-making contest at Trevi in the Forum Shops at Caesars at 1 p.m. Wednesday.
I won this contest last year, with the $500 prize going to the cat sanctuary Poppy Foundation, because I like cats.
This year, Fisher is playing for Hope for Prisoners, Hall is cooking for Families for Effective Autism Treatment, and I'm sticking with felines again by playing for the Cat Coalition of Clark County.
Our exquisite judges are Paris hypnotist Anthony Cools and Luxor "Fantasy" cast members.
SIGHTINGS
Saturday night, Neymar, the Brazilian soccer star, met DJ Calvin Harris at MGM's Hakkasan nightclub.
Perez Hilton gobbled what he called on Twitter "The best macaroni and cheese in years" at Beauty & Essex in The Cosmopolitan hotel on Saturday. At a different table, Pauly Shore dined with "Jersey Shore's" Vinny Guadagnino.
And Chris Funk of SYFY's "Wizard Wars" and CW's "Fool Us" saw Murray SawChuck's Planet Hollywood show.
Tagline: Doug Elfman can be reached at delfman@reviewjournal.com. He blogs at reviewjournal.com/elfman. On Twitter: @VegasAnonymous