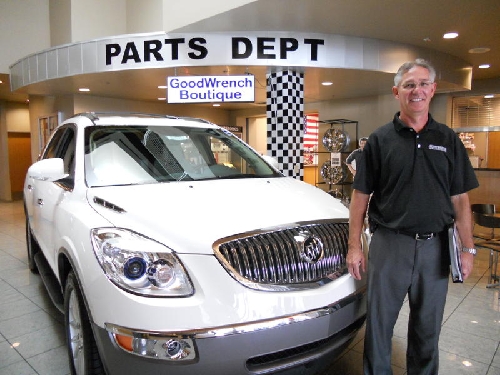 General Motors Corp. is creating an excellent future with new product and new incentives solidifying its position as one of the country's strongest automobile manufacturers, according to Bill Buckley, service manager at Centennial Buick GMC Mazda.
And in the same breath, the Japanese automaker Mazda adds yet another quality product line that makes the Buick GMC Mazda dealership in the northwest a perfect fit both for those looking for either new or used vehicles or quality service.
The 50-year-old Buckley, a native of Huntington Beach, Calif., and 24-year resident of Southern Nevada, is certainly considered an expert in the business with 32 years of experience. He started as a tire buster in 1979 with Goodyear in Southern California, moved into the car business as a service adviser in 1988 and moved to an executive position in 1995.
In each case, the vehicles are highly respected by Buckley.
"In more than any other case, GM will bend over backwards to take care of its customer," Buckley said. "The company has something called 'customer enthusiasm,' which takes care of the customer at all costs. If that car owner is a loyal customer, GM will assist in after-warranty repairs up to two years or 24,000 miles. There are many others things GM will do at no cost to the customer.
"In short, GM has gone the extra mile to make everything work. There is no better example of an all-American product than GM."
And in the northwest valley, customers now have the ideal package.
"We have an excellent combination of offerings for both service and sales," said Buckley of the location at 6501 Centennial Center Blvd. "When you combine the three lines with the location, there is not a better setup, especially considering the future of Southern Nevada. We are definitely going in the right direction."
However, also key to making vehicles live longer, especially in a climate as challenging as Southern Nevada, is the fact that automobile owners need to be cognizant of continual service. In the case of the Centennial dealership, work can be done on any GM product including Saturn, Hummer, Pontiac, Cadillac, GMC and Chevrolet.
"Anyone with a GM product is more than welcome to visit us here," said Buckley. "It's kind of like the television commercial. You can pay me now or pay me later and it's much cheaper to pay the lower prices for service than it is to be stuck with major repairs.
"No matter what the manufacturer, take care of your vehicle. It's like everything else. The better you take care of it, the longer it's going to last."
Centennial Buick GMC Mazda is part of the Super Store Auto Group. The dealership is headed by General Manager Jan Sheinfeld.
Further information can be found by calling 951-8200 or visiting
www.centennialbuickgmc.com.