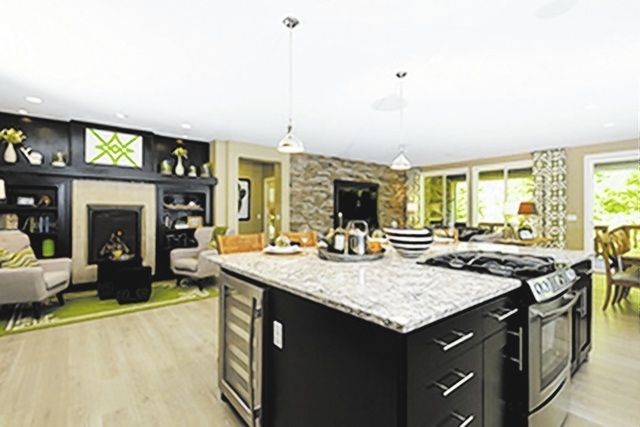 When buying a new car, they call it "kicking the tires." When trying something cautiously for the first time, "dipping your toe in the water" was more apt. Now "getting your shoes dirty" is the new phrase to describe Shea Homes at Ardiente's "Dusty Shoe Tour" showcasing Shea3D model homes.
From 11 a.m. to 2 p.m. today, homebuyers will have a chance to preview this patent-pending model before it officially debuts April 5.
Shea3D takes home design and homebuilding to a new dimension. It lets homeowners incorporate one of three interchangeable lifestyle-driven spaces into each floor plan.
By choosing Kitchen-, Outdoor- or Entertainment-centric spaces, customers enjoy customization in designing the home of their dreams based on what aspect of daily living is most important to them.
The new Refresh Shea3D design at Ardiente features an Entertainment-centric living space with an open, spacious floor plan equally suited to informal and formal entertaining.
"This particular model is ideal for our lifestyle here at Shea Homes at Ardiente because making friends and engaging with others is the heart of our community," said Kyle Tibbitts, general manager. "Our entertainment-friendly Refresh Shea3D plan is the perfect place for you and your guests to socialize, whether you're enjoying a neighborhood potluck, spontaneous game of charades or upbeat karaoke night."
While on the Dusty Shoe Tour, visitors can experience Ardiente's amenities specifically geared for those who want to pursue their passions, connect with others and embrace luxurious desert living.
Ardiente's 20,000-square-foot Club features two resort-style pools, state-of-the-art fitness center, lighted tennis courts, bocce courts, chipping and putting greens, billiards room, game room and business center.
All homes in the Shea Homes at Ardiente community are also eco-friendly and sustainable, thanks to construction as SheaXero — No Electric Bill Homes.
These intelligently designed homes come standard with a large solar power system and 14 energy-saving features that include Whirlpool Energy Star appliances and Trane energy-efficient heating and cooling systems.
This effectively eliminates monthly electric bills while affecting the community's environmental footprint.
Ranked the third top-selling community in Southern Nevada, Shea Homes at Ardiente is at 5840 Summit Greens in North Las Vegas.
Those taking the Dusty Shoe Tour should wear closed-toe shoes and will be given hard hats to ensure their safety. Call 877-298-4272 for reservations.
For more information, visit trilogylife.com.