Solstice buyers rate Pardee a 10
August 25, 2012 - 1:06 am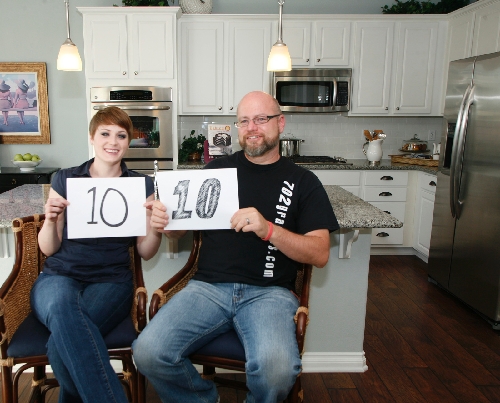 At the end of their first year in their first home, Courtney and Steven Moll have given Pardee Homes a perfect 10 in a year-end survey conducted by Eliant, a national consumer research company.
The Molls, who bought their home in Pardee's Solstice neighborhood in Aliante, said although they were "stressed out" at the idea of buying a home, the process was "completely smooth," from financing to choosing design options, according to Courtney, who also grew up in a Pardee home.
"Pardee is probably the best builder in Las Vegas," Courtney Moll said, "The finishes are more luxurious, like standard granite in the kitchen. It looks like you a paid a lot to get that look. We think we received the most value for our money."
The Molls bought a single-story Plan One residence with 2,337 square feet of living space.
"No space went to waste," Courtney Moll said. "We've got a huge pantry and huge closets, even in the guest rooms."
Her favorite room is the kitchen, where the double oven and ample counter space made her want to start baking.
What Steve Moll said he likes most about their home is the three-car garage, and that "it makes her happy."
Extremely happy, according to their responses in the Web survey: "Extremely happy with the quality of our home; I don't worry at night about what is going to break next; Love the bathroom countertop upgrades; Our energy costs compared to the home we were in previously are about equal, however, our previous home was half the size, so we are very pleased with all the energy-saving features Pardee offers as standard in their homes."
Other homebuyers also give Pardee top scores in customer satisfaction surveys. Pardee Homes in Las Vegas achieved first place in customer service experience and design selection experience, confirming the company's reputation as one of America's top builders, Eliant founder and CEO Bob Mirman said.
In addition to their Pardee home, the Molls also like living in the Aliante master-planned community in North Las Vegas where they enjoy walking their three dogs in the nearby parks, going to movies, restaurants and shopping.
"Everything is right here," Courtney Moll said.
The gated Solstice neighborhood features four floor plans that range from 2,337 square feet to 3,959 square feet with as many as seven bedrooms. Home prices start at $239,450.
To visit from the Las Vegas Beltway, exit at Aliante Parkway and travel south. Turn left onto Nature Park Drive and follow the signs. All sales offices and model homes are open 10 a.m.-6 p.m. Tuesday through Sunday and 11 a.m.-6 p.m Monday. For more information, visit www.pardeehomes.com or call 702-604-3332.