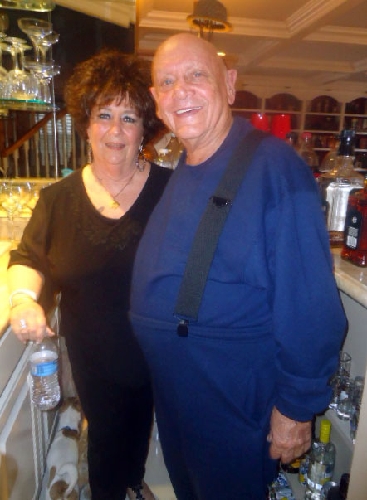 The trauma of losing a spouse is never easy to overcome. Valentine's Day can be especially tough.
Temple Beth Sholom, 10700 Havenwood Lane, hosts a bereavement group twice a month. Here are the stories of attendees who found love again:
'IT FELT RIGHT'
Allan Bergman grew up in Brooklyn, N.Y., and met his wife, Iris, one summer when he was 11. They married soon after high school and raised two children.
Iris' health deteriorated. The last few months of her life were particularly hard —- hard to breathe and hard to walk. She died in December 2009, less than three years after the couple had moved to Las Vegas. They'd been married nearly 43 years.
"I didn't want to lose her, but as I look back at it, thank goodness she's out of her misery," he said.
He went home to a quiet house where, everywhere he looked, he saw signs of their life together. He said it got to be too much, and he gathered up her belongings and got rid of them.
"I missed the little things, just having her there," he said. "I was so lonely."
He tried an online dating service but had little in common with the women he found. His housekeeper suggested he date a client of hers and handed him a note with "Claudia" written on it and a phone number.
He called and set up a lunch date. Bergman said he found Claudia to be easygoing, a nice person with a career in nursing. It didn't hurt that she was pretty. Within a week, they had their second date.
It took a while to get used to seeing someone again, he said, but it also felt right. A year after he lost his wife, he asked Claudia to marry him. She said yes.
"My wife's father, when his wife died of ovarian cancer, he remarried, like, five months later, and I thought at the time, 'How terrible,' " he said. "But now that it's happened to me, I understand. I understand the loneliness."
He and Claudia were married in April 2011. What's his advice for those who are widowed and longing for companionship?
"Keep looking," he said. "There's somebody out there."
'I DIDN'T 'NEED' HIM. I WANTED HIM, BUT I DIDN'T NEED HIM'
Ruth Krasnitz lost her husband, Randy Rannazzisi, to cancer about five years ago. They had been married nearly 50 years and raised three children. Randy was in poor health for the last years of his life, but Ruth was always there for him —- assisting him out of the car, securing his oxygen bottle and seeing that he was comfortable and well-fed —- until the end.
"I lost my friend; I lost my companion," she said.
Complimented for her steadfast devotion, she said it was never a burden.
"Wouldn't anyone do that," she said, "for someone they loved?"
After his death, she realized how Randy's dependency made her stronger, more self-reliant. But those traits, combined with her shyness, meant she didn't see a need to date. Ruth did, however, attend meetings for those recently widowed.
Then Ruth had a health scare. Tests before undergoing a hip replacement determined that her heart was not strong. There was a chance she might not make it through the surgery. She said it was a turning point.
Once recovered, she was determined to start living a little. She accepted a date from Morrie, a widower from the group, and recalled getting ready for that first date.
"I felt like a teenager again, not that I looked like one, but the shyness, the excitement of being a young girl again" was there, she said. "You'd think that I'd never eaten out in a fine restaurant or gotten dressed up. It was all very exciting."
One date led to another. They were married soon after.
She said there was some guilt associated with dating again, but she had to rely on herself. She uses positive affirmations to guide her life.
"I meet women who say, 'You're so lucky,' but I think I attracted that into my life," Ruth said. "I didn't 'need' him. I wanted him, but I didn't need him."
THOUGHT OF GOING OUT WITH SOMEBODY ELSE 'A LITTLE
NERVE-RACKING'
Sandra Gersh met her husband, Allen, of 48 years, when they began carpooling to work. They married and had two sons.
Three years ago, Allen was hospitalized with a brain aneurysm followed by a stroke, and he died. Sandra said it was sudden and devastating.
"I was very hard for me to come home after the (funeral)," she said. "The house was very dark, very quiet."
She learned to leave a light on and have the TV on so she wasn't greeted by numbing silence.
"He did everything for me," she said. "He took care of finances, everything. I tell this to people, and they don't believe me, but it's true: I didn't even know how to pump gas."
Her son showed her how to fill her car and how to balance her checkbook.
"I thought I was doing OK, and then, about six months later, I went to my friend's house for a party, and there were all these couples, and I had a meltdown; I just lost it," she said.
A song playing hit her especially hard, she said. Her friend suggested she attend the bereavement group.
Re-entering the dating scene was "scary," she said, "because you haven't been with anybody but your spouse. The thought of going out with somebody else was a little nerve-racking, and I thought, 'How are the kids going to be with this?' Then I went, 'Wait. I don't have to ask permission.' "
Her steady companion for the past two years has been Jerry Rubin. He lost his wife, Annette, to cancer in August 2010. They were married 55 years and raised a son and a daughter.
The first three months after her death were the toughest, he said.
"I felt there was nothing for me to live for anymore," Rubin said. "I wasn't suicidal or anything, but I felt life (held) nothing for me."
After a few meetings at the bereavement group, his comfort level moved up, and the sadness lessened its grip.
He and Sandra began talking on the phone every day, what he called "telephone dating." After the unveiling ceremony for Sandra's late husband, he asked her out. The unveiling, a formal monument dedication, is performed up to a year after internment.
"Annette and I, before she ever got ill, made a vow to one another that whoever goes first, the survivor one should move on with their life and not mope around," Rubin said. "I always thought I'd be the one to go first."
They dated a long time before deciding to go steady. While they are dating exclusively, Sandra maintains her home in Aliante, and Jerry has his home in Summerlin.
"I'm 80. Sandy is younger. I tell people, she's my 'trophy,' " he said.
Contact Summerlin/Summerlin South View reporter Jan Hogan at jhogan@viewnews.com or 702-387-2949.
Support groups
— The Temple Beth Sholom bereavement group schedules its meetings at 10:30 a.m., usually on alternating Wednesdays, at 10700 Havenwood Lane. For more information, call 702-804-1333.
— The city of Las Vegas offers the Grief and Loss Support Group for seniors 50 or older from 9 to 10 a.m. the second and fourth Tuesdays of each month at the Centennial Hills Active Adult Center, 6601 N. Buffalo Drive. For more information, call 702-229-1702. Advance registration is not required, and attendance is free with a current annual $2 senior membership.
— Divorced & Widowed Adjustment Inc., a nonprofit organization, offers free divorce support groups, bereavement, grief and loss support groups and pet loss support groups. For more information, call 702-735-5544 or visit info4nv.org.