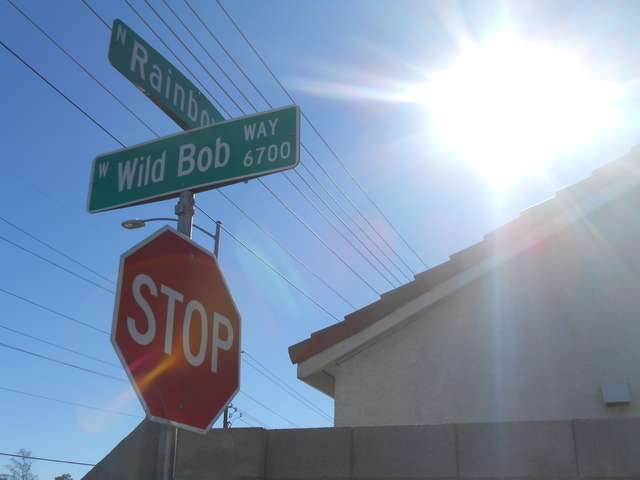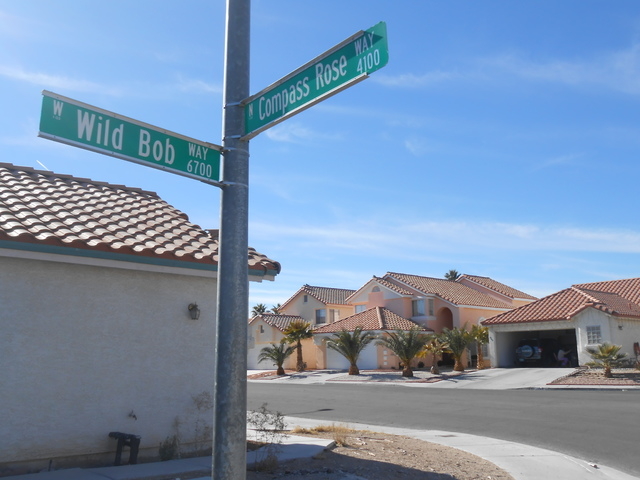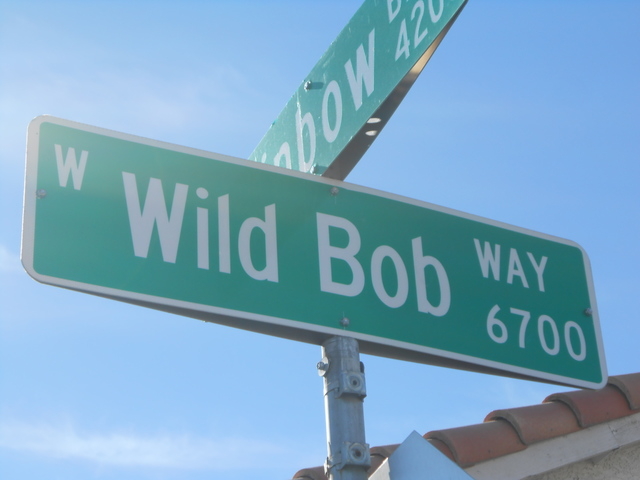 Wild Bob Way, like so many streets in Centennial Hills, remains something of a mystery.
The provocatively named stretch of asphalt south of Santa Fe Station is a block long, barely more than a residential bend off North Rainbow Boulevard.
Built in the early '90s and home to three residences, Wild Bob has long since disappeared from the city of Las Vegas' radar, if it ever surfaced in the first place.
City spokesman Jace Radke said he couldn't dig up even a passing mention of the road in the city's archives.
Clark County property records indicate the road was built and dedicated in the early '90s, part of a larger subdivision owned by the long-since-dissolved Rancho Classic Limited Partnership.
Henderson-based partnership owner Eric Horn could not be reached for comment.
Wild Bob is surrounded by streets named for flowers — North Begonia Court and West Delphinium Avenue — and six residential drives with a maritime theme.
Its closest kin, at least in terms of a namesake, is West Roy Rogers Drive, a three-block-long strip built by another developer on the other side of Rainbow Boulevard.
Clark County Museum Administrator Mark Hall-Patton said it's strange for a road as young as Wild Bob to fall outside an established pattern, especially in a newer neighborhood.
Hall-Patton, an area historian and author of a book on local street names, said there's no Wild Bob in Las Vegas lore that stands out as an obvious candidate for the honor.
More likely, he said, the road was named for a friend of the developer.
"A lot of those newer streets are thematic," Hall-Patton said. "Looking around, you've got only got Roy Rogers (Drive) and Ouida (Way), which must have been named for the late-19th century novel.
"Otherwise, there's nothing thematic going on. … If you can get a hold of the plat map, it wouldn't surprise me to see a Bob on there somewhere, a guy the builder might have known."
Ambiguously named streets such as Wild Bob, while annoying to historians such as Hall-Patton, at least leave themselves open to residents' own, often colorful interpretation.
There are a number of notable Wild Bobs one could count as the road's possible namesake: the cheerfully insane Army officer in Kurt Vonnegut's classic "Slaughterhouse Five," or early 20th-century race-car driver Wild Bob Burman.
The road's name could even be a bastardized nod at Wild Bill Hickok, the famous Wild West gunslinger shot in the back and killed during a poker game in Deadwood, S.D.
Former UNLV professor Dr. Melanie Hanson has her own theory.
Hanson, who first noticed the street on a visit from California last month, likes to think it was named for "an old coot of a prospector" in Las Vegas' early days.
For all historians and local officials know, she could be right.
"I like to think he found gold and decided to bury some of his stash north of Las Vegas out in the desert, when the town was much, much smaller," Hanson said. "According to the legend, Wild Bob tried to go back and dig up his stash, but he lost his way and never found the gold.
"The gold is supposedly still buried somewhere near Wild Bob Way. That should cause a flurry of people digging up Wild Bob Way looking for the golden nuggets."
Contact Centennial and North Las Vegas View reporter James DeHaven at jdehaven@viewnews.com or 702-477-3839.