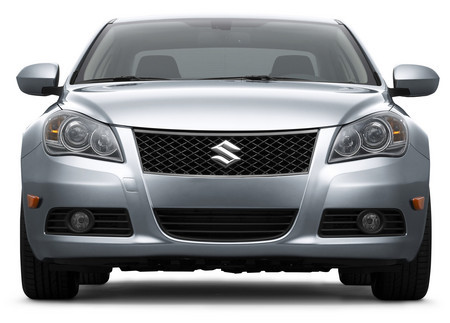 Don't call the Kizashi just another sedan, as it's actually one of the most radical ventures Suzuki has undertaken in some time.
Niche players such as this Japan-based automaker tend to carefully pick their openings in various automotive subcategories and exploit them to the max. Just as Subaru's niche is selling nothing but all-wheel-drive models and Volvo's focus is on promoting safety ahead of everything else, Suzuki, a Japan-based producer of motorcycles and automobiles, has always prided itself on being decidedly different. Sometimes the approach has worked — the fun-loving Samurai, Vitara and Grand Vitara sport utility vehicles, as well as the cute Aerio and SX4 series — and other times, well, not so much. You might recall the 1990s-era X-90 roadster-ute or the underwhelming Verona and Forenza.
For 2010, Suzuki is determined to get it right by bringing its home-grown Kizashi sedan (pronounced Kee-Zah-Shee, which means something great is coming) to North America. Interestingly, the overall size of this family-oriented four-door slots almost exactly half-way between vehicles such as the Honda Civic, Mazda3 and Toyota Corolla and their larger Honda Accord, Mazda6 and Toyota Camry siblings. It would appear that we have a new midsmall — or is that junior-large — category.
However you categorize it, the Kizashi is more than a mouthful: It will become Suzuki's flagship vehicle when it goes on sale here early next year and represents a bold move by the automaker to shift to more upscale products. Although not a particularly daring design, and a far cry from the previous Kizashi-labeled concept cars, it's still attractive and pleasantly proportioned. The wraparound grille and hood appear influenced by the SX4 model and the short rear deck and hunkered-down suspension transmit a sporty vibe.
There's more sporty flavor inside, especially with the well-bolstered front seats of a type rarely found in conventional sedans, even as an option. The split-folding rear seat provides a decent amount of room in back for two adults, although admitting more could make things a tad uncomfortable. For the driver, the control panel, knobs and switchgear are all right there, even if the dashboard on base models looks a bit on the dull side.
As a starting point, Suzuki will go easy by installing a 2.4-liter four-cylinder engine that delivers an estimated 185 horsepower and sings its song through a dual-outlet system, which is certainly unique for a four-cylinder vehicle. The power rating is much less than for the concept version's 300-horse V-6, but there are hints that that powerplant might eventually arrive as part of a go-faster package. Suzuki is also on record as stating that a gasoline-electric hybrid model is in the works, but the company isn't revealing when it might arrive (the 2012 model year seems likely).
The 2.4 connects to a six-speed manual transmission or optional continuously variable unit, which is necessary for buyers wanting to include all-wheel-drive with their purchase. Rather than being automatic, the system is activated at the press of a button, which immediately shifts power to the rear wheels from the front, depending on such variables as tire slip and throttle input.
Final content has yet to be determined, but base models will include air conditioning, push-button start, Bluetooth wireless connectivity and eight airbags. Leather seat coverings, front-seat memory settings and a 425-watt audio system are some of the extra-cost items.
There's no word on pricing as of this writing, but a best guess would land the Kizashi in $17,000-$18,000 territory, or about half way between compact and midsize on the MSRP chart. That would make perfect sense: A niche sedan selling at a niche price.