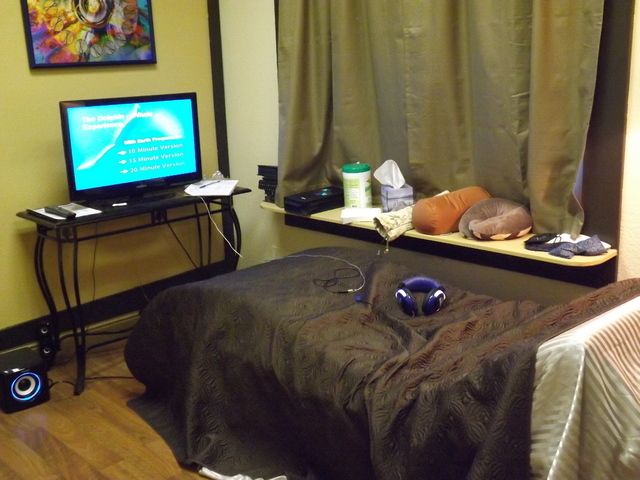 Professional violinist Judith Pinkerton stumbled upon music therapy more than 20 years ago.
In 1986, she recorded herself playing the violin and played it to her ex-husband while he recovered from back surgery in Anchorage, Alaska.
The nurse came in 30 minutes after the music started playing to administer the routine, post-surgical high blood pressure medication.
"She read his vital signs and asked me what the music was," Pinkerton said. "She said, 'This isn't possible. I'm supposed to be giving him medication, and he doesn't need it.'
"That's when I went from owning a talent agency that booked entertainers all over the state of Alaska to saying, 'I want to do healing music.' "
In 2011, Pinkerton opened Music 4 Life, a health club and training center that provides therapy through music.
"Music 4 Life is a community of people that want to think differently and be surrounded with like-minded, positive people," Pinkerton said. "We just want to heal people."
The center, 2975 S. Rainbow Blvd., Suite B, offers three main public programs: wellness classes, music medicine and drum circles.
Amy Frost, wellness program coordinator, hosts programs that use music medicine tools to obtain a positive mindset.
Some of Frost's classes include "Knowing how I learn and communicate," "Boundaries at work" and "Handling difficult people."
"If you're someone who's always looking at life half empty, these classes help you to look differently at things," Pinkerton said. "(Frost) gives you the tools to really make significant changes in your life."
According to Pinkerton, music medicine always puts individuals in the present moment using music to relax them.
"Some people push play on music to be reminded of the past or to get somewhere in the future," she said. "Others don't play music because they feel stuck or are repressing feelings."
Music 4 Life offers many music medicine services, including a Music Medicine Boot Camp, CDs and a vibroacoustic bed.
The boot camp consists of four classes: "Choosing healing music," "Music's health story about you," "Essential healing playlists" and "Creating prescriptions for any situation." The classes can be completed in person or online and require a $20 workbook.
"I've seen people carry these (books) around because they learn how to use it in their life," Pinkerton said.
Frost's massage therapist took the boot camp training after Frost told her the music did not relax her.
"If you think about it, you're coming in to get a massage because you're tense," Frost said. "So if the music isn't right, you're not going to relax. It's going to be a difficult massage."
In addition, the Nevada State Board of Nursing has accredited the Music Medicine Boot Camp since 1990.
"Nurses and other related health care professions can complete their continued education through Music 4 Life," Pinkerton said. "It's something different from other traditional educational programs."
The music health club also offers music medicine CDs for $20. The CDs contain a concentrated selection of music that allows individuals to relax in about 20 minutes, according to Pinkerton.
"We had a gal decide she wanted to try one of the CDs," Pinkerton said. "She said just listening to the CD worked like a miracle."
According to Pinkerton, one man was able to use one of the CDs to minimize a panic attack that was manifesting itself as a heart attack with increased chest pain and shortness of breath.
"If you think about all the money he would have spent on an ambulance, the emergency room and lost work," Pinkerton said, "he saved thousands of dollars with a $20 CD."
Music 4 Life also offers a vibroacoustic bed. It combines auditory, visual and kinesthetic stimulation to reduce stress.
The bed is used for pain management, drug rehabilitation, emotional tension, Parkinson's disease symptom relief and more.
"It can take you into a deep relaxation state, which is really rebooting your entire system, in as little as 10 minutes," Pinkerton said.
Music 4 Life also hosts music medicine drum circles throughout each week. The circles relax participants and make them feel part of a community, according to Pinkerton.
"It's about building a community with one voice," she said. "You're all of a sudden in a community when you're all playing the same thing together."
In addition to music medicine, Pinkerton offers music therapy to court-
ordered programs, addiction agencies and private clients.
"In music medicine, the music is the healing agent of change," Pinkerton said. "In music therapy, the therapist is the healing agent of change."
In 2011, Pinkerton proposed a bill to the Nevada Legislature for a music therapy state licensure. When it passed, she became the first therapist in the country to receive a music therapy license.
"Sen. Mo Denis was our sponsor," Pinkerton said. "The governor was also very happy to support the bill."
Frost joined Music 4 Life in February after meeting Pinkerton at a radio show event. She felt it was her calling because her great-aunt, Laura Boulton, was one of the founders of ethnomusicology.
"Ethnomusicology really embraces the cultural aspects of music," Pinkerton said. "We really look at it as a sister to music therapy because therapists have to be sensitive to ethnicity and cultures."
Boulton completed 38 expositions over five continents starting in 1929. She collected instruments, recordings, data and other music artifacts.
"I have these crazy instruments all over my house," Frost said. "I have no desire to play them, but I like to collect them.
"I always felt like I needed to do something to help what she created but I didn't know what," Frost said. "Then when I met Judith, I was like, 'OK, this is where I can help.' "
Music 4 Life offers monthly memberships. Individuals can get four classes for $20 or unlimited classes for $35. A family of up to four can get four classes for $45 or unlimited classes for $60.
For more information, visit music4life.us or call 702-889-2881.
Contact Southwest/Spring Valley View reporter Caitlyn Belcher at cbelcher@viewnews.com or 702-383-0403.