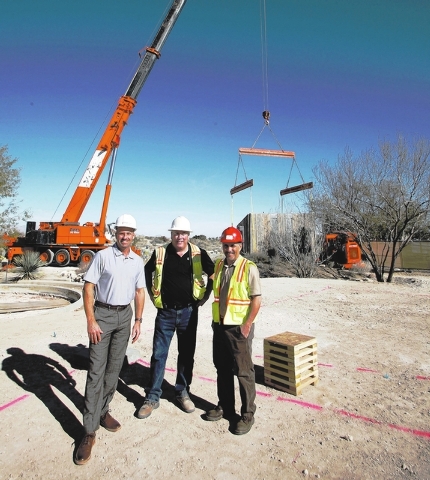 DesertSol, UNLV's multiple award-winning entry in the Energy Department's Solar Decathalon, is being placed in its permanent home in the Springs Preserve Botanical Gardens by a coalition of local builders that plans to have the project complete by Jan. 31.
Pardee Homes and Slater Hanifan Group are spearheading a team of volunteers that includes Inspirada Builders LLC (KB Home, Toll Brothers, Beazer Homes and Pardee), NV Energy, Las Vegas and 40 subcontractors.
"The local homebuilding industry salutes UNLV's Team Las Vegas for not only designing and building an exceptional home, but for spreading the message of sustainability in homebuilding on an international stage," Pardee Homes Southern Nevada President Klif Andrews said.
Described as one of the finest examples of sustainable living on the planet, DesertSol was the top-ranked entry in the United States and took second place in the global competition. Team Las Vegas was the only U.S. team to place in the top three of the prestigious Solar Decathalon competition in Irvine, Calif.
"It is fitting that this world-class home built by UNLV students finds its permanent home as an educational exhibit in the Springs Preserve, one of the most historical sites in Nevada — the birthplace of Las Vegas," said Pat Mulroy, general manager of the Southern Nevada Water Authority and the Las Vegas Valley Water District.
It took two years and a team of more than 60 students to meet the challenge to design, build, maintain and market the 754-square-foot sustainable solar-powered home.
The team earned top honors for market appeal and also tied for first place in the hot water contest. In addition to its second overall ranking, DesertSol scored second in communications, tied for third place in engineering, was fourth in comfort zone, tied for fifth in architecture and was seventh in home entertainment.
"By bringing home such an impressive victory, it wasn't hard to sign up companies to assist with the final part of Team Las Vegas' work — to give DesertSol a permanent home where we can share this achievement with our community and our visitors," said Glen Arnold, senior construction manager for Slater Hanifan Group.
The volunteer DesertSol team includes Wallace Morris Survey, GeoTek, 3 Stars Construction, Lunas Construction Clean Up, Rain 2 Day, Gothic Landscaping, Sunstate Cos., Valley Crest Landscape, Soil Tech, Las Vegas Paving, Cashman Equipment, Western States Contracting, Nevada Tap Master Inc., KNL Construction, Dana Kepner, NEDCO, PAR Electric, American Southwest Electric, Rockway Precast, Dielco Crane, ModSpace, Coronado Concrete, Ross Co. Concrete, Service Rock, CMC Rebar, Sterling Plumbing, Platinum Plumbing, Bombard Electric, Sierra Air, Sunrise Carpentry, H&E Equipment, Cooper Roofing, Peterson Dean Roofing, NOVA Geotechnical and Inspection Services, EPI Iron &Welding, Southern Nevada Welding, Ashlan Concrete Cutting and Hirschi Masonry.