October 25, 2016 - 12:55 pm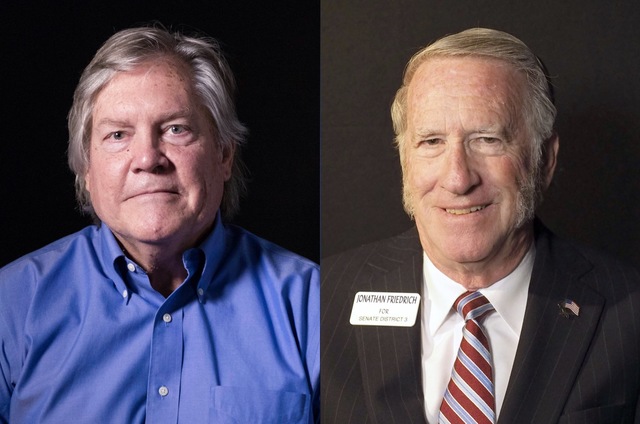 Democrat Richard "Tick" Segerblom didn't draw a serious major-party challenge in his race for a second term in Nevada Senate District 3, but that doesn't mean the outspoken marijuana advocate can kick back and take it easy.
Segerblom said his Libertarian opponent, Jonathan Friedrich, is "running a hell of a campaign," but the one-term senator and three-term assemblyman feels as if he has earned a return trip to Carson City.
"I think I bring a fresh and unique view to the Legislature," said Segerblom, a Boulder City native and former state Democratic Party chief.
If re-elected, Segerblom said he would push for criminal justice reform to cut the prison population and better help inmates rejoin society on their release.
He supports legalizing marijuana for recreational use, but said that even if voters reject state ballot Question 2, there is plenty of work to be done to improve the medical marijuana system he has championed.
Should recreational pot become legal, Segerblom said he would push for laws allowing people to have now-legal drug offenses stricken from their records; preventing pot from being sold in candy or other kid-friendly foods; and establishing a more effective standard for driving under the drug's influence.
Friedrich said he supports medical marijuana but doesn't think it should be legal for recreational use. He said he knows people who use the drug regularly "and their brains are fried."
Friedrich, a fierce critic of homeowner associations, ran unsuccessfully for the Assembly as a Democrat in 2014, then broke with the party over its decision to back his opponent.
The retired general contractor from New York said he always considered himself a fiscally conservative Democrat. Now he wants voters to send him to the Legislature as an independent voice against abuse and corruption, be it within the public guardianship program or HOAs and those who regulate them. He also is critical of the NV Energy monopoly, which he says stifles consumer choice. "The two parties are in disarray. There's so much fighting going on in them," he said.
The Republican in the race, Dennis Palmerston, does not appear to be mounting much of a campaign. The candidate could not be reached by phone or email and a search turned up no website under his name. Records show he has raised $100 and spent $120.53 on the race since Jan. 1.
Registered Democrats outnumber Republicans by more than 2-to-1 in District 3.
Contact Henry Brean at hbrean@reviewjournal.com or 702-383-0350. Follow @RefriedBrean on Twitter.