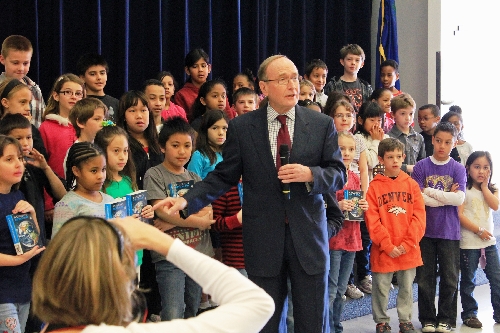 WOMEN'S CLUB OF SUMMERLIN ACCEPTING DARE TO DREAM GRANT APPLICATIONS
The Women's Club of Summerlin is accepting applications for its Dare to Dream grants. The program seeks to help women who are trying to better their lives. This could be assistance with educational opportunities, learning new skills, business development or equipment —- anything a woman can dream of that will help her move toward a desired goal.
Grants are awarded based on the impact the grant will have on the recipient and others in the community, the merit of the requested program or project and personal need.
Any woman older than 21 residing in the Las Vegas Valley may apply. Grants are to be awarded in June. The deadline for application submission is May 16.
For more information, visit womens clubofsummerlin.org or call 804-5188.
EVENT TO LOOK AT DEMENTIA CONCERNS
A special presentation, "Alzheimer's Disease and Dementia: The Impending Tsunami," is planned for 6 p.m. today at Heritage Springs Assisted Living & Memory Care, 8720 W. Flamingo Road.
The speaker will be Dr. Upinder Singh, an expert on Alzheimer's disease and dementia.
The event is free and open to the public. RSVPs are requested by calling 360-6023. A one-hour continuing education unit credit for nurses and certified nursing assistants is available.
KUMON MATH & READING CENTER TO HOST LITERACY EVENT
The Kumon Math & Reading Center of Peccole Ranch and Reading is Fundamental plan to host a free literacy open house from 1 to 3 p.m. Saturday at Kumon's office, 8550 W. Charleston Blvd., Suite 110. The event will feature selections from Kumon's Recommended Reading List of more than 500 books. Families are asked to bring a new book to donate to RIF's local chapter.
Refreshments, games and prizes will be provided to attendees. For each new student enrollment through March, Kumon will donate $10 to RIF.
For more information, visit kumon.com or call 489-5867.
JEWISH SINGLES CLUB TO MEET
The Jewish Singles 55 Plus Social Club for men and women plans to meet at 6:30 p.m. March 7 at the NV Energy building, back entrance, 6226 W. Sahara Ave.
As with all its meetings, the club welcomes everyone interested in entertaining programs, socializing, meeting new friends and enjoying some refreshments. Dine-outs and other social events are held throughout the year. The group meets the first Wednesday of each month. For more information, call 233-8618 or 143-9482.
WESTSIDE NEWCOMERS CLUB PLANS MARCH 7 MEETING
The Westside Newcomers Club, a social club for women who have lived in the area for 10 years or less or to those who have life-changing events such as retirement, plans to host a coffee event for prospective members in the Social Hall at Desert Spring United Methodist Church, 120 N. Pavilion Center Drive, at 9:30 a.m. March 7.
A luncheon with a program is planned for the second Wednesday of each month. For more information, visit westsidenewcomersclub.org or call 649-8536.
FLEMING'S PARTNERS WITH BOYS & GIRLS CLUB FOR MENTOR PROGRAM
Fleming's Prime Steakhouse & Wine Bar, 8721 W. Charleston Blvd., is commemorating 10 years in Las Vegas by forging a community partnership with the Boys & Girls Clubs of Las Vegas.
On Feb. 20, the restaurant began hosting hands-on training courses for adolescent children enrolled in Project Mentor, a program fostering career-enhancing skills. The partnership with Fleming's offers access to experienced professionals in a professional environment for invaluable hands-on job training. For more information about Project Mentor, call 367-2582.
WORKSHOP TO SHED LIGHT ON GRIEF WORK
The Learning Institute at Nathan Adelson Hospice plans to host its first continuing education all-day seminar, "Living with Grief," from 8 a.m. to 4 p.m. March 14 at United Healthcare, 2716 N. Tenaya Way.
This year's topic is Beyond Kübler-Ross: New Perspectives on Death, Dying and Grief. The conference is open to the public and professionals. The deadline to register is March 7.
For more information, call 938-3923 or visit learninginstitute.nah.org.
MOUNTAINVIEW HOSPITAL USES ROBOT FOR WEIGHT LOSS SURGERY
MountainView Hospital, 3100 N. Tenaya Way, announces that Dr. Francis Teng has performed its first robotically assisted bariatric surgery.
MountainView is a Bariatric Surgery Center of Excellence, and Dr. Teng is the medical director for MountainView's Surgical Weight Loss Center.
MountainView launched its Robotic Surgery Program last summer with the da Vinci Si HD Surgical System. Robotically assisted surgery is a minimally invasive approach that can also be used to treat a number of medical conditions, including prostate, colon, throat and gynecologic cancer.
For more information, visit mountainview-hospital.com.
TAKE TAI CHI FOR FREE
Free tai chi/ki gong classes are planned at the H2U MountainView Office, 3150 N. Tenaya Way, Suite 114, from 9 to 10 a.m. Mondays, beginning March 5, and 9:30 to 10:30 a.m. Wednesdays, beginning March 7.
Ki gong is a form of tai chi that helps you balance your internal energies. Ki gong is a slow-moving meditation exercise enabling you to become aware of your breath, body and spirit.
Space is limited, and due to class popularity, participants can come to either the Monday or Wednesday class but not both. A doctor's release is required.
Registration is required. To register, call 233-5474.
MAMMOVAN SCHEDULED TO OFFER LOW-COST BREAST CANCER SCREENINGS
Thanks to a $10,000 grant from Food 4 Less, Nevada Health Center's Mammovan is scheduled to offer low- to no-cost breast cancer screenings at selected Food 4 Less locations. Stops are scheduled from 8:15 a.m. to 3 p.m. March 6 at 4965 E. Sahara Ave.; March 7 and May 1 at 8180 Las Vegas Blvd. South; June 5 and Sept. 4 at 1301 S. Boulder Highway; June 14 at 4001 S. Decatur Blvd.; Aug. 16 at 1955 N. Nellis Blvd.; and Nov. 21 at 2255 Las Vegas Blvd. North.
For more information, visit nvhealthcenters.org.
BABY'S BOUNTY RECEIVES DONATION
Baby's Bounty has received an anonymous donation of $75,000. The nonprofit group was founded in 2008 and serves needy mothers by providing items such as portable cribs, car seats, clothing and diapers. To date, it has helped more than 1,500 newborns.
For more information about Baby's Bounty, call 485-2229 or visit babysbounty.org.
GET YOUR TAXES DONE FREE
Free AARP Personal Tax Form Preparation Assistance for those 50 or older is available Mondays and Thursdays by appointment. For more information or to make an appointment, call 229-1702.