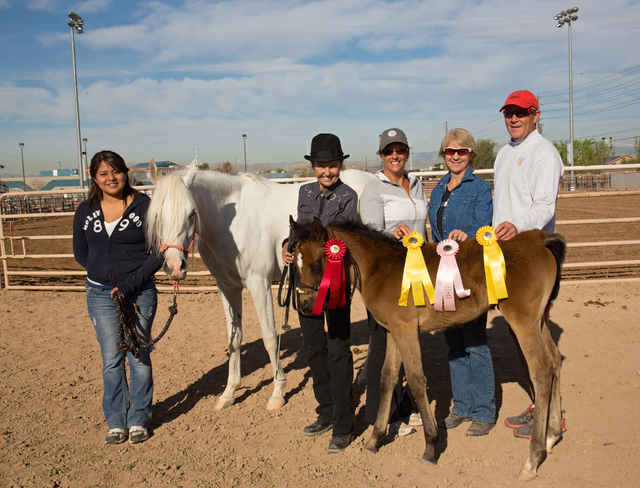 SOUTHERN NEVADA LANDSCAPE AWARDS ACCEPTING ENTRIES
The annual Southern Nevada Water Authority is accepting entries for its 2015 Southern Nevada Landscape Awards through May 1. Entries in the homeowner category can be for a front yard, backyard or both. The contest is offered in partnership with the Springs Preserve.
For more information or to enter, visit snwa.com/land/landawards.html.
FOSTERS NEEDED FOR FUPI ANIMALS
Foreclosed Upon Pets Inc. is in urgent need of foster families for rescued dogs and cats. Fostering plays a major role in the success of the organization. In many circumstances, the animals have come from harsh backgrounds, have been abandoned or have lost their home through no fault of their own.
The foster's main responsibility is to offer the dog or cat a safe and secure environment. The foster will offer a nurturing background, possibly provide some basic training and consequently help to make the animal a better candidate for adoption.
For more information, contact FUPI at forecloseduponpets@hotmail.com or 702-272-0010.
SENIORS CAN APPLY FOR TALENT SHOWCASE
Seniors are set to perform June 11 in the 12th annual Las Vegas Senior Idol Showcase, set for 3 p.m. at the Charleston Heights Arts Center, 800 Brush St. Novice and professional individuals and groups with members 50 or older are set to perform a two-hour variety show, including singing, dancing, playing musical instruments and comedy.
Seniors who wish to audition can pick up an application at the Las Vegas Senior Center front desk, 451 E. Bonanza Road, from 8 a.m. to 6 p.m. Monday through Friday. Completed applications must be received by 5 p.m. April 24 to be considered for May 5-7 auditions.
Tickets can be purchased for $5 beginning May 1 at each at the following locations, until sold out: Centennial Hills Active Adult Center, 6601 N. Buffalo Drive, 702-229-1702; Derfelt Senior Center, 3343 W. Washington Ave., 702-229-6601; Doolittle Senior Center, 1930 N. J St., 702-229-6125; East Las Vegas Community and Senior Center, 250 N. Eastern Ave., 702-229-1500; Las Vegas Senior Center, 451 E. Bonanza Road, 702-229-6454; and Lieburn Senior Center, 6230 Garwood Ave., 702-229-1600.
JUNIOR GOLF TOURNAMENT SERIES OFFERED FOR YOUTHS 8 TO 18
The Southern Nevada Golf Association, the official arm of the U.S. Golf Association in Southern Nevada, has launched a yearlong junior golf tournament series for boys and girls ages 8 to 18.
The new tournament series is being supported by area golf course management and key local golf organizations, including the Nevada Golf Course Owners Association, the Southern Nevada Section of the Southwest Section, PGA of America and others.
For complete signup and other information, parents and/or juniors can visit lvjga.org. An annual fee of $50 will be charged for membership, in addition to tournament fees that will range from $40 to $100. The junior annual membership fee will include a shirt and hat.
The LVJGA will offer tournaments throughout the year for boys and girls ages 12 to 18, while a summer golf series will be available for boys and girls 8 to 11. The age divisions for the tour will be boys and girls 15 to 18 and 12 to 14 in addition to the younger ages.
FRIENDS OF RED ROCK CANYON ANNOUNCE PHOTO CONTEST
The 2015 Friends of Red Rock Canyon Photo Contest is slated to accept entries from 2 to 4 p.m. May 1 and 9 a.m. to 3 p.m. May 2 and 3 at the Red Rock Canyon National Conservation Area Visitor Center, 1000 Scenic Loop Drive. The theme is Nature and Wildlife of the Red Rock Canyon National Conservation Area. Categories are landscape, desert plants, wildlife, creative, monochromatic, and professional.
All photos must be framed. The entry fee is $10 per photo and $8 for Friends of Red Rock members. First-place winners receive $100, second place gets $75, and third place gets $50.
For entry rules, visit friendsofredrockcanyon.org/photo.php or email photo@friendsofredrockcanyon.org.
WOMEN'S CLUB SEEKS DARE TO DREAM GRANT APPLICANTS
The Women's Club of Summerlin is accepting applications for its Dare to Dream grant. Each year, the organization awards Dare to Dream grants to women working to improve their lives and the lives of others in the community. The money can be used for assistance with educational opportunities, new skills development, business development, tuition or anything a woman can dream of that will help her move toward her goal.
Grants of up to $3,000 are awarded based on the impact that the money will have on the recipient and others in the community, the merit of the requested program or project and personal need. Applicants must be 21 or older and reside in the Las Vegas Valley.
To date, the organization has donated more than $430,000 in cash and items to the Las Vegas community, and 47 women have been awarded grants.
The deadline is May 8. For applications, visit womensclubofsummerlin.org.
BLM OFFERING FREE 2015 PHOTO CONTEST CALENDARS
The Bureau of Land Management Nevada calendar celebrating Nevada's public lands is available for pickup.
The photographs were chosen from submissions to the BLM's third annual photo contest. The public was invited to vote on the images.
"We received some breathtaking images from across the state, and we're glad we have the opportunity to share some of them," said outdoor recreation planner Barb Keleher. "We hope that people enjoy viewing the photos each month and are inspired to go out and explore the great opportunities their lands have to offer."
The calendars are free and can be picked up at one of the following BLM Nevada offices: Southern Nevada District Office, 4701 N. Torrey Pines Drive (from 7:30 a.m. to 4:30 p.m. Monday through Friday); Red Rock Canyon National Conservation Center Visitor Center, 1000 Scenic Loop Drive (from 8 a.m. to 4:30 p.m. daily).
Quantities are limited. Calendars are restricted to one per person. Additional photos submitted to the contest can be found on BLM Nevada's Facebook page at facebook.com/blmnevada.