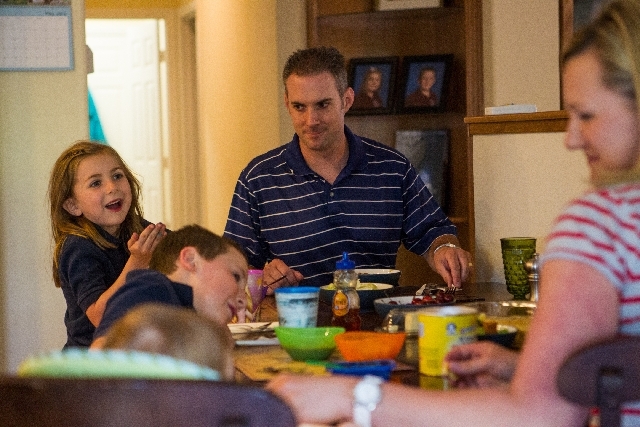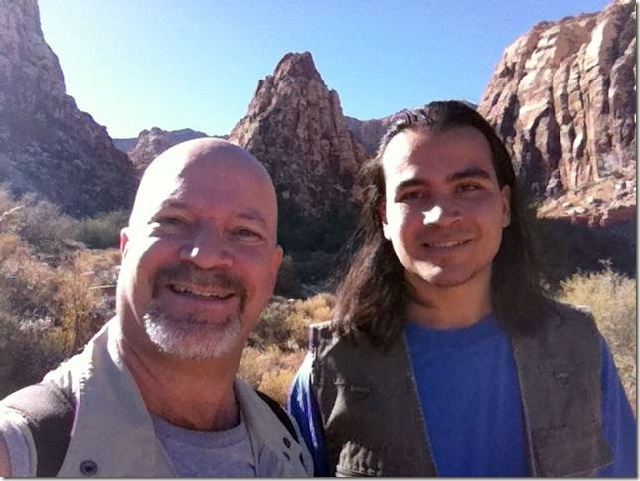 Father's Day is just around the corner, and View pauses to honor those who ran alongside our two-wheelers until we got our balance and, come bedtime, kept the boogeyman at bay.
Guy Maillaro and his wife, Amy, have two children, Antonio, 11, and Alyssa, 9.
One of his favorite memories was buying his son his first baseball glove and watching him pitch a game for the first time. Maillaro is the manager of the Summerlin North Marlins, a Little League team. In fact, many of his snapshot moments of being a dad come from coaching his children in baseball and basketball — watching their expressions and seeing them achieve.
"I always wanted to be a father," Maillaro said. "… Knowing what I know now, I'd have done it sooner. It brings a lot of happiness to your life; it brings fulfillment."
Mitchell Steinberg, who lives in northwest Las Vegas, recalled when he and his wife, Carlene, were expecting their first child 22 years ago. The couple had moved in with his parents while their home was being built. Carlene went into labor about 2 a.m., triggering a mad dash by all to the hospital.
Steinberg said taking daughter Jordann into his arms for the first time was "a moment you never forget, your first child. My thoughts shifted from me to my child … It's a feeling you can't describe, one I'd never felt before. She was our everything."
Ten years later, they opted to have another child, this time planning their finances so that Carlene could be an at-home mother. The result was Sam, now 12.
José Meléndrez and his wife, Magdalena Martinez, have two children, Eva, 8, and Alejandro, 5. His father, José, died in 2003, the year before Eva was born.
"I looked back at all the times my dad and I, all the conversations we'd had, and thinking about all the times he'd tried to share his wisdom with me, which was now starting to make sense as I was getting ready to become a father," Meléndrez said.
He said the No. 1 thing he wanted was to be a patient, loving parent who was part of their lives.
"One of my (memories of) my father was that he was always working," Meléndrez said. "I wanted to be present in everything that I could be for my children. "
Brian Bailes and his wife, Katie, have three children — Mitch, 8; Beth, 6; and Luke, 10 months.
When Beth was 2, the family took a trip to Arizona to see the Polar Express train ride. There, she suffered breathing issues so severe that an ambulance had to take her to Flagstaff, about an hour away. His wife rode in the ambulance and Brian followed behind, his thoughts a blur as he tried to follow the racing ambulance to the hospital.
"It was the unknown, something totally out of your control," he said. "You hope and you pray."
Their daughter recovered. Now that they've added a third child, he and his wife had forgotten how fun it was to have a baby in the house again, he said. With three children, their family is complete, he said.
Dan Shinder is a father of four, but it's his youngest child's birth that he recalls most vividly. His wife, Alicia, was in labor 20 hours until it was decided to do a cesarean section. Shinder sat by Alicia's shoulder in the surgery room as she was tented.
The operation began. There was a collective gasp from the medical personnel in the room. The surgery mirror was tipped so that he and Alicia could see.
Through the slit of the abdominal incision, two big eyes were calmly looking out at the world, shifting left and right and taking everything in.
"When they pulled Steven out, he had long arms and fingers and this huge head that was misshapen because it'd been stuck in the birth canal for all those hours," Shinder said. "He had this look like those sketches you see from people who say they've seen an alien. And everything kind of went into slow motion. And he wasn't crying, but he was moving his arms and legs, sort of like an alien in a movie."
Steven, now 18 and about to enter college, plans to pursue a writing career with the ultimate goal of being a science fiction novelist.
Nathan and Shaleen Cartwright have three children —Abigail, 9; Nathan, 6; and Madelyn, 2.
"I'm very blessed that their mom is not someone who needs to go out … She wanted to be a mother," he said. "Because of that, I get to just have fun with the kids. When I come home, it's games, it's wrestling. I get to be the fun one."
He also gets to coach them at soccer and Little League baseball, something his father did for him.
"He was not an athlete, and you could tell he was the guy who was getting suckered in," Cartwright said. "He was the business guy in the shirt and tie, but he was there for me. Just recently, my kids have gotten old enough so I can do that."
He has coached his daughter's soccer team and his son's soccer and baseball teams. He said he tries to pass along a philosophy to be true to oneself, have a passion for life and not follow the crowd.
Brian Pearson and his wife, Sharon, have three children: Emily, 11; Blake, 9; and Chase, 4. He recalled being at the hospital when his daughter was born. His grandmother, Adeline Wynants, was there.
"I recall sitting down with my grandma u2212 she was 92 u2212 and she said to me, 'Have you ever met (an adult) who looked you in the eye and said they'd wished they'd worked more when their children were younger?' "
He took that to heart to balance his time at work with his time at home. Later, Grandma Adeline imparted more wisdom, telling him, "It's great that you've paid off your own home. Now, can you buy somebody else one?"
Pearson isn't buying another house, per se, but he is helping others by volunteering as a coach for his children's sports teams.
"This way, I can make a difference in 101 boys' lives, not just one's," he said.
Contact Summerlin/Summerlin South View reporter Jan Hogan at jhogan@viewnews.com or 702-387-2949.