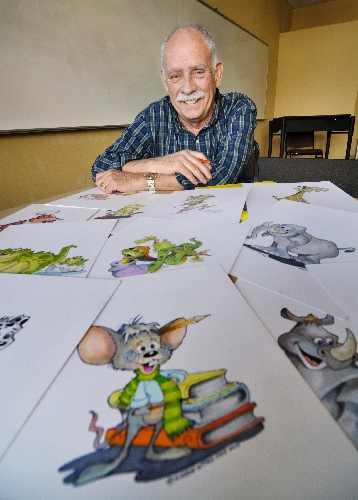 He brought smiles to children as an animator for companies such as Disney and Hanna-Barbera. Now, Roy Wilson is bringing smiles to children at the Children's Medical Center at Summerlin Hospital Medical Center, 657 N. Town Center Drive.
Wilson, a Summerlin resident, has created original characters and used them to decorate the Children's Medical Center walls. Many are just the right height for youngsters to view.
"I saw a commercial. It was a young … boy who was going through cancer treatment here," Wilson said. "I saw him interviewed on TV … he really choked me up, and I thought, 'Maybe I'll do something.' "
Wilson approached the International Academy of Design & Technology in Henderson, where he teaches conceptual drawing. He is well-qualified for the job, having worked at HBO, Warner Brothers, Paramount, Universal Studios and Nickelodeon. The school agreed to back the project, paying for his designs to be printed on vinyl.
Now, the hospital's walls are covered with happy creatures of every type and color. There's a grinning giraffe, a goofy elephant and a dancing pig.
Dr. Johnn Trautwein, medical director for the pediatric emergency room at the hospital, said the children "really like (the illustrations), typically they'll run up and down the hallways, (viewing) them the teenagers think they're funny. It … really helps bring the anxiety level down because it's familiar to them. Everybody watches cartoons."
The characters were inspired when Wilson was teaching in Korea. He was in the running to do a character for the Olympics and came up with "Kim chi," a little girl who hides her smile behind her hand, a common courtesy in that part of the world. Wilson, who carries a drawing tablet with him and scribbles anything that strikes his creative brain, also drew animals.
The staff members said they appreciated the silly characters, too.
"Even when we have to do procedures that are painful or anxiety-provoking," said Trautwein, "even something as simple as an IV, it's nice that once it's over, it's out of sight, out of mind. It's, 'Oh, look, there's a dog, there's a mouse with a piece of cheese.' … we always have two patients, the child and the parent."
When the parents' anxiety level is lessened, they're more apt to listen, Trautwein added.
There are 26 different characters on display up and down the hallway. Wilson offered more, letting the hospital select which ones to use.
"Our logo is the panda bear for the Children's Medical Center, so we wanted to keep with that, animals that related to that theme," said Lori Harris, marketing director for Summerlin Hospital.
The artwork was done with marker as composites on tablet-sized paper. There was a concern over how big the images could be blown up without having them pixilate.
"It falls apart, the larger you get with a digital camera," Wilson said.
He also pointed out how the vivid colors from his original artwork had been washed out, another casualty of the digitalization process.
Wilson donated his time and talent for no cost. The images were printed on vinyl for sanitary reasons. Vinyl is easy to clean, a necessity in a hospital setting.
Jody Bardoun is a child life specialist and works one-on-one with the children.
"The environment can either make or break the experience that the child is having," she said. "When they come into an area that has these pictures, something that's familiar, that in itself will decrease their anxiety. It can distract them. "
Wilson was distracted, too. He'd just peeked inside an empty room and noticed it had bare walls and a bare ceiling.
"Maybe I can do some more to put up in each one," he offered.
Then another idea cropped up: a coloring book that would keep the children occupied while in their beds. He pulled out his sketch pad and pencil, and his mind was off, creating more whimsical creatures.
Contact Summerlin/Summerlin South View reporter Jan Hogan at jhogan@viewnews.com or 387-2949.