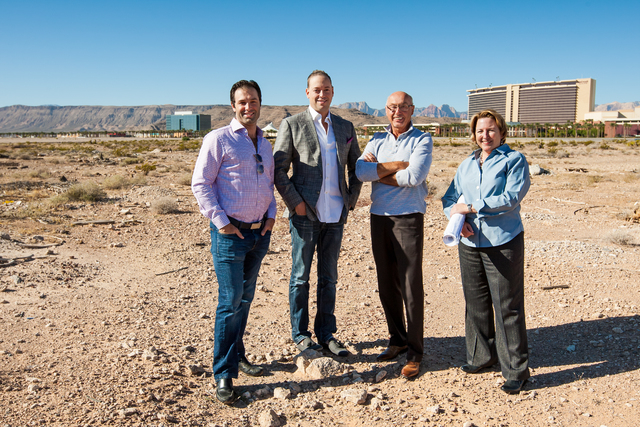 On the heels of the Oct. 9th opening of Downtown Summerlin, The Howard Hughes Corp. announced plans to begin construction by year-end on Downtown Summerlin's first residential development, the Constellation. A 124-unit, gated luxury rental residence complex, the Constellation is a joint venture of Hughes Corp. and the Calida Group. The multifamily community is expected to be complete in one year with the first residents moving in during the fourth quarter of 2015. Preleasing will commence next summer.
The luxury development will boast a contemporary architectural design in keeping with Downtown Summerlin's aesthetic. The three-story, 170,000-square-foot project will feature one- and two-bedroom homes ranging from approximately 1,000 to 2,040 square feet. Exclusive resident amenities include fitness center; spa with tanning services, on-call masseuse and aesthetician; and resort-style pool with an outdoor barbecue area and pool-side cabanas. Third-floor homes include 20-foot ceilings along with a private walk-up to a mezzanine level and a fourth-story rooftop deck. Some residences also include attached garages.
The luxury development is named for the Constellation, a then state-of-the-art, four-engine airliner built by Lockeed and financed by Howard Hughes for Trans World Airlines from 1943 to 1958. It is situated on 4.5 acres at Griffith Peak and Town Center Drive adjacent to Downtown Summerlin's 106-acre, 1.6 million-square-foot shopping, dining and entertainment district.
"We are inundated with requests for information about residential living opportunities in Downtown Summerlin given Southern Nevadans' over-the-top enthusiasm and interest in being part of such an exciting destination," said Kevin T. Orrock, president of Summerlin.
According to Julie Cleaver, vice president of planning and design for Summerlin, while Downtown Summerlin is poised to become a top fashion, dining and entertainment destination for valley residents, it is also being carefully planned to accommodate a variety of multifamily developments that appeal to multiple generations — from millennials seeking convenience and immediate access to amenities to baby boomers looking to downsize, simplify and better accommodate travel and a more active lifestyle.
"The Calida Group is committed to creating an entire lifestyle, not just a place to live," said Eric Cohen, managing director of the Calida Group.