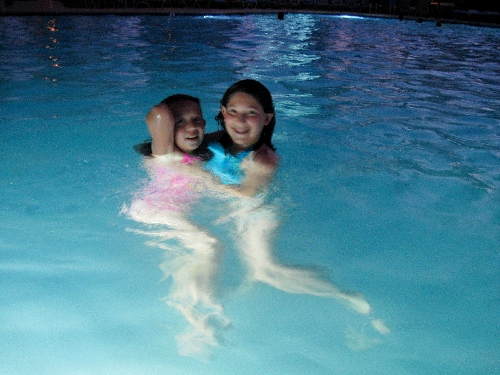 SUN CITY BOARD OF DIRECTORS TO DISCUSS SIGNATURE PRODUCTIONS' REQUEST TODAY
The Sun City Summerlin Community Association Inc. Board of Directors plans to discuss a request from Signature Productions to use the Starbright Theatre for its shows at a meeting scheduled for 9 a.m. today at the Desert Vista Community Center, 10360 Sun City Blvd.
The request was originally scheduled for the June 26 meeting but was moved.
JEWISH GENEALOGY SOCIETY TO MEET JULY 15 AT SAHARA WEST LIBRARY
The Jewish Genealogy Society of Southern Nevada plans to meet at 1 p.m. July 15 at the Sahara West Library, 9600 W. Sahara Ave.
The topic will be using the 1940 census.
There is no charge to attend meetings, which are open to the public. The group meets at 1 p.m. the third Sunday of each month.
Future meeting topics planned are comparison of genealogical programs on Aug. 19; Tom Underhill talking about retouching photographs on Oct. 21; and Ron Arons talking about finding living people on Nov. 18. There will not be a meeting in September.
For more information, call Earle Malkin at 528-4334 or visit jgssn.org.
WATER AUTHORITY HANDS OUT ANNUAL LANDSCAPE AWARDS
The Southern Nevada Water Authority recently announced the winners of its 14th annual Landscape Awards. A panel of judges selected the winning landscapes based on their overall beauty, efficient water use, plant selection and design.
The Summerlin-area winners are: for Landscape Design by a Homeowner, third place, Winn Residence; for Residential Landscape Design by a Professional, first place, Sauter Residence/Schilling Horticulture Group; and for Multi-Family/Homeowner Association Design by a Professional, first place, Westcliff Pines HOA/Schilling Horticulture Group.
Photos of the 2012 winning landscapes are available at snwa.com.
NEW BUSINESSES OPEN IN THE LAKES BUSINESS CENTER
The Coffee Bean & Tea Leaf and Jamba Juice recently opened in The Lakes Business Center shopping plaza at 9091 W. Sahara Ave.
The Coffee Bean & Tea Leaf has a 1,750-square-foot cafe featuring a contemporary design with a drive-thru, oatmeal and yogurt parfait STIR bar, spacious seating, vaulted ceiling and free Wi-Fi. In addition, artwork by local artists will be rotated on the walls.
The adjacent 1,450-square-foot Jamba Juice has a large outdoor patio accessible from both venues, where local bands will be featured throughout the year.
SUMMERLIN LIBRARY TO HOST E-READER CLASS FOR ADULTS
A class regarding downloading e-books and using e-readers is planned for adults and seniors from 10:30 a.m. to noon July 12 at the Summerlin Library, 1771 Inner Circle Drive.
The class will cover the steps for downloading e-books to your Kindle.
Reservations are required. To reserve a seat, call 507-3866.
DURANGO HILLS YMCA OFFERS SUMMER PASS, DAY CAMP
The YMCA's Sizzlin' Summer Pass is available through July 31 for $112 for individuals and $215 for families.
It provides unlimited access to the YMCA's water parks, pools, wellness centers and classes, including those at the Summerlin-area Durango Hills YMCA, 3521 N. Durango Drive.
The pass is good for four months from the purchase date and can be used at all YMCA locations.
The YMCA's outdoor water parks are open through Sept. 3. The public is welcome, and the cost is $5 per person daily without a pass or membership.
Day camp for youths 5 to 15 runs from 9 a.m. to 4 p.m. Mondays through Fridays through Aug. 24. To accommodate parents' schedules, the YMCA provides free care for campers from 7 to 9 a.m. and 4 to 6 p.m. Dozens of camp choices are available, including traditional, cooking, science, zoology, rock climbing, glamour girls, sports and cheer. Camp also includes structured activities such as swimming, arts and crafts, group games and character development activities, plus add-on field trips.
Weekly camp prices start at $136, and a daily drop-in rate of $46 is available. No one is turned away because of an inability to pay. Financial assistance is available.
For more information, visit lasvegasymca.org.
SEE THE BEAUTY OF RED ROCK CANYON IN PHOTOS
More than 100 photos from the 2012 annual Red Rock Canyon Photo Contest are on display through Aug. 10 at the Red Rock Canyon National Conservation Area Visitor Center Gallery, 1000 Scenic Loop Drive.
The Scenic Loop Drive is open from 6 a.m. to 8 p.m. daily and the Visitor Center from 8 a.m. to 4:30 p.m. daily.
The 2013 Visions of Red Rock calendar is available at friendsofredrockcanyon.org (click on "store" and "books") and at the Elements gift store in the Visitor Center. The calendar features 14 images of Red Rock Canyon as captured by artists who entered the 2012 contest. The cost is $15 and $12.75 for Friends of Red Rock Canyon members.
For more information, contact Friends of Red Rock at 515-5360 or info@friendsofredrockcanyon.org.
TRANSPORTATION COMMISSION PLANS PUBLIC MEETINGS ON PROJECTS
The Regional Transportation Commission of Southern Nevada plans to host two public meetings in July regarding proposed federally funded projects.
A public hearing is planned from 4 to 7 p.m. Monday at the Transportation Commission Administration Building, 600 S. Grand Central Parkway, Room 108. The commission also plans to host an open house and public information meeting from 4 to 7 p.m. July 12 in the interior lobby of the Bonneville Transit Center, 101 E. Bonneville Ave. The commission will accept public comments about the Public Participation Plan during the meeting.
Monday's public hearing will be on the federal Job Access Reverse Commute project, to develop public transportation for welfare recipients and low-income individuals, and New Freedom grant funding, which addresses options for those with disabilities.
The public comment period will run until 3 p.m. Monday. Comments will be accepted by email to josephs@rtcsnv.com, by telephone at 676-1820, by fax at 676-1518 and online at rtcsnv.com. Comments can also be submitted in person or via U.S. mail to RTC, Attention: Transit Special Services/JARC, 600 S. Grand Central Parkway, Suite 350, Las Vegas, NV 89106-4512, or to the Bonneville Transit Center, 101 E. Bonneville Ave., Las Vegas, NV 89106.
POOL MEMBERSHIPS AVAILABLE AT JW MARRIOTT
Daily, monthly or seasonal pool memberships are available for Las Vegas locals at the JW Marriott, 221 N. Rampart Blvd.
Individual pool memberships are $100 per month or $300 for the season. Family memberships are for $200 per month or $600 for the season. There are two family membership packages offered: two adults and up to three children or one adult and up to four children. Locals can also purchase daily pool passes for $10 per person Mondays through Fridays. Monthly and seasonal pool members will also receive discounted cabana rates, based on availability, and a 10 percent discount on items from the Waterside Café menu.
For more information, call 869-7777.
HELP OF SOUTHERN NEVADA CAMPAIGN COLLECTING BOTTLED WATER
HELP of Southern Nevada's HELP2O campaign encourages Southern Nevadans to help protect homeless residents from the dangers associated with the summer heat by donating bottled water and spare change at Whole Foods Market through August.
Two Whole Foods locations, 7250 W. Lake Mead Blvd. at Tenaya Way and 6689 Las Vegas Blvd. South in Town Square Las Vegas, will serve as collection points. Bottled water donations can be purchased in store and donated or purchased elsewhere and dropped off at Whole Foods. The water will be collected on a regular basis and distributed to the area's homeless population.
Additionally, those looking to make a monetary donation will be able to do so by tossing their change into branded HELP of Southern Nevada change jars at all four Whole Foods Las Vegas and Henderson locations or by submitting a donation via helpsonv.org.
NV ENERGY OFFERS REBATE FOR RECYCLED REFRIGERATORS
NV Energy is offering a $50 rebate for customers to recycle their second refrigerators this summer. Inefficient refrigerators waste energy as a result of working harder and longer in hot garages to maintain their temperature. In addition to the rebate, NV Energy will pick up the extra refrigerator or freezer for free.
Units must be in working order and be at least 10 cubic feet in size. Participants must own the refrigerator or freezer, and the offer is limited to two units for each address.
NV Energy will recycle 95 percent of the units. For program qualifications and to schedule a pickup, visit nvenergy.com/refrigerator or call 877-289-8260.