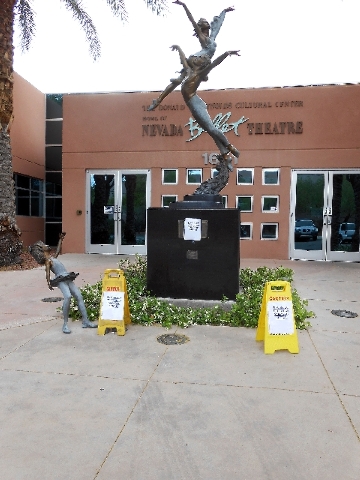 HUMANA PRESENTS VETERANS OPEN HOUSE
Veterans, their families and the public are invited to learn more about Humana's national Veterans Initiative at a celebration and open house planned from 10 a.m. to 2 p.m. May 21 at the Humana Guidance Center, 8975 W. Charleston Blvd., Suite 100.
There will be guest speakers, refreshments and more. U.S. VETS-Las Vegas will be on hand to provide information and resources. Veterans can learn about job opportunities at Humana and about health and financial protection products.
For more information, visit humana-veterans.com or call 866-458-6630.
PRESENTATION SET AT TEMPLE BETH SHOLOM ON PAST AND PRESENT ISRAEL
The Active Adults of Temple plans to host a presentation on the past and present Israel at 1:30 p.m. May 21 at Temple Beth Sholom, 10700 Havenwood Lane.
It is slated to include a slideshow of the archaeological tunnels behind the Western Wall in Jerusalem and pictures of old and new sites in Jerusalem showing the contrast between the city of today and that of many years ago. In addition, expect city scenes from Tel Aviv, Eilat, the Golan, the Dead Sea and others.
For more information, call 702-382-6456 or 702-233-3785.
FORECLOSED UPON PETS TO HOST ADOPTIONS AT WHOLE FOODS
Foreclosed Upon Pets Inc. plans to host dog adoptions from 10 a.m. to 2 p.m. May 25 at Whole Foods Market, 8855 W. Charleston Blvd.
FUPI rescues domesticated animals that have been abused and/or abandoned by their owners as a result of economic hardship, including home foreclosure, loss of employment, insufficient income and illness.
To view adoptable pets, visit forecloseduponpets.org. For more information, call 702-272-0010 or email forecloseduponpets@hotmail.com.
BEREAVEMENT GROUP TO MEET
AT TEMPLE BETH SHOLOM
A bereavement group plans to meet at 10:30 a.m. every other Wednesday in the social hall of Temple Beth Sholom, 10700 Havenwood Lane. The next meeting is set for May 22.
The meetings are usually scheduled on alternating Wednesdays, but dates can change due to holidays. The purpose is to help widows and widowers understand the process of grieving and prepare for lifestyle changes. The meetings are open to anyone of any faith.
For more information, call 702-255-0043.
TRAVEL CLUB TO MEET AT TAP HOUSE MAY 28
The Las Vegas Singles Travel and Social Club invites mature adults to its meetings, which are scheduled for 7 p.m. the fourth Tuesday of the month at the Tap House, 5589 W. Charleston Blvd. The next meeting is set for May 28 and will feature the topic "Cruising to and from Hawaii."
The meet-and-greet portion is set to start at 6:30 p.m. in the meeting room. Discussions focus on day trips, local events, in-state and out-of-state traveling, cruises and international traveling. A guest speaker frequently is featured. The meeting closes at about 8:30 p.m., when appetizers are served. A small fee covers refreshments and the cost of the meeting room. For more information, call 888-324-2028.
WARD 2 COUNCILMAN BEERS TO MEET
WITH RESIDENTS MAY 31 AT ANGEL PARK
Las Vegas Ward 2 City Councilman Bob Beers invites adult residents to join him for coffee and conversation from 8 to 9:30 a.m. May 31 at Angel Park Golf Course's clubhouse restaurant, 100 S. Rampart Blvd.
For more information, call 702-229-4645. For more information on Ward 2 activities, visit lasvegasnevada.gov/ward2.
JW MARRIOTt TO HOST
WOMEN'S EXPO JUNE 1
The Women's Expo is planned from 10 a.m. to 5 p.m. June 1 at the JW Marriott, 221 N. Rampart Blvd. More than 100 vendors will be on site selling, sampling and demonstrating women-oriented products and services, along with home-based business opportunities.
Admission is $8. To get a $3 off coupon, visit womensexpo.biz. For more information, email info@womensexpo.biz or call 702-331-1350.
BUSINESS NETWORK MIXER SET FOR JUNE 4 AT THE SUNCOAST
The Large Vision Business Network plans to host its next mixer from 6 to 9 p.m. June 4 at the Suncoast, 9090 Alta Drive. The planned theme is Beauty/Fitness/Health Affair Expo. It will include more than 50 area businesses showcasing their products and services. The Chefs Corner will serve bites of international flavors.
The event is open to the public. Admission is $10. For free tickets, visit pjproductionlive.com/LVBNM.html. For more information, call 702-639-6964.
JEWISH SINGLES SOCIAL CLUB SET TO MEET JUNE 5 AT Jewish community center
The Jewish Singles 55 Plus Social Club for men and women plans to host its next meeting at 6:30 p.m. June 5 at the Jewish Community Center building on the property of Temple Sinai, 9001 Hillpointe Road.
The group meets on the first Wednesday of each month. Guests are welcome, and there is no charge.
For more information, call 702-233-8618 or 702-243-9482.
HADASSAH TO HOST KOSHER
WINE AND CHEESE TASTING
Hadassah plans to host a kosher wine and cheese tasting at 7 p.m. June 6 at the home of Sam and Suzanne Green. Enjoy wine, cheese and dessert and learn more about Hadassah. Spouses and friends are welcome and encouraged to attend.
The cost is $20 per person or $30 per couple. Mail checks to Hadassah, P.O. Box 401255, Las Vegas, NV 89140. For more information, including the Greens' address, contact Randi Lampert at relampert@cox.net or call 702-838-6099.
PAVILION CENTER POOL PLANS
DASH AND SPLASH for june 15
Dash and Splash is scheduled for 8 a.m. June 15 at the Pavilion Center Pool, 101 S. Pavilion Center Drive.
Registration is set for 7:30 a.m. The cost is $15 for preregistration and $20 on event day.
The race will begin with a 1.5-mile run at Pavilion Center Pool and wind through Veterans Memorial Park. It will conclude with a 300-meter swim at the pool. There is no age limit, but participants must be able to swim 100 meters successfully.
For more information, call 702-229-1488.
MOUNTAINVIEW HOSPITAL RECEIVES
QUALITY AWARD
MountainView Hospital, 3100 N. Tenaya Way, recently received the American Heart Association/American Stroke Association's Get With The Guidelines–Stroke Gold Quality Achievement Award.
For more information, visit cdc.gov/dhdsp/data_statistics/fact_sheets/fs_stroke.htm.
city of las vegas to offer quarterly payment option for SEWER BILLS
The city of Las Vegas is changing sewer billing. Starting this summer, city of Las Vegas sewer customers will receive quarterly bills rather than annual bills.
Previously, customers received one yearly bill, with the option to pay quarterly. Customers can also continue to pay annually should they desire.
In addition, bills will look different, and customers will be issued a new account number. Residents can continue to pay their bills online using the city's website, lasvegasnevada.gov.
The changes are a result of the city updating its billing system. For more information, call 702-229-1289.
CITY SEEKS INPUT FROM RESIDENTS
The city of Las Vegas is working on its tentative budget for fiscal year 2014, which runs from July 2013 to June 2014. As the city works toward a final budget, it wants to hear from residents regarding funding priorities and whether they would be willing to pay more for certain services.
Residents are invited to visit yourvoicevegas.com to answer questions regarding the budget.
CARDHOLDERS GET FREE MUSEUM ADMISSION
Anyone with a Bank of America or Merrill Lynch debit card or credit card can gain free admission to three Las Vegas museums June 1 and 2. The Museums on Us program offers the cardholder complimentary admission to the Las Vegas Natural History Museum, 900 Las Vegas Blvd. North; the Discovery Children's Museum, 360 Promenade Place; and the Springs Preserve, 333 S. Valley View Blvd.
For more information, visit museums.bankofamerica.com.