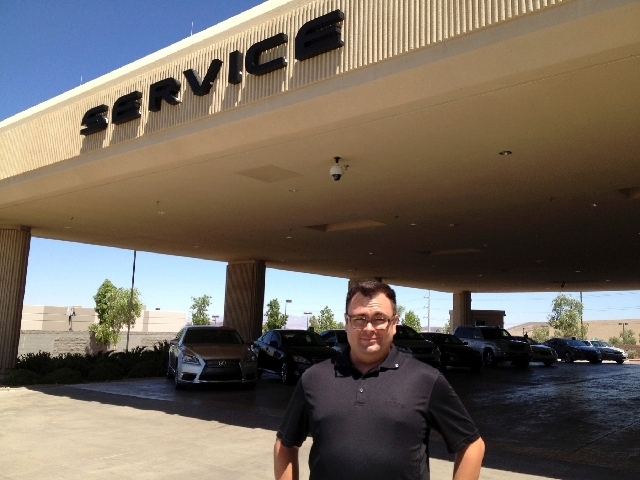 Need to program your smartphone into your new Lexus to access phone contacts, order movie tickets or make dinner reservations with seamless access to your favorite mobile apps or pinpoint an address with the navigation system?
Technology specialist Frank Smith stands ready to help.
When customers buy a vehicle from Lexus of Henderson, a vehicle-delivery specialist reviews all the technology features with them before they leave the dealership.
If, after a few days, customers still have questions about how everything works, Smith is available to sit in the vehicle and explain the technology in more detail. He'll recap, for example, how the Lexus App Suite works, how to connect to Facebook, Pandora, Bing, Yelp and more.
"I do think what we offer customers is above and beyond what other dealerships offer because, as far as I know, we are the only brand that offers a designated person to help with technology support," Smith said. "I troubleshoot any issues our guests are having with their technology. I help them set up personal information in the vehicle and customize all features available."
Although appointments aren't necessary to use Lexus of Henderson's technology support, Smith does recommend customers make appointments so he can set aside more time with them as needed.
When not doing laps around the grounds at Lexus of Henderson, Smith also teaches infants and adults how to swim. He is a certified lifeguard instructor/trainer and water safety instructor working at various pools around the Las Vegas Valley.
"I find that usually 6 months is a good age to start training your child how to handle the water," Smith says. "At first I train them how to feel comfortable in water, mostly learning survival skills such as how to float.
"As the child begins to grow and learn, we start working on more skills that involve actual swimming. The majority of my students range in age from 3 to 13."
Lexus of Henderson is at the Valley Automall, 7736 Eastgate Road. For additional information, call 702-228-7736 or visit www.lexusofhenderson.com