The '80s tribute band Loveshack performs at the M Resort
January 17, 2012 - 12:28 am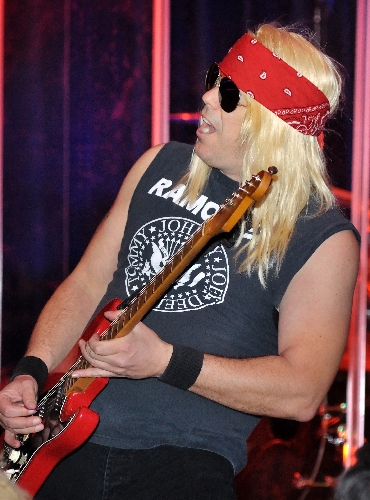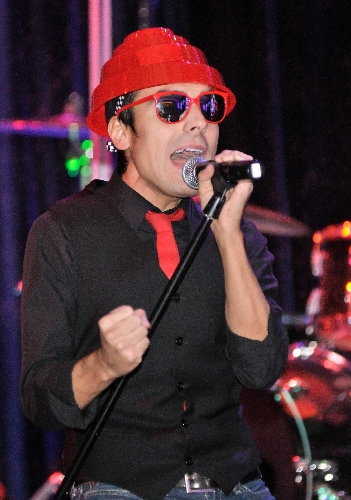 Break out the acid-washed jeans, parachute pants and spandex and return to the 1980s with the tribute band Loveshack.
For audiences that don't stop believing in '80s music, Loveshack is scheduled to bust a move at 9 p.m. Fridays at Ravello Lounge inside t he M Resort, 12300 Las Vegas Blvd. South.
"Even if the '80s isn't your thing, you won't care after three drinks in," said lead singer Tony Kouns, known as Little Tony .
The band pulls from '80s music ranging from Michael Jackson and Madonna to Bon Jovi and Journey.
"People always ask me what my favorite song is," singer Robin Berry Vincent said. "It honestly depends on my mood."
Without hesitation, Kouns said his favorite songs to play, or impersonate, are Michael Jackson cover songs.
"I do the moon walk and everything," Kouns said.
Berry Vincent said people love watching Kouns impersonate Michael Jackson.
"He has mad impersonation skills," Berry Vincent said.
The band has a set list, but members let the mood of the crowd determine what they will play next.
Regardless of the performance, "Love Shack " by the B-52's makes its way into the set.
"We have to," Berry Vincent said. "It is, after all, our namesake."
Along with songs, the band comes dressed in '80s rocker get-up .
The band originally came together in the '90s with a group of high school friends who longed for the music of the '80s.
Even though the band's theme has remained frozen in time, the group has cycled through new members.
Kouns, who started about five years ago, is the newest member. He joined after the former lead singer left the band to pursue new adventures.
"It was a quick turn around," Kouns said. "I wasn't scheduled to join the band for three or four weeks. They gave me two weeks."
Kouns' audition wasn't scheduled in the back of a studio in privacy with band members but a trial by fire in front of a live audience at an actual show.
Berry Vincent said this audition process only makes sense considering the performer relies on audience interaction.
Kouns said that at first, fans were critical of his style.
"All the fans are ferociously faithful," Kouns said. "Me and the former singer have different styles."
In the past, Kouns said, the lead singer was the only one to interact with the audience. Now, all members interact with each other and the crowd.
"But I like to chat with Robin and the band on stage," Kouns said.
Also, the former lead singer had a lower voice, compared with Kouns' higher vocal range, changing the way some of the songs are performed.
But over time, Kouns doesn't believe he is filling anyone's shoes.
"This is my band," Kouns said. "We are a family."
About two years after his entrance to the band, members also discovered that Kouns could play guitar after the regular guitar player was in an accident and couldn't make the show.
Looking at a spare guitar, Kouns picked it up and substituted for the guitar player.
"Not just play," Berry Vincent said. "The dude has mad skills."
Kouns had no rehearsal time but said the night "went off without a hitch."
"I have a few more hidden talents," Kouns said. "Stay tuned."
The band was invited to play at the M Resort in November after playing a few pool parties over the summer and generating a huge crowd.
Loveshack also played New Year's Eve.
"We were so packed," Kouns said. "People just kept coming in, even at 3 a.m."
Even though the band does private parties and specialty events, Berry Vincent said t he M Resort is the only place to check out Loveshack consistently.
The band members have a sister band named Whip It, which they use as a means to promote Loveshack around Las Vegas.
For more information about the band, visit loveshack.tv/index.asp.
Contact Henderson/Anthem View reporter Michael Lyle at mlyle@viewnews.com or 387-5201.