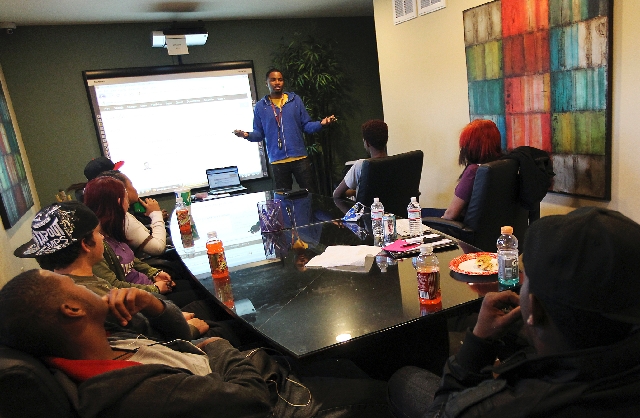 There's a common myth that the nonprofit sector is shrinking, losing jobs and is not a good place to look for employment or to plan a career.
Phooey!
The truth is that the 2000- 2010 decade saw exactly the opposite. Employment in the nonprofit sector grew by an average 2.1 percent per annum, compared with a 0.6 percent decline in for-profit jobs, according to a report published Sept. 25 in Philanthropy Journal . Further, during the Great Recession , nonprofit jobs grew an average of 1.9 percent annually, compared with an average loss in business jobs of 3.7 percent annually, according to the report by the Center for Civil Society Studies at Johns Hopkins University.
Looking closer, during the recession, nonprofit employment grew in 45 of 46 states for which data were available, while for-profit employment fell in 45 states. Also, nonprofit employment grew in all regions of the country, while for-profit employment fell in most regions.
This is not to say that it was easy for nonprofit entities to succeed or that it will be easy as we move forward. In fact, challenges loom, as cuts in government spending, for instance, can derail sustained growth drives.
Nonetheless, signs remain that the nonprofit sector is — and will continue to be — healthy from the employment standpoint. The transition to the nonprofit sector, then, merits consideration as a viable career choice.
Interestingly, nonprofit employment took a serious hit in 2009, falling by more than 800,000 nationally, a phenomenon caused by the recession's harshest year (the beginning of 2009 was when the economy hit rock-bottom). However, nonprofit employment rocketed up by 1.3 million in 2010 alone — a one-year growth rate of an unheard of 9 percent. This is most likely a result of the American Recovery and Reinvestment Act of 2009 ("the stimulus") that helped redirect funding to community nonprofit groups, allowing them to rehire and retain staff.
Total nonprofit employment in the U.S. in 2010 stood at 15.7 million, slightly more than 10 percent of the civilian labor force, making it one of the largest employment sectors in America.
So what is a nonprofit organization? What kinds are there? How do you learn about and get into nonprofit employment? What is it like to work there? And how do you make a career transition in general?
Definition of nonprofit Organization
A nonprofit organization is one that applies surplus revenue to achieve its goals rather than distributing this money as profit or dividends. Although nonprofit groups are permitted to generate surplus revenue , it must be retained by the organization to sustain and/or expand.
The fundamental difference between nonprofit and for-profit organizations is what they can do with their money. Each has a mission, core values, goals, strategies, organizational structures and so on. One can disperse excess revenue ; one cannot.
Types of nonprofits Groups
Although there are many types of nonprofit organizations, there are seven basic categories that combine for nearly all nonprofit employment.
Charitable organizations include advocacy groups, homeless shelters, youth programs, disability organizations, human rights groups, animal rights groups, emergency relief groups and some foundations.
Medical and health care nonprofit organizations include hospitals, medical centers and clinics, although not all of these facilities are nonprofit anymore. There is a growing trend toward for-profit hospitals, for instance, so it is important to distinguish between the two.
Educational nonprofit organizations include schools, colleges and universities, early childhood development centers, Head Start, merit-based scholarship groups, museums, certain environmental and conservation groups, zoos and botanical parks, nature centers, and health organizations with learning and outreach functions.
Religious nonprofit organizations include churches, synagogues, mosques, temples, monasteries, religious schools (also considered educational), seminaries, and faith-based charitable and relief organizations.
Cultural nonprofit groups include museums that display art, graphic art, historical artifacts and photography; performing arts venues such as symphonies, orchestras, operas, ballet and theater; public broadcasting (TV and radio); and writers', poets' and musicians' circles.
The scientific sector includes research labs, centers and organizations; some museums and permanent expositions; some environmental, conservation and research groups; and foundations that support exploration and discovery.
Community and civic nonprofit organizations include community action agencies; recreation programs and sports leagues for children, adults and seniors; child care, health programs and community outreach programs; community fund raising groups; community choruses, bands and orchestras; needs-based scholarship groups; and civic clubs.
How to learn about and get into nonprofit groups
Idealist.org, the premier employment and jobs site within the nonprofit arena, issues its Guide to Nonprofit Careers for First-Time Job Seekers and for Sector Switchers, which contains a list of entry points and learning strategies. Broadly, Idealist suggests five approaches:
1) Education. Many schools offer degrees, including graduate-level, in nonprofit or philanthropy management, public affairs, and social sciences. Community-based skill-building workshops and non credit classes can also help you develop professional skills.
2) Fellowships. Idealist recommends, "Short-term specialized assignments in public service roles often offer you a cohort, training, financial support and a chance to reflect on your experiences. Your participation in a fellowship program can influence your direction and open doors for you."
3) Internships. As in other fields, internships help build and develop skill sets, knowledge, experience and understanding of how things work. This applies to students, recent graduates or established professionals.
4) Service Corps. Serving in a corps (domestically or internationally) offers a "great deal more experience and autonomy than you'd get in any other entry-level position" at a nonprofit group, Idealist says. Service can range from six weeks to two years or more and is open to people aged 18 and over.
5) Volunteering. "Giving your time to an organization or a cause is a uniquely nonprofit way to develop your know-how and networks, to affect causes you're passionate about, and to extend the human resource capacity of organizations in your community," Idealist says. For nonprofit employment, volunteering is an excellent way to display your talents and passions while closing resume gaps and meeting new people in positions to hire when budgets open up.
Beyond these five learning strategies, find nonprofit job listings on sites and in publications such as Idealist, the Chronicle of Philanthropy and Jobs for Change, and by doing a general search for other nonprofit sites. Investigate nonprofit networking and professional development groups like the Association of Fundraising Professionals, Women in Development, Young Nonprofit Professionals Network and many others.
Read blogs in the nonprofit sector, including the Chronicle of Philanthropy, Idealist, Jobs for Change, New Voices of Philanthropy, Nonprofit Leadership 601 and the Nonprofit Blog Exchange.
Further, there are many news sources, publications, policy reports and research, all of which you can access online or at your public library.
What it's like working in ONE
Although no two nonprofit organizations are alike, certain characteristics seem to be ubiquitous within the sector. For example, barriers to entry (for entry-level positions, at least) are somewhat easier to overcome because desire and commitment count heavily. This does not mean that incompetence will go too far, but it also does mean that willingness to serve others will.
Beyond entry into the field, rapid advancement opportunities abound in the nonprofit world — not everywhere, to be sure — but desire, altruism and ambition can take you far.
Along with the tendency toward a more highly educated staff, half of all jobs are professional, managerial and executive. Adding administrative, that number rises to nearly three-quarters.
There is also less evidence of hiring or promotion discrimination based on age, gender, race, religion, sexual orientation or disability. The playing field is, in the assessment of many career advisers, more level than in other fields.
Despite the common characteristics across nonprofit work environments, there are differences within the field. Studies show the size of nonprofit organizations is correlated with ability to sustain and grow.
In 2010, of the 15.7 million nonprofit workers in the U.S., 11.95 million — 76 percent — worked in organizations of more than 100 employees, up from 73 percent in 2006. In fact, employment rolls in larger groups grew in the same four years by 800,000, more than the total field did, which means that groups with less than 100 employees shrank by 300,000. By contrast, employment in nonprofit organizations with less than 10 employees dropped by 3.8 percent from 2006 to 2010, while employment in organizations with more than 1,000 employees grew by 16.7 percent.
In terms of numbers of nonprofit establishments, there were 6 percent more in 2010 than in 2006. However, there were only 1.8 percent more nonprofit groups with less than 10 employees, while the number of groups with 1,000-plus employees grew by 43 percent. In 2006 the smaller organizations represented 51.4 percent of all nonprofit organizations; by 2010 that number fell to 49.4 percent, the first time it was less than 50 percent.
How to make a career transition
There are nine steps in implementing a career transition.
1) Identify your new field. Be more specific than just saying "nonprofit." In which sector(s) would you want to work?
2) Identify your possible occupation. What would you like to do? Fund raising? Manage volunteers? Administrative? In many cases, there is no difference in job duties, such as accounting.
3) Identify transferable skills. What skills do you have that you can apply in another field? How can they be used there? Make lists of both hard skills (accounting, marketing, etc.) and soft skills (communication, team building, etc.). Do the same for your values and interests .
4) Which organizations need your skills? Want your traits? Like your background? Share your values? Through job postings and networking, learn which organizations are good fits for you. Research organizations' mission statements, corporate values, and cultures. Read news reports about them, and search their job postings.
5) Be a "career A.P.E." That's "assess-plan-execute." Do your current skills and experience match up with what the organizations need? Create a checklist. Find and fill the gaps. Do what you need to do to close that gap: volunteer, take courses or certifications or even degrees.
6) Update your resume, professional bio, letters and social media profiles. Prepare a resume and/or professional biography that feature your qualifications for the new field. Also, update your social media profiles to represent the future, not the past. Use keywords and make connections with people who are doing the work you want to do.
7) Target employers. Targeting is one of the two most effective job search strategies. Once you know where you'd like to work, it's easier to identify opportunities, and give people a meaningful answer when you're networking and they ask, "How can I help you?" Remember, you can't hit your target unless you have one.
8) Network. Build relationships. Networking is the single most effective job search strategy and technique, responsible for landing more than half of all jobs in America — across all employment sectors. Keep your network active, not just when you're job searching .
9) Go get it. Time to execute. Career transition requires work, knowledge and support. Consider hiring a professional career coach to help you plan and execute your transition. An objective third party can be of enormous value. If not a coach, at least a trusted partner, friend, or colleague, but don't "go it alone."
As it's been all along, the nonprofit sector is a strong, viable career choice.