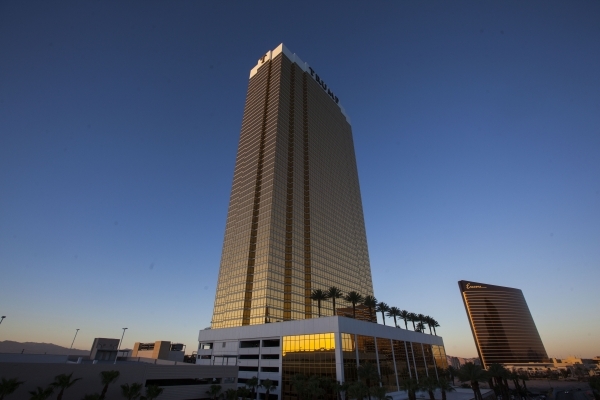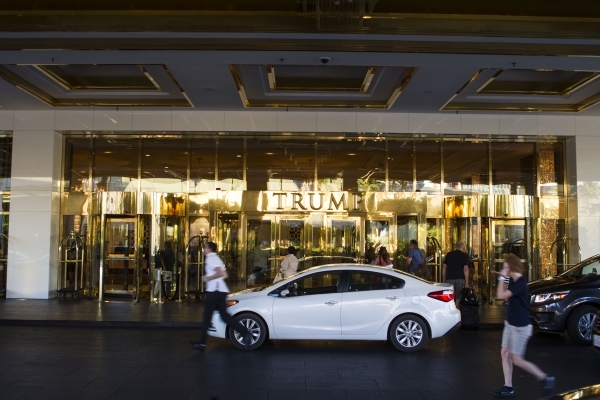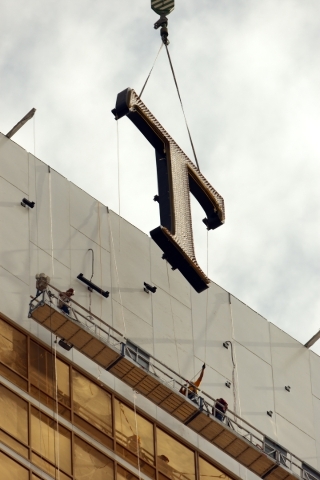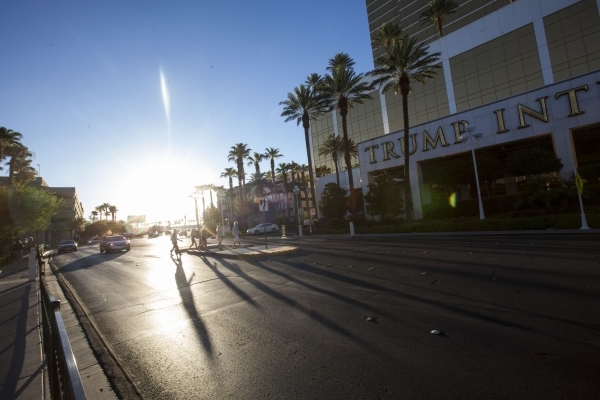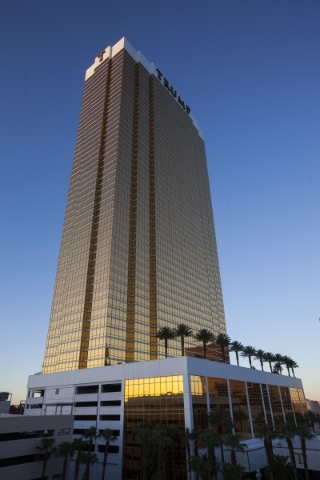 Donald Trump's ties to Las Vegas are impossible to miss, much like his unconventional campaign for president.
The Republican presidential front-runner and real estate tycoon has a vast business empire that stretches across the globe, including Las Vegas. In the style that only Trump can do, he's the only presidential candidate with a gleaming gold tower near the Strip bearing his surname.
The $1.2 billion Trump International opened in March 2008.
Trump reported $18.37 million in condominium sales and another $27.2 million in hotel revenue tied to the Las Vegas project, according to a 92-page financial disclosure he filed with the Federal Election Commission that covers an 18-month period.
It represents only a fraction of Trump's income, which was at least $431 million during that same period, according to the disclosure.
For Trump, the high-profile project is another source of name recognition in Las Vegas as 17 Republican presidential candidates are clamoring for attention in Nevada, an early voting state with February caucuses.
For Las Vegans, it's another visual reminder — albeit without a stump speech — that Trump was investing his brand in the region well before aiming for the presidency.
"Vegas has been a lucky place for us," said Eric Trump, Donald Trump's son and executive vice president of development and acquisitions for The Trump Organization.
More than 700 employees work at the hotel, a 64-story enterprise with 1,232 units ranging from studio condos to three-bedroom penthouses. Buyers purchase the condos as residences or partner with the hotel to rent them out to guests. The nongaming hotel focuses on luxury, with an 11,000-square-foot spa, windows lined with 24-carat gold and a staff of white-gloved doormen.
Trump's partner on the Las Vegas project is businessman Phil Ruffin, who owns TI.
Trump's foray into Las Vegas hit economic headwinds as the nation entered into the Great Recession. Plans for a second tower were put on hold after credit markets tightened in 2008.
"I think in time it's a very good possibility," Eric Trump said of the potential for a second tower.
He also left the door open for potential development elsewhere in Nevada, "if the right project comes around and when we have the right opportunity."
The Las Vegas hotel is part of the Trump Hotel Collection, which stretches from Ireland to New York.
"Vegas today offers something for everybody," the younger Trump said. "It's amazing how much it's diversified."
Condominiums sell at prices ranging from $250,000 for a studio to $3.5 million-plus for the top-line penthouse.
The condominiums attract residents from across the political spectrum — much like the candidate Trump does. Voter registration data from 2014 show that 18 voters reside in condos at the Trump hotel. Like the voters Trump is attracting, they include Republicans and independent voters.
Voter records don't reflect any registered Democrats living in Trump's tower, but of course, he'll sell condos to them too.
Political capital?
It's unknown whether Trump's investment in Southern Nevada will pay dividends in the February caucuses. But at the very least, it reinforces Trump's image as a hard-charging businessman who made an investment in the state.
"He basically came in and stayed in when the economy got really rough," said political science professor Fred Lokken of Truckee Meadows Community College in Reno.
He said candidates' abilities to get their name out in the public domain — even without all the talking points — can help their cause. By default, that gives Trump the largest unofficial political billboard on the Strip and right off Interstate 15.
"Think of how many Nevadans pass it," Lokken said. "Think of all the tourists that come to the valley."
But there are no guarantees in politics.
"He's at the top of the polls and in America; you guys love to target the top," Lokken said, referring to the news media.
Other GOP candidates with high name recognition include former Florida Gov. Jeb Bush, who has a father and brother as former presidents.
University of Nevada, Reno political science professor Eric Herzik said Trump's work in the region will help him marginally in his campaign.
Still, making a move from the Trump tower to the White House won't be an easy deal to cut with voters.
He added, "I think he's going to hit a hard ceiling too in terms of: 'Do you really know what it takes to run for president?'"
Contact Ben Botkin at bbotkin@reviewjournal.com or 702-387-2904. Find him on Twitter: @BenBotkin1.