UNLV's Patrick Armstrong had a very good weekend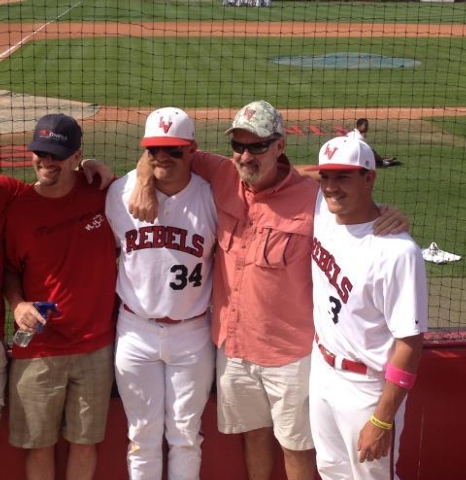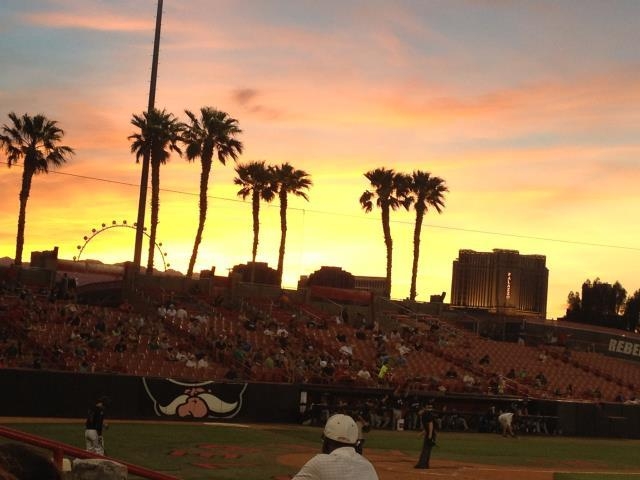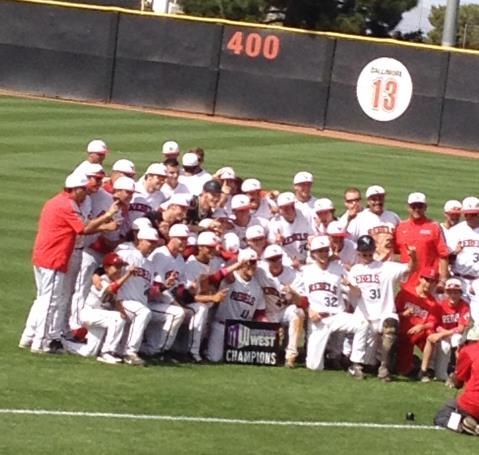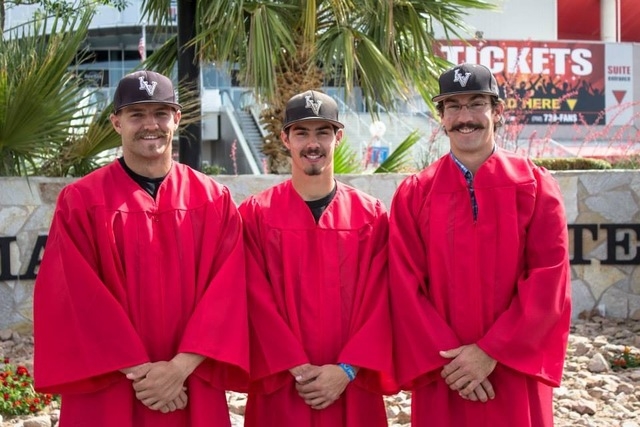 Hello Rebel Fans! I hope you're enjoying this warm weather. As I sat out at the UNLV baseball games this weekend, it felt like I was at a football game in August, it was so hot out. I'm not used to that this early in the year.
I have been attending UNLV baseball games for a few years now, but was able to attend more this season than ever before. I'm glad my schedule and their schedule were in sync. Even the games I couldn't attend, I watched on the Mtn. West Network online so that was awesome.
One of my favorite players to watch turned out to be Patrick Armstrong. He plays first base and always seems to get a hit when we need one. Since he is graduating this year, I reached out for an interview and his words are below.
The Rebels will be playing Thursday night at 7 p.m. at Earl E. Wilson stadium on UNLV campus in the Mtn. West tournament where they are seeded #1.
Why did you choose UNLV?
I chose UNLV really because I did not have any offers from other schools. Joey (Armstrong) was already committed to play for Coach (Tim) Chambers and I thought it would be a great opportunity to get to play D1 baseball alongside my brother.
What were your expectations or goals for playing at UNLV?
Coming here, I really did not know what to expect and I was just happy that I was going to get a chance to play. As a team, of course, we set goals to win a conference championship and move on into the postseason. Unfortunately, last year we did not accomplish those goals but this year was a different story. Going into this year, with it being my senior year, I really wanted to do something that would leave a mark. I don't necessarily think that people will remember me individually, and I am okay with that, but our team did something that has not been done in almost a decade by winning conference and I think that is something that people will remember for a long time.
What are your plans now that you've graduated?
The only thing I am really worrying about right now is continuing to win games and enjoy every day that I have left with my teammates. Obviously, like any other baseball player I have high hopes of being drafted, and if any organization calls my name and gives me an opportunity to continue my baseball career I will not hesitate to sign. If the draft doesn't work out, I will most likely attend graduate school at UNLV and be Coach Chambers' graduate assistant.
What do you want to do after baseball?
Baseball really is the only thing that I have ever done in my life and it is something that I want to stay involved in when my playing days come to an end. I can definitely see myself coaching in the future, hopefully at a big D1 school.
How is it playing with your brother, Joey?
Playing with my younger brother Joey has been a tremendous experience. Not only are we teammates but we also live together so there is never a dull moment with him. Getting to play college baseball has been incredible and I have been extremely lucky to have to opportunity to play alongside my brother.
Whose idea was it to have everyone grow mustaches? Even the academic adviser, David Jackson, did it!
It was really a team idea. Since Hey Reb has a huge mustache and Chambers was allowing us to grow facial hair we all figured we might as well make everyone we play Fear The Stache. David Jackson is a great guy and has been so helpful and crucial to all of the success that our team has had in the classroom. He is just as much a part of our team as our coaches and we are lucky to have someone like him supporting us every day on the field and in the classroom.
Favorite memory of UNLV?
As of today, my favorite moment is a no-doubter and that was being able to dogpile with my team after Saturday's game. It was quite possibly the best day of my life. Being able to graduate in the morning before the game next to my teammate and great friend Matt McCallister was a great feeling, along with being involved in the Senior Day ceremony before the game with my family was awesome. Then completing the sweep and being able to celebrate being conference champions with my teammates was more fun than I could have ever imagined.
(Graduation was Saturday, May 17. Patrick walked across the stage at the Thomas & Mack, got his degree, then ran over to Wilson Stadium to get ready for his game at 1 p.m. against in-state rival, Nevada-Reno which the Rebels won 4-2)
Favorite pastime besides baseball?
My favorite thing to do is just to hang out with my teammates. We have a great group of guys and even though we spend every day together it does not get old. We can entertain ourselves no matter what the situation and we always have a great time together.
I hear your parents are big Red Sox fans, have you attended games at Fenway Park? Is this also your favorite MLB team?
The Red Sox are also my favorite team. I was born a Boston fan and I remain a hardcore fan until the day I die. I have been to Fenway Park for a tour, however, I have never witnessed a game there. It is definitely something that I am hoping to experience soon!
Your dad played in the College World Series. Has that inspired you to push yourself and teammates to get there as well?
I think that the fact that my Dad got to play in Omaha and experience that gives Joey and I extra motivation to get there. It would be great to be able to experience the same thing that my father did because I don't think many fathers and sons can say that they have both experienced that. Not only has he played in the College World Series, but I have had a few friends play in it and they all say that it was the greatest experience of their life. Every team sets the goal to get there at the beginning of the year and I really think with the talent and mindset that we have we have a good shot of getting there.
Any parting words for your fans or teammates?
The Vegas community has been great to us this year and I would just like to thank them for all of their support. We have had great crowds this year that really seem to enjoy the game as well as the way our team plays and it is so much fun to play in front of a big and excited crowd. Also it has been great this year to see how many young kids have made it out to the park to watch us play. There is no better feeling in the world than seeing a smile on a little kids face when you give them a ball or sign something for them. I know that it probably is not something that they will remember forever but its extremely rewarding as a player and a person to have all those little kids look up to you.
I really appreciate Pat taking the time to answer my questions. Special shout out to the 335 Club, the group who stands & makes a lot of noise during the games over the right field wall. They have made me an honorary member. I even got a t-shirt!! Looking forward to seeing those guys back in full force during the tournament and next season.
Well Rebel Fans, I will have another blog for you real soon on a special event I attended Sunday night. I hope to see you out at the baseball field Thursday night.
GO REBELS!