US Chamber of Commerce all in for Joe Heck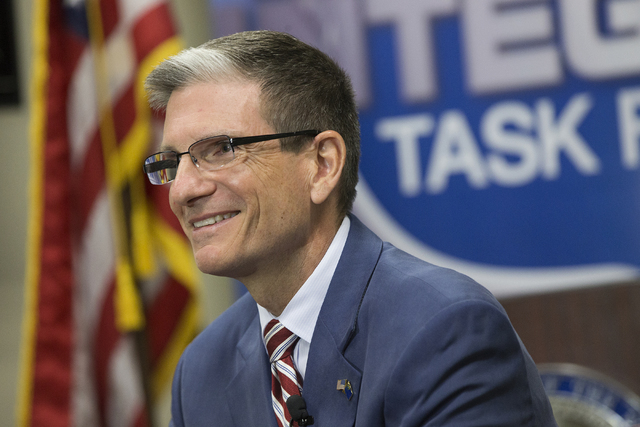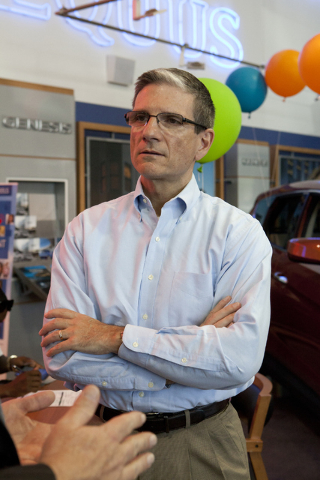 WASHINGTON, D.C. — The U.S. Chamber of Commerce has its sights set on expanding the Republican majority in the U.S. Senate.
The group has put more than $2 million so far into efforts supporting U.S. Rep. Joe Heck, R-Nev., in his run for the open seat of outgoing U.S. Sen. Harry Reid, D-Nev. It's one of a few Senate seats nationwide that Republicans believe could switch in their side, and it's being closely watched well outside Nevada. Heck is expected to easily win the June 14 GOP primary. Former Nevada Attorney General Catherine Cortez Masto is the Democratic favorite and has Reid's support.
"For us, the U.S. Chamber is taking a very aggressive posture in this election," Rob Engstrom, the chamber's national political director, said in an interview with the Review-Journal.
Engstrom spoke Tuesday to a group of officials and business people with the Las Vegas Metro Chamber of Commerce, which traveled to Washington, D.C., to meet with members of the congressional delegation and attend presentations about a wide variety of issues such as cybersecurity, gaming and transportation.
"We believe the majority in the Senate as it relates to business issues runs squarely through the state of Nevada," Engstrom said.
Nearly a year ago, in July, the group launched a $400,000 television and digital ad blitz. That came as Heck jumped into the Senate race. The group spent another additional $2.25 million in April and May on ads, Federal Election Commission data show.
The U.S. Chamber supports issues that Engstrom said will continue to be priorities for the next administration in 2017, including immigration reform and the impact of myriad regulations on job creators. Engstrom said the current administration has created an "unaccountable bureaucracy" that paints its membership as the enemy.
The Las Vegas Metro Chamber of Commerce, a separate organization, doesn't endorse federal candidates and hasn't endorsed either Heck or Cortez Masto in the Senate race. The Las Vegas chamber also visited with Reid, who mentioned he's "disappointed that the national chamber has taken money from the Koch brothers."
"The Koch brothers have given up on (Donald) Trump and now they're dumping all their money into the Senate races," he said.
The U.S. Chamber has supported Heck in every election since 2010. Engstrom called Heck a "pragmatic problem-solver" who "has the ability to win a political election" and "also the courage to govern and get things done."
Contact Ben Botkin at bbotkin@reviewjournal.com or 702-387-2904. Find him on Twitter: @BenBotkin1