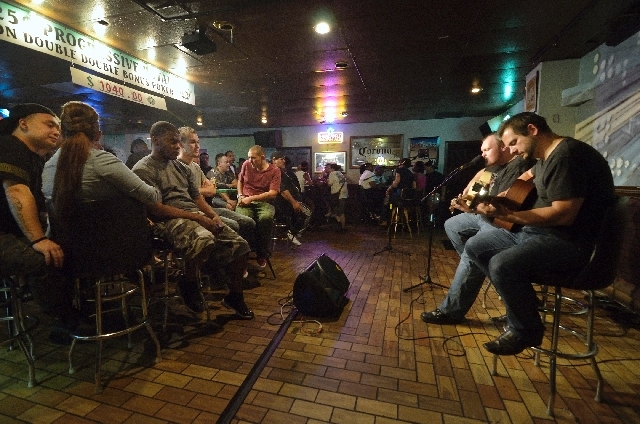 The word "free" can draw attention, whether it's free food, free money or a free car.
While free hasn't always come cheaply to Mike Ziethlow, a resident of North Las Vegas, his organization, Vegas on the Mic, has captured the attention of local artists.
Growing up, Ziethlow was interested in making and recording music. He earned an audio engineering degree from Michigan State University but put his music career on hold after he began playing poker online.
However, when the government seized all of Ziethlow's money after banning online poker, he resorted to performing on the Strip.
"It was probably one of the loneliest jobs I've ever had," Ziethlow said. "So I had this idea of a place that anyone could come off the street and start their career. What I wanted to do was revolutionary."
Ziethlow approached Money Plays bar owner Stan Henderson in October 2011 to revitalize its open mic night at 4755 W. Flamingo Road.
Although the bar had the longest running open mic night in Las Vegas, it was losing its luster, Henderson said.
"Mike just said he had some ideas and a following, so I gave it a shot," Henderson said. "I try to always be positive and say yes to someone who's trying hard."
With only $300 to his name, Ziethlow bought sound equipment and held his first Open Mic Night at Money Plays in November 2011 to a crowd of nine people.
After a year, Ziethlow had to expand the event from 9 p.m. to midnight Thursdays and Fridays to accommodate the crowds. An average night now is about 70 people.
"His words (in 2011) were an understatement compared to what he's done since," Henderson said. "I'm really blessed to have him pick this up from nothing and make it incredible."
At each event, Ziethlow photographs and records each performer with professional video and audio equipment. Within 48 hours, he uploads all the material to vegasonthemic.com free.
"Technology has gotten so cheap, the only way to do it is for free," Ziethlow said. "I may work 80 to 90 hours a week and not make a lot of money, but I enjoy every minute."
Vegas on the Mic is sponsored by Odds On, a multimillion-dollar studio in Las Vegas, and radio station KLAV-AM.
Each month, Ziethlow selects a few open mic performers to record at Odds On and perform live on KLAV-AM based on their hard work. He does this all free.
Michael Louis Austin, a local artist, was picked to visit the studio and the radio station. He used the recordings to promote his music and network with other performers.
"I'm forming a Vegas on the Mic 'super group' with three other musicians," he said. "I met them all from being at Money Plays."
Henderson musician Adam Rogers decided to try to sell his recordings from Ziethlow through iTunes, Google Play and Amazon.
"I'm selling something I got for free pretty decently," Rogers said. "Everything you could need as an independent artist, Mike gives it to you for free."
Ziethlow said six artists were able to privately audition for the television show "The Voice" based on the videos he recorded and uploaded.
As for his own television show, Ziethlow plans to debut "Vegas on the Mic" this fall to get local performers even more exposure. Again, he'll do it all free.
"I already have a pilot made, and two TV stations have said yes," he said. "I'm just shopping around for the best one."
While the Vegas on the Mic events are full of career-expanding opportunities, there is a strict set of rules performers must follow. Artists can sign up only in person at Money Plays at 8 p.m. on the night of the event. Although musicians, poets and comedians perform most of the gigs, all acts are welcomed.Each performer receives five minutes of stage time but can earn up to 10 minutes if he brings guests before 9 p.m. On stage, there is no instrument changing, tuning, drinking, smoking, apologizing or hating allowed.
"I want the guy that comes right off the street to have the same shot as the guy who comes in every week," Ziethlow said. "I'm really interested in being fair."
Rogers described the artists from the events as a supportive and stable "family."
"Vegas has always been a transient city, and this kind of shows there is a scene that isn't going anywhere," he said. "We love all artists. They get treated like rock stars from the very start."
Contact Southwest/Spring Valley View reporter Caitlyn Belcher at cbelcher@viewnews.com or 702-383-0403.
To Try out
Artists can sign up in person at 8 p.m. Thursdays and Fridays at Money Plays, 4755 W. Flamingo Road. The events run from 9 p.m. to midnight both nights. For more information, visit vegasonthemic.com or call 702-368-1828.