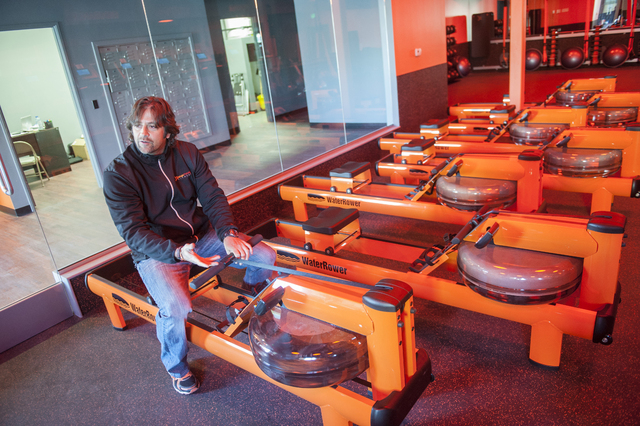 Village Square has been reinventing itself and is seeing a number of businesses open.
One of the latest to join the shopping center at 9400 W. Sahara Ave. is Orangetheory Fitness, which takes its name from its philosophy: targeting one's orange level of heart rate action, which indicates the heart is working at about 85 percent capacity.
The theory claims that by bringing the heart rate up to that level for interval training, one's body continues burning calories at a high rate for up to 36 hours after the workout. To ensure that everyone reaches that level, members are individually monitored, with their effort levels appearing on TV monitors.
"An athlete or a grandmother can be in the same class. It doesn't matter," said head coach Sophia Stiperski, who appeared in Cirque du Soleil's "Mystere." "The heart rate doesn't lie, so we know exactly when you're not pushing (yourself)."
Orange lights keep the 2,900-square-foot space aglow. The L-shaped workout studio includes treadmills and rowing machines, the latter of which use water resistance.
"It gives you fluidity of movement," said Martin Lacroix, owner/operator and a former professional hockey player. "… If you have a joint problem, it's the best rower on the market."
After each workout, an email is generated with a graph showing how much time class participants spent in each heart zone and how many calories they burned.
Orangetheory Fitness is an established franchise on the East Coast with roughly 65 locations, but this is its first foray into Southern Nevada. The idea is to open seven more in the valley over the next six years. For more information, visit orangetheoryfitness.com.
Spectacle, operated by optometrist Vanessa Kim, is another new tenant.
"I really wanted something that was unique. That's why I picked this center, because it's different," she said. "It doesn't have the things you can find everywhere."
Kim added that such a concept as Village Square gelled with her own.
"We're offering brands that you can't find in most optometrist's offices, lines that you'd find in California," she said.
Spectacle's space is just less than 1,600 square feet and is geared toward all ages. Besides using the latest in sophisticated equipment to measure eyesight, it is set to be paperless, utilizing electronic records.
As an optometrist, Kim can treat pinkeye and determine if the cause is bacterial, viral or simply an allergic reaction. Another service Kim offers is managing Lasik surgery, such as testing contacts before surgery to ensure the expected prescription will work with one's lifestyle.
Nearby, another new tenant, Madame Et Monsieur Reshape, is out to reinvent the spa experience with state-of-the-art technology to define the body and tone and firm muscles. Reshape uses a combination of exercise and a type of deep tissue massage working in tandem and designed to help flush toxins, promote weight loss and relieve stress.
Other new businesses include: Blow N' Go Hairbar finishing salon, Nevada Community Management and Sylvan Learning Center. They joined recent additions Avery's Coffee, Viva Mercado's Mexican Bar & Grill, Pisces Reef Fish Emporium, Full Circle Couture, Sumits Yoga and Xelement Music & Dance.
Veronica Meter, who coordinates the publicity for Village Square, said the newly renovated, 250,000-square-foot center was selective when it came to who was allowed to lease space.
"They want to make sure that all their businesses do well together and have a good mix," she said.
Keller Williams Realty is the latest to sign up, taking over 15,000 square feet of space and occupying the westernmost upper deck of the complex, plus a suite below.
"I'm impressed with where the center is," said Ted Mamola, owner of The Lion's Tail Tavern, which opened in February. "It's one of the top centers around, in my opinion."
Village Square is owned by an affiliate of Westport Capital Partners LLC and is managed by Sentinel Development.
For more information, including upcoming events, visit govillagesquare.com.
Contact Summerlin/Summerlin South View reporter Jan Hogan at jhogan@viewnews.com or 702-387-2949.