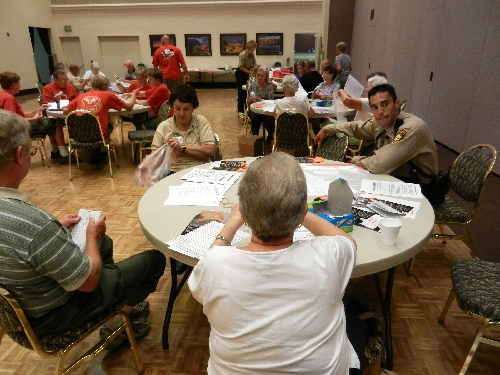 Some residents of Sun City Summerlin took National Night Out, Aug. 2, to heart with a preparedness drive.
About 50 volunteers from the 55-plus community spent the evening at Desert Vista Community Center, 10360 Sun City Blvd., stuffing plastic bags with pamphlets and handouts to make 1,200 emergency information kits. They were joined by more than a dozen Summerlin-area Boy Scouts from Troop 912.
The kits contained information on what to do in different kinds of disasters, from fire to flood to earthquakes. They also contained "The Vial of Life" for vital information for first responders, a "Pets Inside" sticker, an Emergency Preparedness Guide and the Sun City Summerlin Security Patrol's emergency contacts form. One handout, for example, suggested having a 72-hour supply of water on hand —- a gallon of water per person, per day.
"It's important residents have the information prior to an unforeseen event," said Kathy Perkins, crime prevention specialist with the Metropolitan Police Department's Northwest Area Command, 9850 W. Cheyenne Ave.
The kits were handed out the following Saturday, the second step of the National Night Out effort in Sun City Summerlin. About 100 residents were expected to participate in that effort, as were the Scouts.
As with many efforts involving Sun City Summerlin, there was joking and good-hearted banter in the community center's ballroom, but the seriousness of the effort was not far from thoughts.
Teresa Frederickson is on the Community Preparedness Committee. She lived through the October 2006 earthquake that hit Hawaii. The islanders had to fend for themselves, she said, until help arrived from the mainland.
"So, living in Hawaii, I realize how all alone you are when there's an emergency," she said.
Dan Stanevich, with Sun City Summerlin's Emergency Operations Center, said that in a disaster, the big issues were expected to be under control after 72 hours, and the focus could switch to community needs.
The strategy of emergency preparedness has changed in the community, he said. Before, the committee addressed big threats individually, alerting residents how to act in a mass fire, a flood or a chemical spill.
"Now, it's an all-hazards plan," Stanevich said.
Emergency plans include identifying resources —- that 72 hours worth of drinking water, for example, could be as close as a home's hot water heater. Golf carts or landscape equipment could be used to move the injured if roads were disrupted.
Sun City Summerlin, Stanevich said, has personnel resources as well —- retired medical and rescue professionals and ham radio operators.
Lottie Tabor, chief of the Sun City Summerlin Security Patrol, said an emergency could come from above, such as a small plane crashing as it heads to the North Las Vegas Airport, or it could come from below.
"There's a gas line that runs under the community it's important that people have some sort of plan," she said.
BJ Martens, co-chairwoman of the Sun City Summerlin Community Preparedness Committee and coordinator for the Community Emergency Response Team, said people need to make disaster preparedness a high priority, and that was what the National Night Out effort was all about.
"People think, 'Oh, it'll never happen here,' " she said.
The community has more than 7,700 homes, and organizers vowed that the outreach will continue until every neighborhood is covered.
More volunteers are needed. To sign up, call Martens at 308-8089.
Contact Summerlin and Summerlin South View reporter Jan Hogan at jhogan@viewnews.com or 387-2949.
How to help
For more information about how to help get the word out about emergency preparedness in the Summerlin area, contact BJ Martens at 308-8089.