Walt Lott Drive honors off-road racing enthusiast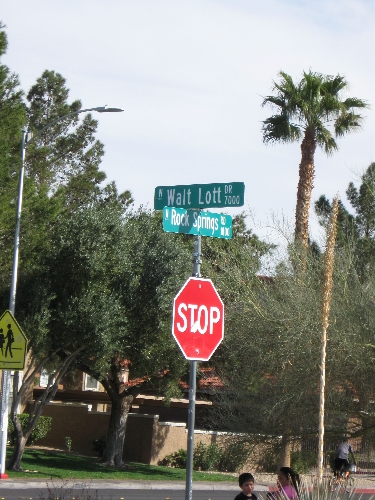 Walt Lott Drive, near U.S. Highway 95 and Lake Mead Boulevard, may not elicit instant recognition, but add the words "Mint 400," and there are sure to be nods of familiarity. Lott was instrumental in the formative years of the famous desert race.
Lott was inducted into the Off-Road Motorsports Hall of Fame in ceremonies in Reno in August 2007. Both that honor and the street naming were done posthumously.
Norm Johnson created the race in 1967. He knew Lott well.
"As a person, he was what you might call a 'jolly old fart' … he was a good guy," he said. "He expected you to do what you were hired to do, and he ran a fair race."
Lott served as chief steward of the Mint 400. Officially, he was responsible for enforcing the rules, securing the permits and staffing the volunteer positions as well as laying out the course and marking it. Unofficially, he was the guy who was always at the starting line, shaking everyone's hand and wishing them good luck.
Lott died of a heart attack July 2, 1988, while manning a checkpoint at the Fireworks 250 off-road race in Barstow, Calif. He was 68 and had had suffered two previous heart attacks. Lucas Hand, his grandson, recalled that day. He was 13 at the time and had been at summer camp in California. His mother came to deliver the grim news and bring him home.
"I really don't remember the ride back (to the race grounds)," he said. "What I remember was that all the corporations were represented — Ford, Chevy, all of them — and all I remember was seeing the semis with their flags at half mast. That was pretty intense, to see that."
Lott was always a part of Hand's early years.
"He taught me how to drive when I was 6 or 7 years old," he said. "We started off in an old dune buggy, and he let me drive it around. We were out in the desert where I couldn't do any harm … when my parents got divorced, he was like, 'Let's go. Let's keep you busy.' "
Lott was born Dec. 13, 1919, in Santa Ana, Texas. He worked in appliance sales. He and his wife, Edna, lived in Sloan, where they raised their two children, Jim and Londa.
His idea of a fun vacation? Taking off into the desert and poking around old ghost towns.
Lott's interest in racing was sparked when John Herda, a family friend and owner of Herda Appliances, invited him to Baja California for a desert race. Lott helped out the Herda pit crew and was bitten by the racing bug.
"The funny thing about the Mint (400), it was when dune buggies were just becoming popular, and the whole culture," Hand said. "And Norm Johnson came up with a staged press deal, and they ran dune buggies from Las Vegas to Reno. It was so popular, it added to that craze, and it just blossomed from there."
But a once-a-year race wasn't enough to satisfy Lott's love of the sport. He began promoting his own events, hosting them in numerous formats — lap races of varying distances, night racing and a 24-hour endurance race — all developed to give the racers new challenges in the sport.
"He was an innovator in the fact that he liked to see things progress instead of stay at the status quo," Johnson said.
Organizing races brought him only so much excitement, so in 1969, Lott entered the grueling Mint 400, acting as co-pilot to his daughter, Londa.
He went on to create the Oasis Racing Association in 1972, in partnership with Pete Simon, who owned Pop's Oasis Casino in Jean. In 1974 he also created the Western Racing Association, which later morphed into Walt's Racing Association.
Lott also founded the High Desert Racing Association in 1976. The HDRA promoted desert racing series in the Southwest, including the Coors Off-Road Series. After his death, Lott's wife of 47 years, Edna, who also was an off-road racing enthusiast, assumed the presidency of the HDRA.
The Mint race evolved, as well, adding its own "Mint 400 Girls" for that Las Vegas flair. The lineup changed but at one time included Vanna White of "Wheel of Fortune" fame and Linda Carter, who would go on to star in "Wonder Woman."
Hand spoke of the excitement that preceded each race and how the town geared up for the festivities.
"I remember being a kid," he said. "And it was the Friday before the race. You've got to be downtown for it, so we ditched, basically. Other kids got to go to Disneyland, but I got to the race."
Hand told how two racers, who were high in the standings, wanted to enter the Mint 400 but didn't have the entry fee. His grandfather said they could pay it after they finished the race and earned the prize money. The team ended up taking second place. When they tried to pay up, his grandfather waved them off and told them to use it to enter their next race.
Lott was community-minded. He arranged for a high-performance vehicle to be donated to the vocational school in Las Vegas so students could learn advanced automotive design. He got one donated to a school in Beatty and another one to a Tonopah school.
Hand said he tries to emulate his grandfather now that he, too, is involved with off-road racing.
"He never met a stranger," Hand said. "He put everyone else in front. He said, 'Here's the shirt off my back. Now, what else can I do for you?' "
Contact Summerlin/Summerlin South View reporter Jan Hogan at jhogan@viewnews.com or 387-2949.
Naming Las Vegas
The history behind the naming of various streets, parks, schools, public facilities and other landmarks in the Las Vegas Valley will continue to be explored in a series of feature stories appearing in View editions published on the first Tuesday of every month.
If you're curious about how or why something got its name, post a comment on our Facebook page, facebook.com/viewnewspapers, or email sblust@viewnews.com.
Thanks for reading View.