Watchdog group jabs Reid over government waste bill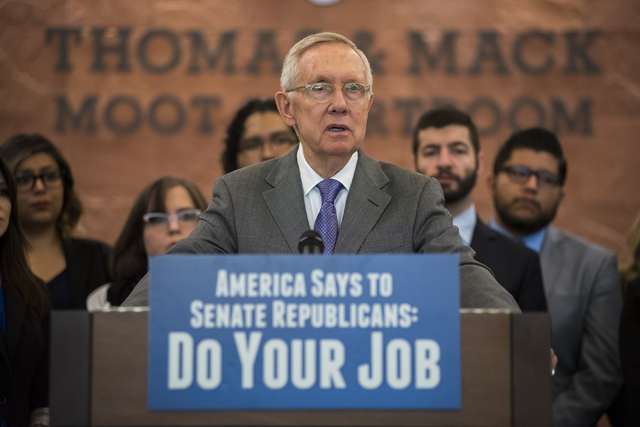 U.S. Senate Democratic leader Harry Reid of Nevada received a government watchdog group's "dubious honor" as March Porker of the Month for blocking a bill to back inspectors general in their battles against waste, fraud, abuse and mismanagement and refusing to provide a full explanation on why he did so.
"Sen. Reid's unfathomable objection to this measure exemplifies his utter and complete disregard for protecting taxpayers," said Tom Schatz, president of Citizens Against Government Waste.
"Inspectors general are frontline fighters in the battle against waste, fraud, abuse, and mismanagement in the federal government. They should have unfettered access to any and all documents they need in order to hold agencies accountable and safeguard taxpayer dollars."
In its statement recognizing Reid, the Washington, D.C.-based nonprofit, nonpartisan group pointed to Reid's objection to a unanimous request by Sen. Chuck Grassley, R-Iowa, in December to bring to the floor his bill to ensure IGs have access to agency records needed for their investigations.
Reid, as late as March 18, has declined to explain fully why he objected to Grassley's request, the group stated.
— Jim Myers
PRO-CHOICE PAC BACKS FLORES
A pro-choice political action committee has endorsed Lucy Flores, a Democrat challenging Republican Cresent Hardy in the 4th Congressional District race.
The NARAL Pro-Choice America PAC on Friday announced its endorsement of the former Nevada assemblywoman, calling her an outspoken defender of reproductive freedom who has shared her own abortion story as part of her advocacy.
"Lucy Flores is a true champion for choice and we are proud to stand with her during her campaign for Congress," said Ilyse Hogue, president of the PAC. "Nevadans deserve leaders who not only understand that women have the constitutional right to choose an abortion, but who vocally and wholeheartedly champion those rights.
"With so many threats to Americans' reproductive freedom coming from the anti-choice majority in Congress, we need champions like Lucy who will unapologetically fight to defend and expand our right to the full range of reproductive health options," Hogue said.
NARAL Pro-Choice America and its network of state affiliates are dedicated to protecting and expanding reproductive freedom for all Americans.
Flores is one of eight Nevadans seeking the Democratic nomination in the June 14 primary to face Hardy, a former state lawmaker who earned a surprise victory in the 2014 GOP sweep of many state and legislative offices.
— Sean Whaley
Contact Jim Myers at jmyers@reviewjournal.com or 202-783-1760. Find @myers_dc on Twitter. Contact Sean Whaley at swhaley@reviewjournal.com or 775-461-3820. Find @seanw801 on Twitter.