Wynn chef Paul Bartolotta recalls pal Charlie Trotter
November 6, 2013 - 8:26 am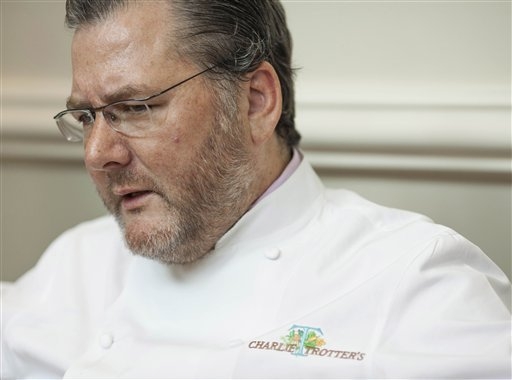 For a decade Chicago chefs Charlie Trotter and Paul Bartolotta would visit each other's restaurant and kibitz about their passions.
The creative Trotter was an icon of complicated dishes while Bartolotto piled up awards for perfecting authentic Italian fare.
"We were chocolate and vanilla," said Bartolotta, who has operated Bartolotta di Mare Ristorante at Wynn Las Vegas since it opened in 2005.
"Charlie was a man who really changed the landscape of dining in Chicago and brought international attention to Chicago," said Bartolotta, who put Spiaggia on the map in Chicago.
The self-taught 10-time James Beard Award winner died unexpectedly Tuesday at his home in Chicago, at the age of 54.
"A shocker," said Bartolotta.
Trotter, who had retired about a year ago, twice opened short-lived restaurants in Las Vegas: Charlie Trotter's at MGM Grand in 1994 and Restaurant Charlie at The Palazzo, from 2008 to 2010.
"He was a real true artist in the sense that I don't think Charlie was really interested in making money," added Bartolotta.
"He was obsessive about overinvesting in wine, overinvesting in staff, in talent and everything because it had to be right," he said. "I don't mean that in a negative way. He was a guy who said 'I'm doing it my way' — and he went out on top."
Charlie Trotter's restaurant on West Armitage Avenue in Chicago was a foodie mecca for most of its 25 years.
"He was a student of life, curious with a highly developed intellect. Some saw him as an eccentric, crazy man who saw the world through his own eyes and he didn't compromise," Bartolotta said.
Trotter's generosity was legendary as well, according to Bartolotta.
"I'll never forget, right after 9/11, we had some fundraising events at my restaurants in Milwaukee. I called Charlie and he said 'I'm there.' He was not a guy interested in driving a Ferrari or wearing a Rolex. He was more interested showing you new china for his appetizers.
"I've been asked to name the most memorable dish I had at Charlie's," Bartolotta said. "I never had the same dish at Charlie's."
When Trotter walked away in August 2012 to travel and pursue a master's degree, he told the Chicago Sun-Times that doing the same thing for too long wasn't healthy.
"Life's too short," Trotter said.
THE SCENE AND HEARD
Caesars Palace headliner and country superstar Shania Twain will be the grand marshal for the Opportunity Village's Las Vegas Great Santa Run on Dec. 7…
Actor Kevin Kline lost his Vegas virgin status when he showed up for the Oct. 18 screening here of "Last Vegas" with his co-stars. He had never been to Las Vegas, the star of "A Fish Called Wanda" told Moviefone.com. First impressions? "It's not where I'd think of going if I want to get away for a relaxing weekend," said Kline. Shooting some of the scenes in Las Vegas "certainly added to the fish out of water genre." Moviefone.com's take on the film: "Ridiculously entertaining," with Kline the MVP "for the sheer amount of giggles provided."
SIGHTINGS
Rock legend Gene Simmons of Kiss, with a large group on Monday night at La Cave Wine and Food Hideaway (Wynn).
THE PUNCH LINE
"Today Donald Trump accused the (New York Marathon) runner from Kenya of actually being born in the United States.'' ­­— David Letterman
Norm Clarke's column appears Sunday, Monday, Wednesday and Friday. He can be reached at 702-383-0244 or email him at norm@reviewjournal.com. Find more online at www.normclarke.com. Follow Norm on Twitter @Norm_Clarke. "Norm Clarke's Vegas," airs Thursdays on the "Morning Blend" on KTNV-TV, Channel 13.