Yes, kitties, there is a Cat Santa Day
December 14, 2013 - 7:57 am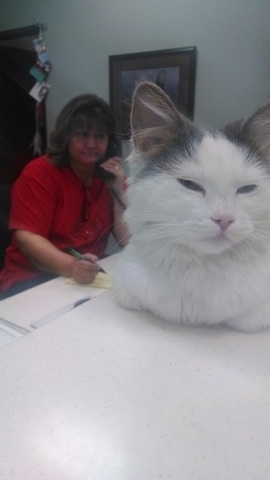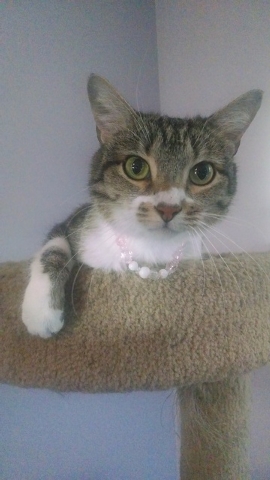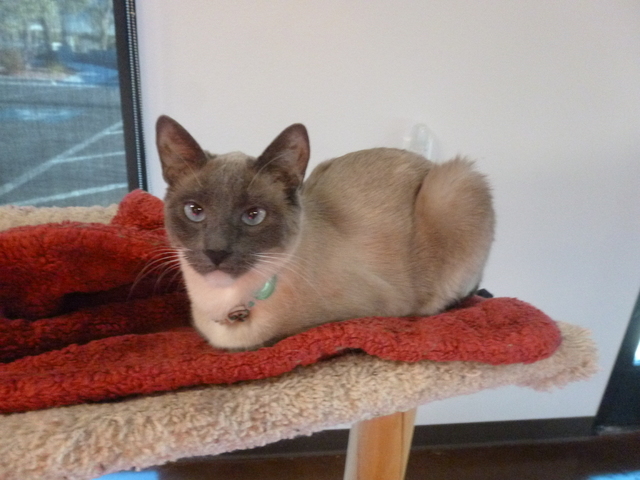 Today is my favorite day of the year. It's Cat Santa Day — when any cat owner in the valley can take their felines to get photos taken with Santa Claus at Bonanza Cat Hospital.
It's simple. Put your cat in a cage, drive north to 6620 Sky Pointe Drive (near 215 and 95) between 10 a.m. to 2 p.m., and get a ho-ho-hilarious photo for Facebook and Christmas cards.
"Our Santa is an expert cat wrangler," says Linda Newman, who manages the office there.
I have seen Cat Santa several times in his six years. It fills my heart with joy. You get a 5-by-7 photo, and you can take photos and videos with your own cameras.
Bonanza Cat Hospital is a no-kill private veterinarian's office. Dr. Linda Steelman refuses to kill cats who can live with terminal illnesses and stitched-up injuries.
She built an entire wing where 80-plus cats live and eat and sleep and play.
"I'm amazed they all get along as they do," Newman says. "It's like they know it's their last stop."
If you have gone to Cat Santa before: This is a new location. Steelman moved her office to Sky Pointe Drive in October. Her bank wouldn't loan her money to build a cat sanctuary/hospice. She gets zero money from grants or government agencies.
"A lot of people think we have grants or government subsidies. But we get nothing. It all comes from donations," Newman says.
So Steelman has a charity, The Poppy Foundation, to find volunteers to pet the cats, bring them food and necessities, and donate cash for medicine, nutrition, litter and so on. Wet food alone costs $900 every two weeks.
Newman's desk doubles as a hangout for little kitten Tuti (no relation to "The Facts of Life").
Tuti purrs so loud next to Newman. Tuti was a street kitten brought in by a cat rescuer. Tuti has an enlarged heart and megaesophagus. She is purring on borrowed time.
"You can tell she breathes harder than most cats. She doesn't know anything is wrong," Newman says. "We're gonna give her as much love and time as we can."
Then Newman pets her for the zillionth time today.
"You're such a good girl," Newman tells Tuti. "I love you."
Several cats get fixed up enough so they can be adopted. But most adult cats will live here forever, getting TLC.
When you take your cat to visit Cat Santa today, your cat will not come into contact with any of the permanent residents. But you can visit the residents knowing, as a human, you can't pick up anything bad from them.
Just make sure you get there from 10 a.m. to 2 p.m. Those four little furry hours come only once a year. And Steelman says something I've never heard her say:
"We're having some dogs, too — well-behaved dogs."
If you want to donate or learn more: PoppyFoundation.org. Or call Christy at 702-271-1632.
Doug Elfman's column appears on Page 3A in the main section on Mondays, Tuesdays, Thursdays and Saturdays. He also writes for Neon on Fridays. Email him at delfman@reviewjournal.com. He blogs at reviewjournal.com/elfman.