YMCA of Southern Nevada relocates to North Las Vegas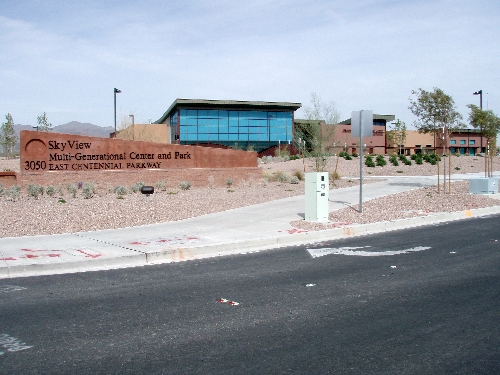 The YMCA of Southern Nevada has found a new home in North Las Vegas.
The City Council approved a contract with the nonprofit group during its April 6 meeting to operate the new $18.3 million SkyView Multi-Generational Center, a 36,000-square-foot recreation center at 3050 E. Centennial Parkway between Losee and Pecos roads.
SkyView is the YMCA's fourth branch in Southern Nevada and a first for North Las Vegas. There is one central YMCA location across from Meadows Mall in Las Vegas, and two more facilities are in the northwest part of town.
"While we wish we were operating this ourselves, we're glad to have you on board," Councilwoman Anita Wood told Mike Lubbe, YMCA president and CEO. "Welcome to North Las Vegas."
In November 2010, the financially strapped city had issued a request for proposals for an outside group to open, staff and maintain the center. That's when the YMCA submitted its bid for the project.
There is an expected economic impact on the city, too, as the center will initially employ four full-time and 30 part-time staffers. Depending on participation, an additional 15 seasonal staffers will be in the pool and the center. Later, the group hopes to have five or six full-time staffers and 40 part-time workers.
All the open positions will be posted online at ymcalasvegas.org.
The new SkyView YMCA is expected to open for use June 1. Hours are scheduled for 6 a.m. to 8 p.m. Monday through Thursday, 6 a.m. to 6 p.m. Friday, 8 a.m. to 4 p.m. Saturday and noon to 4 p.m. Sunday.
Throughout May, there will be tours of the facility, registration for summer day camp and the ability to purchase a Sizzlin' Summer joining pass, which provides four months of unlimited access to any YMCA facility for $109 per person or $209 per family.
Tours are scheduled for May from 8 a.m. to noon and 4 p.m. to 7 p.m. Monday through Thursday and 9 a.m. to noon on Saturday. The facility will be closed Fridays and Sundays for tours.
The SkyView center includes a state-of-the-art wellness center with cardio equipment, circuit machines, an indoor swimming pool with lap lanes and lesson areas, Zumba, cycling, kickboxing, martial arts, Pilates, aerobics and "Y-Kids," which are child-focused classes.
Fully equipped locker rooms, vending areas and relaxation areas with free Wi-Fi also will be made available.
The first 250 new members will receive a backpack filled with "Y gear" and more than $150 in free offers, including a wellness coaching session and the choice of a free week of day camp or a free swim lesson.
The day camp hours are from 9 a.m. to 4 p.m. Monday through Friday; however, two hours of free before and after care are provided to accommodate parents who struggle to drop off and pick up their children during that time period. The program is for kids ages 5 to 15 and runs June 13 through Aug. 26.
"This is a unique public-private partnership that is mutually beneficial for both the city of North Las Vegas and us," said Tara Maras, YMCA spokeswoman. "In the end, the residents win. This is a unique opportunity for them to experience our facilities and a place to go that's safe and welcoming regardless of fitness level and income."
In early 2010, the YMCA lowered its monthly rates by 15 percent across the board, and these savings will be passed on to SkyView participants, Maras added.
"No one is turned away because of an inability to pay," she said. "If someone can't afford the monthly membership, we will work with them to provide financial assistance from donations we get. That's what makes the Y accessible to everyone."
Contact Downtown and North Las Vegas View reporter Kristi Jourdan at kjourdan@viewnews.com or 383-0492.