A large portion of North Las Vegas homeowners are considered "house poor," according to a new report.
Related
Las Vegas Realtors are concerned about Wall Street hedge funds and investors buying homes en masse.
Schools Over Stadiums said it is being sued over a referendum petition to stop public funds from going toward an Oakland A's ballpark.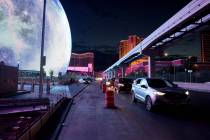 When the doors open for the Sphere's inaugural events — U2's residency and "Postcard from Earth" by Darren Aronofsky — bring plenty of money for parking.
Officials cited an "imminent health hazard" in closing the Treasure Island restaurant with one of the best Strip views of the Formula One Grand Prix.
Sponsored Content
Partner Content for Ascend Agency
For Stirling Cooper, a successful entrepreneur and bedroom performance coach, maintaining a work-life balance and a strong presence within the entrepreneurial ecosystem has been crucial to his success. When it comes to work-life balance, Cooper has an unconventional approach. He favors long periods of intense focus and work on building his business, interspersed with sporadic […]
Police have released 911 calls that detailed the morning two teenagers are accused of speeding through northwest Las Vegas, mowing down a retired police chief on a bicycle before fleeing the scene.
"Atomic City," U2's ode-to-Vegas punk anthem, will be in the set list at The Sphere.
An investigation into the death of 16-year-old Angel Naranjo is still open, Kevin McMahill said.
She was on her way to an iHeartRadio Festival sound check at T-Mobile Arena when she heard someone "killing some Tina Turner."