The luxury house in The Summit Club, a wealthy enclave in Summerlin, features a "secluded private apartment."
Related
Southern Nevada's housing market is no stranger to volatility — and lately, it seems the industry is on anything but even ground.
Twenty-five years ago, one of the wildest bouts Las Vegas has ever seen took boxing to a new level of crazy.
Oak View Group's planned 2,000-room resort and 20,000-seat NBA-ready arena on the south Strip are scheduled for a groundbreaking next year and an expected opening in 2026.
A man accused of stabbing two people at University Medical Center voiced a desire to harm himself and others, yet was apparently able to hide a knife in hospital bedding before the attacks.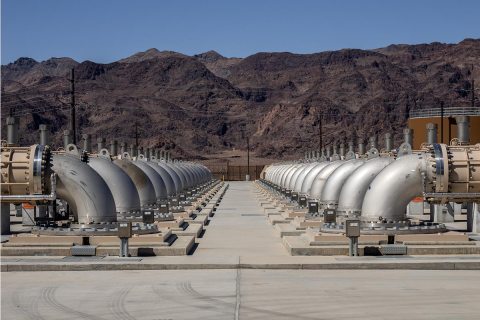 Sponsored Content
Sponsored Content for Las Vegas Valley Water District
As climate-change fueled megadrought impacts water availability in the Colorado River Basin, the Southern Nevada Water Authority continues to invest in critical infrastructure projects that assure a safe, reliable supply of water for the community. Among these investments is the new Low Lake Level Pumping Station (L3PS) at Lake Mead, the source of 90 percent […]
Women who worked for the NFL team alleged a pattern of forced demotions, unequal treatment and retaliation if they voiced concerns.
Owner Craig Miller brought his houseboat in early June to a place for engine repairs, but rapidly declining Lake Mead left him with nothing but sand under his boat.
Gov. Steve Sisolak, Planned Parenthood and other abortion-rights advocates held a news conference in Las Vegas following the Supreme Court's ruling to overturn Roe v. Wade.
Check out the Las Vegas Raiders' new $2 billion home with this view looking south.