Related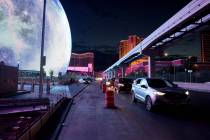 When the doors open for the Sphere's inaugural events — U2's residency and "Postcard from Earth" by Darren Aronofsky — bring plenty of money for parking.
By Michael R. Blood, Mary Clare Jalonick, Lisa Mascaro and Michael Balsamo The Associated Press
She has served as California's senior senator since 1992 and was one of several trailblazing women elected to Congress that year.
A large portion of North Las Vegas homeowners are considered "house poor," according to a new report.
A large crowd of people showed up at the Clark County School Board meeting, calling for the repeal of a gender identity policy.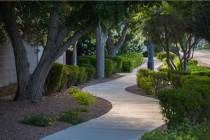 Sponsored Content
Partner Content for Southern Nevada Water Authority
If you've been contemplating the idea of transforming your thirsty grass landscape to drip-irrigated, water-efficient plants and trees, look no further than the Southern Nevada Water Authority's (SNWA) Water Smart Landscape Rebate program (WSL). Whether you choose to do the work yourself or hire a water-smart contractor, you can earn a cash incentive of up […]
Police have released 911 calls that detailed the morning two teenagers are accused of speeding through northwest Las Vegas, mowing down a retired police chief on a bicycle before fleeing the scene.
"Atomic City," U2's ode-to-Vegas punk anthem, will be in the set list at The Sphere.
An investigation into the death of 16-year-old Angel Naranjo is still open, Kevin McMahill said.
She was on her way to an iHeartRadio Festival sound check at T-Mobile Arena when she heard someone "killing some Tina Turner."