By Jeff Burbank and Geoff Schumacher The Mob Museum
Two experts at Las Vegas' Mob Museum hypothesize that the ruthless enforcer killed one of three men with mob ties who disappeared decades ago without a trace.
A recent study found that residents in the Las Vegas metro area are experiencing one of the highest percentage rent increases from pre-pandemic 2019 to 2022.
How to maximize the awesomeness at the biggest dance music festival in the world.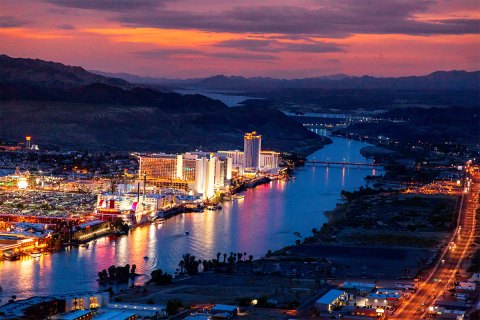 Sponsored Content
Sponsored Content for Laughlin, Nevada
Laughlin, situated on the beautiful Colorado River and surrounded by mountain ranges, glitters in the desert to beckon visitors to come and enjoy all that is offered. Springtime brings perfect weather, with highs in the mid-80s. This destination has live entertainment that features music for everyone, including today's top headlines in rock, country, pop, comedy […]
The Clark County Public Administrator's office has faced dissension for two years, with staffers alleging stress because of an improper relationship between the boss and a co-worker.
Outdoor enthusiasts, star gazers and night owls got a glimpse of the year's first total lunar eclipse on Sunday.
To many, the grim discovery of the body of a shooting victim in Lake Mead inspired a callback to a darker Las Vegas past, but the the reality could be as murky as the waters where the body was found.
Check out the Las Vegas Raiders' new $2 billion home with this view looking south.
Quality journalism sent to your inbox
each morning and afternoon.
Unsubscribe at any time.