Jaguar XE provides entry-level luxury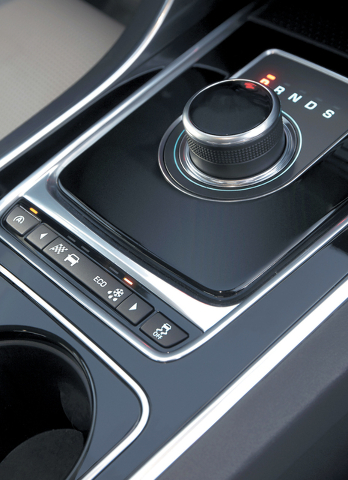 What sedan is the poster child of the entry-luxury segment? The BMW 3-series, of course.
It seems like there's always a new challenger from an up-and-coming brand, but that's where the 2017 Jaguar XE is different: Jaguar has history, although that can be a good or a bad thing.
Jaguar has attempted to dethrone or at least keep pace with BMW in this class before. Years ago, under Ford's ownership, the Coventry, England-based automaker introduced the X-Type and S-Type models, but with mixed results. Current management, the Tata Group of India, has propped up Jag's research-and-development efforts this time around, resulting in a more technically advanced car that blends performance with cool contemporary styling.
As with the rest of the Jaguar fleet, aluminum is liberally used in the build, in particular the unitized (frameless) body structure, while the exterior panels are mostly steel. This helps pare the base weight to a relatively lean 3,350 pounds, which is about 350 pounds less than the base weight of the 3-series.
In terms of styling, the finished package compares favorably with the usual upscale competitors from Europe, Asia and North America. The long hood gently slopes to meet one of the best-looking grilles (similar to the F-Type's) and headlight pods in the business.
Dimensionally, while not a dead ringer for the BMW 3-series, the XE isn't far off in overall length, width and in distance between the front and rear wheels. That also means it suffers from the same tight-fitting rear-seat area. For some reason, this class of car commonly treats back-seat riders as afterthoughts.
Meanwhile, those in front are treated to first-class accommodations that include well-bolstered seats and an 8- or optional 10.2-inch touch-screen that controls climate, audio, communications and navigation functions. It's also used to fine-tune the engine, transmission, steering and suspension systems according to driver preference and/or road conditions.
The XE arrives this spring with a base turbocharged 2.0-liter four-cylinder engine that produces 240 horsepower and 251 pound-feet of torque. Optional is a supercharged 3.0-liter V-6 putting out 340 horsepower and 332 pound-feet. Jaguar has also added a turbo-diesel powerplant for North America in the form of a 2.0-liter four-cylinder that's rated at 180 horsepower and at stout 318 pound-feet of torque.
Jaguar claims the gasoline 2.0 hits 60 from rest in 6.5 seconds, with the V-6 reducing that time to 5.1. The turbo-diesel needs 7.5 seconds.
An eight-speed automatic transmission, which is also employed by BMW and Audi, takes care of the shifting duties for all XE engines.
The base car is rear-wheel-drive, but the turbo-diesel and the V-6 can be equipped with extra-cost all-wheel-drive. It splits the front:rear torque on a 10:90 basis in normal driving conditions, but that split can be changed to 50:50 or to as much as 90:10 as surface conditions warrant.
The base XE, which sells for $35,900 including destination charges, comes with dual-zone climate control, power moonroof and a form of torque vectoring. The latter applies light braking to the inside rear wheel when turning for more precise cornering. Optional for the Premium and Prestige trims is a premium 11-speaker Meridian-brand sound package, heated steering wheel and leather front seats, and navigation.
Premium and Prestige can also be had with the supercharged V-6 or the turbo-diesel, as can the XE R-Sport (really, a sport diesel?). It adds unique body and interior trim as well as a full range of active safety aids (such as blind-spot monitoring and forward collision alert) designed to keep you out of a crash.
The XE and the upcoming 2017 F-Pace all-wheel-drive wagon demonstrate how far Jaguar is pushing its comfort zone — normally, big and expensive cars — to make its presence felt in the market.
The best part is that the new XE is not priced for the rich and famous, but for normal people with normal needs and budgets.
Landan O'Connor, sales professional at Gaudin Jaguar of Las Vegas, said that although the dealership hasn't begun carrying the 2017 Jaguar XE, they are scheduled to receive it by the end of the month.
"A few of us got to drive it, and it was sportier and more agile than I expected," he said. "I think this car will be the dark horse. Once you drive it, you'll see that it's the best car for under $40,000 because it feels as good as our $50,000 to $60,000 cars."