September 23, 2016 - 6:30 am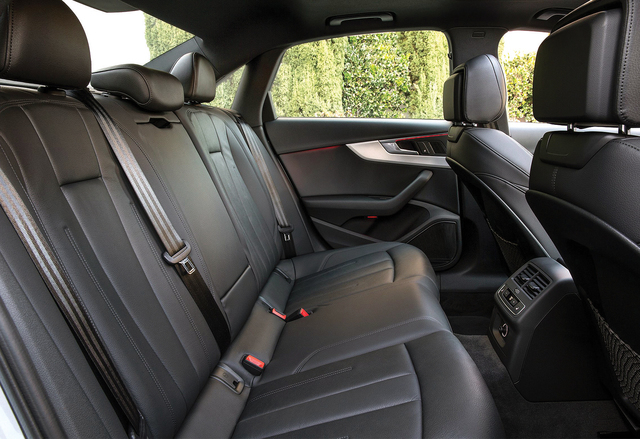 Midsize sedan shoppers can, and often do, purchase loaded-to-the-roof Toyota Camrys, Honda Accords, Ford Fusions, etc., and shell out plenty of currency for their selections. But for not a huge budget stretch, these same folks could be riding high in an entry-luxury model like the 2017 Audi A4.
The A4 and its peers aren't necessarily the smallest and/or least expensive models in their respective lineups (for example, the A3 is Audi's budget-minder). They are considered gateways to bigger and pricier rides and are frequently referred to as "sport sedans."
The latest A4 combines handsome and sporty into one tidy package. The car's sheet metal comes in for modest revisions compared to the 2016 edition, and overall dimensions have increased slightly. Still, the A4's more aggressive grille and nose, larger headlight pods (with optional LEDs) and new LED taillights help paint a prettier picture of an already attractive design.
The A4's interior appointments don't quite match the attractive exterior. Although the dashboard/control panel design is clean enough, there's nothing overly premium about the soft-touch materials or how either of two available pop-up-style touch screens are attached above the dash vents. On the plus side, the A4 is at least as spacious as its peers, and the slight increase in rear legroom is definitely welcome.
Audi also managed to prune the weight by about 100 pounds, mostly by lightening the suspension and other components.
The most significant update to the A4 is the engine. For the time being, all that's available is a turbocharged 2.0-liter four-cylinder that spools out 252 horsepower and 273 pound-feet of torque. That's up from 220/258.
The new 2.0 now outshines the base turbo four-cylinder engines belonging to the BMW 3 Series, Mercedes-Benz C-Class and Lexus IS sedans. Note that a more potent S4 offshoot of the A4 is about a year away.
A seven-speed paddle-shift transmission replaces the eight-speed automatic, while the six-speed manual is gone.
According to Audi, front-wheel-drive A4s can reach 60 mph from rest in 6.1 seconds, while versions equipped with Quattro all-wheel drive can manage 5.7. Ordering Quattro gets you a launch-control program: Put the transmission in Sport mode, push the brake pedal and then push the gas pedal to the floor. When you want to launch, lift your foot off the brakes.
Driving in a more sedate manner certainly will maximize the A4's fuel efficiency, which is rated at 24 mpg in the city and 31 on the highway (previously 21/29).
The basic A4 Premium that requires an outlay of $38,200, including destination charges, is not all that basic. Included is tri-zone climate control, leather seat covers, power sunroof, 7-inch display, eight-way power front seats, rain-sensing wipers, electric parking brake and 17-inch alloy wheels. A combination vehicle- and pedestrian-collision warning and braking system is also standard.
The midrange Premium Plus adds all-wheel drive plus fancier trim, camera-based front and rear parking assist and a 19-speaker, 755-watt Bang &Olufsen sound system.
A major distinguishing feature of the top-end A4 Prestige is what Audi calls the virtual cockpit. It consists of a 12.3-inch digital display directly in front of the driver that includes prominently displayed high-resolution images of the speedometer and tachometer (classic view) or reduced in size so that the navigation system's map, communications or entertainment functions are dominant (infotainment view).
Other prestige items include heated front seats, larger 8.3-inch touch screen mounted to the dash, around-view external camera, 19-inch wheels and a wide range of active safety technology.
For anyone considering an A4 as an alternative to a fully equipped Accord, Fusion or Camry, note that Audi sorely will temp you with numerous upgrades that will blow up the final purchase price. Stave off those urges and you'll painlessly land in a cushier lap of luxury.