Findlay Automotive supports Real Talk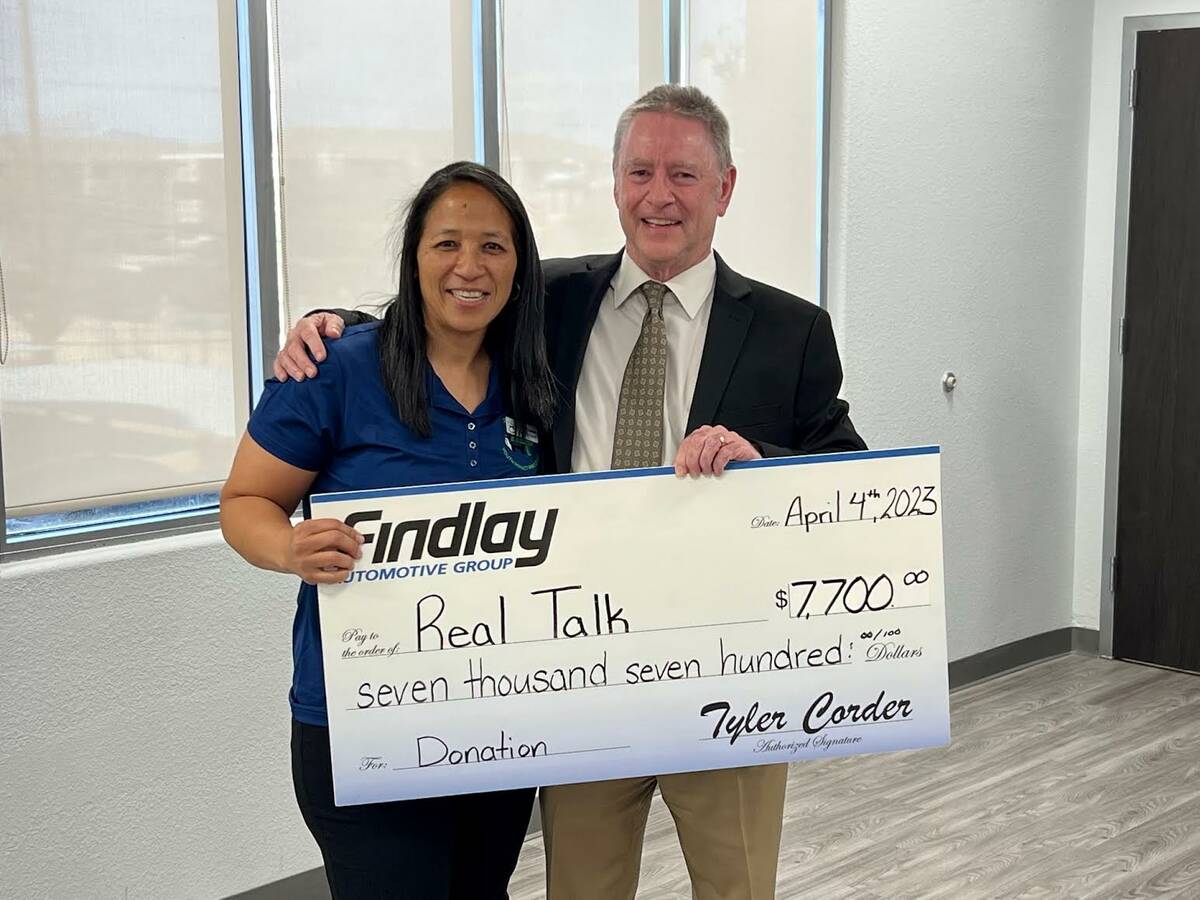 The Findlay Automotive Group has partnered with Real Talk, a Southern Nevada nonprofit dedicated to helping at-risk youth in the community.
Real Talk founder Sheree Corniel has more than 20 years in law enforcement. During that time, Corniel became intimately familiar with the penal system and the recidivism rate of children and adults who go through it. Corniel was inspired to create Real Talk, which aims to keep children from ever entering "the system" by showing them there are positive options.
For the past 10 years, Real Talk has influenced over 2,043 kids. And Real Talk has provided athletic sponsorships for youth resulting in $216,000 worth of scholarships.
Corniel said her motto is, "If you're not part of the solution, you're part of the problem." The power and influence of giving individual attention is Real Talk's goal and mission.
"We're proud to support Real Talk Youth Impact Program," Tyler Corder, CFO of Findlay, said. "Their program gives hope and opportunities to disadvantaged youth in our community. Without Real Talk, many of these young people would not have any positive influences in their lives.
"The goal is to give these kids opportunities for success and help them avoid the criminal justice system. Real Talk is a vital community asset to help kids who otherwise would have little opportunity for success in life."
Corniel is grateful for the opportunity to work with Corder and the Findlay Automotive Group.
"The donations from Findlay mean there is still hope," she said. "Having hope has led our organization to continue striving to serve more youth in our community. With Findlay's ongoing support, it helps us serve more youth and provide them with an opportunity for positive change. I believe that without opportunity, there is no change."
With programs such as parent support groups, monthly volunteer speakers and multiple community resources, Real Talk always seeks the community to be involved and help. Findlay believes in Real Talk's mission and is grateful to be part of helping at-risk youth in the community.
"The donation from Findlay will help us continue to operate without interruption and assist us with preparing for our 10th anniversary, " Corniel said. "Our goal is to continue to educate the community about our program and have citizens get involved with our organization to assist with creating responsible citizens and future leaders of tomorrow."
Real Talk is always looking for the community to get involved.
"The community can help by spreading the word, Corniel said. "We have a need for more ex-felons as speakers in our program and guest speakers who have never been in the criminal justice system to share their stories of success in their careers. In addition, financial support is always needed to sponsor a youth's extracurricular activities."
To get involved with Real Talk, visit realtalkyip.org/.
About the dealer
Findlay Automotive Group began with one location more than 60 years ago. The group now includes 35 dealerships in Nevada, Arizona, Utah, Idaho, and Washington. Learn more at FindlayAuto.com.