Findlay Customs has surpassed expectations
September 30, 2017 - 8:00 am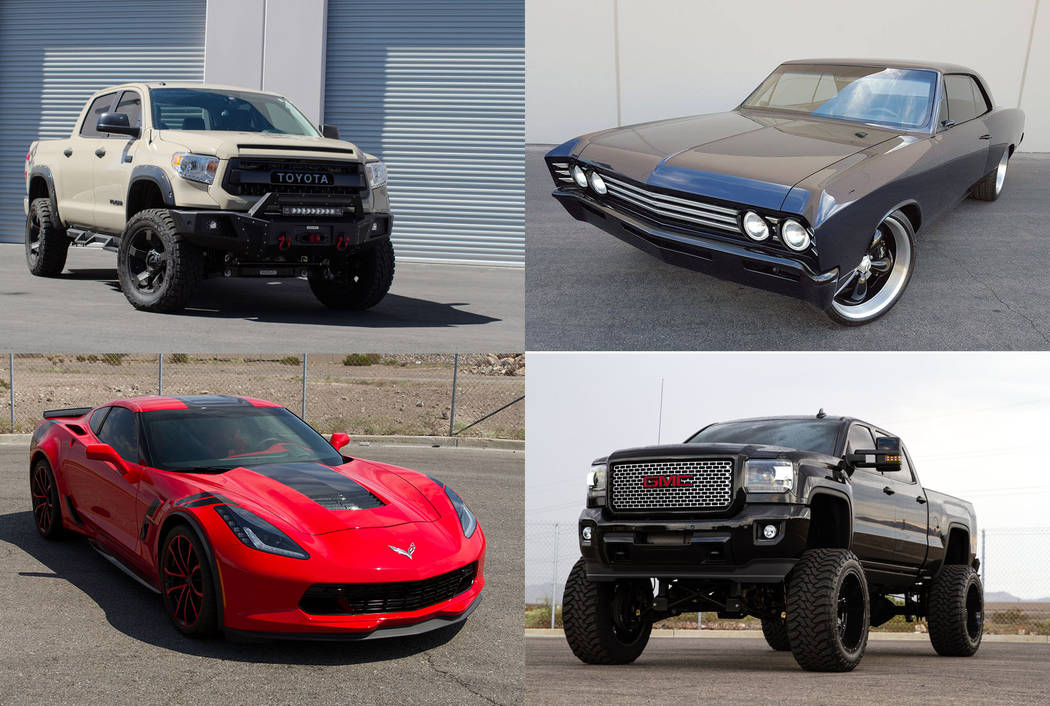 You might say that Findlay Customs General Manager Mike Austin has one of the best jobs in Findlay Automotive Group. While the chain's long line of dealerships count on Findlay Customs to provide various services and products such as window tint, clear bra protection, custom stereos, spray and bed liners, custom fabrication and exotic paint jobs, the bulk of the activity in the Valley Automall shop consists of customizing new cars, classic cars, boats, ATVs and hot rods.
"We pretty much do anything and everything to customize a vehicle," said Austin, whose shop is a buzz of activity throughout the week. "The market can be up or down, but we seem to always weather the storm."
If there is any problem with the location at 7725 Commercial Way, it may be that it's outgrowing the current building. Customizing vehicles has grown dramatically in the past few years and so has the workload at Findlay Customs.
"I am a car nut," Austin said. "My father was in the automotive industry for more than 20 years. I got started as a warranty clerk for both Honda and Acura in Spokane (Washington). Once you get this business under your nails, you can become engrossed in the work."
Especially fascinating in the custom business are the prominent individuals who have toys such as street rods, boats, ATVs, classic cars and motorcycles. Professional athletes and local casino CEOs and owners are among the many customers who utilize Findlay Customs and its "one-stop custom shop."
"You never know who's going to walk through our doors," said Austin, who has been with Findlay Automotive Group for almost 15 years. "We work on pretty much anything. If you can dream it, we can build it.
"We can custom fabricate and install almost anything. Our work is unsurpassed. We have superior design that sets Findlay Customs apart from other custom shops. Everything we have is state-of-the-art."
Austin added, "Findlay Automotive Group is a fascinating machine. It's a very tight-knit and hard-working family that never gives up, and their involvement in the community is unmatched."
Findlay Customs is co-owned by Findlay Automotive Group executive Robby Findlay, who was instrumental in bringing Findlay Customs to the Valley Automall in 2004.
"When we started Findlay Customs, it was primarily window tinting, DVD players and car alarms," said Robby Findlay, operations director of Findlay Automotive Group. "Since then, it has grown to full customization and fabrication. I go over there once a week just to see what kind of cool projects are going on. Findlay Customs is far more than we had expected when we opened."
Work is also performed by Findlay Customs in Arizona stores situated in Prescott and Flagstaff. When the economy tanked about eight years ago, Findlay Customs' workforce buckled down and weathered the storm.
For more information about Findlay Customs services or to see some of its projects, go to www.FindlayCustoms.com or call 702-869-0444.
About the dealer
Findlay Automotive Group was founded in 1961 by the late Pete Findlay, whose son, Cliff, now oversees operation of 31 dealerships in Nevada, Utah, Arizona, Oregon and Idaho.