Findlay donates more than $1.5 million in 2021
February 12, 2022 - 8:00 am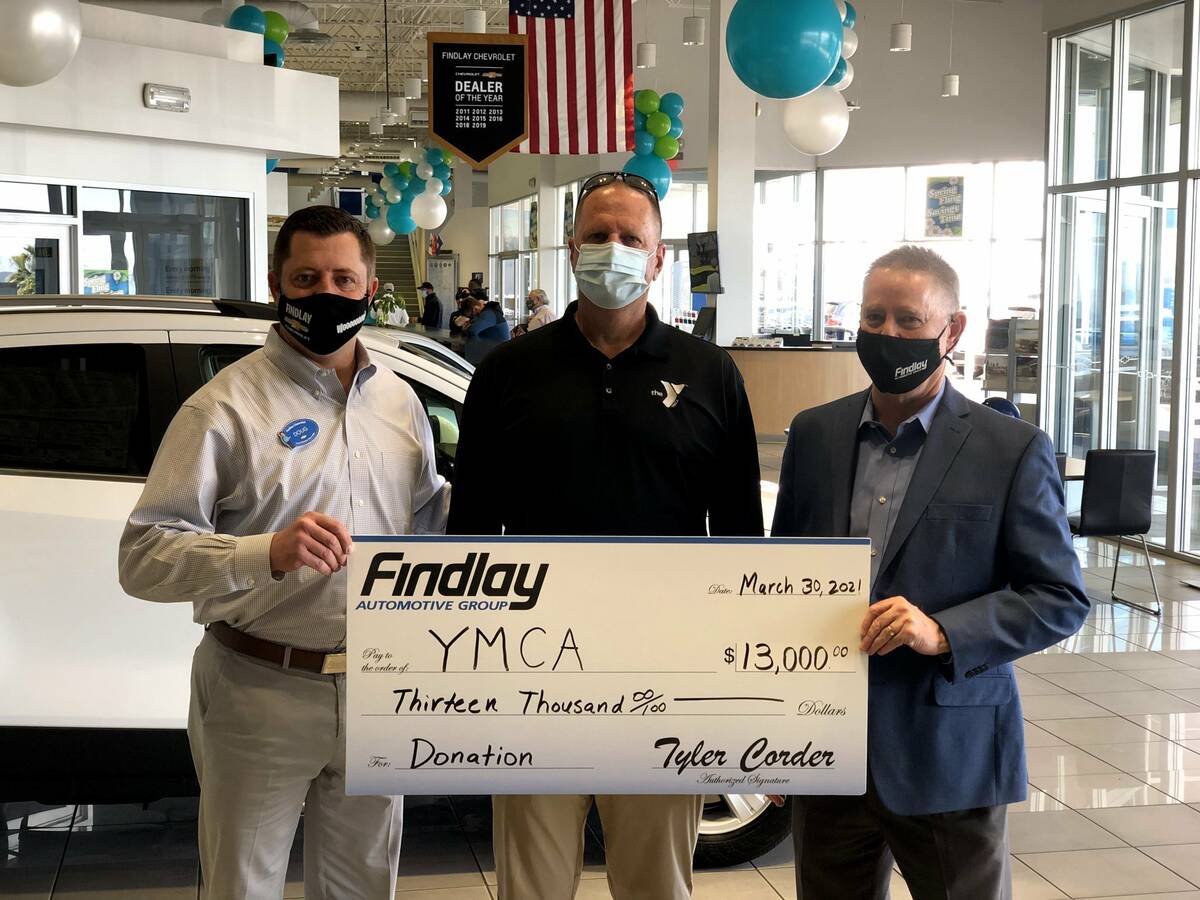 2021 is a year that will be uniquely remembered for its challenges and difficulties. However, it was also a year when organizations and people came together to help support their communities.
In 2021, Findlay Automotive collectively awarded over $1.5 million in charitable donations to various organizations across Las Vegas. Findlay is proud to be part of the Las Vegas community and has a great love and connection to its people. Even with 33 locations and over 2,300 employees, Findlay remains a family-owned and operated business, and its goal has always been to take care of its employees, customers, and the community at large.
"A core philosophy of Findlay Automotive is to give back to the communities where we operate," Tyler Corder, CFO of Findlay Automotive, said. "We hope to make the community a better place to live for both our employees and customers. The community has helped us be successful so we feel it is our responsibility to give back."
Along with the donations and volunteer hours, Findlay encourages its employees and executives to be involved with various nonprofit organizations.
For example, Chad Leavitt, chief accounting officer of Findlay Automotive, sits on the Spread the Word Nevada board. This group is dedicated to advancing childhood literacy within low-income communities by changing lives one book at a time. The organization places over 52,000 books per month in the homes of children who need them. To date Spread the Word Nevada has distributed more than 4.7 million gently used and new books to more than 515,000 low-income youth in Southern Nevada.
"Findlay Automotive has been an invaluable community partner to Spread the Word Nevada for many years," Pamela Lang, director of development, said. "Not only have they sponsored events, but Findlay was also one of three generous donors to help us purchase a brand-new delivery truck to complete its book delivery routes throughout the valley.
"Findlay also teams up with KTNV and "More" Fox 5 to raise funds and awareness through its 'If You Give a Child a Book' campaign."
Lange continued, "We are eternally grateful to Findlay Automotive Group's kind hearts and are proud to call them champions of literacy in Nevada."
Additionally, Corder is on the board for the Foundation of an Independent Tomorrow.
"The Foundation for an Independent Tomorrow is a local nonprofit dedicated to vocational training," Corder said. "The goal is to help unemployed, or underemployed, Nevadans develop the skills needed to land a good-paying job and to eliminate the need for public assistance."
Findlay Chevrolet General Manager Doug Fleming serves on the board at the YMCA.
"I was born and raised in Las Vegas, and I have always loved the Y and what it does for the community and people of all ages," he said.
Fleming has been donating his own personal time to the YMCA for years. His involvement with this community is special as YMCA's mission is to provide an inclusive organization to nurture everyone's potential, promote healthy living, and foster a sense of social responsibility.
"Findlay Automotive Group's generous contributions to the YMCA of Southern Nevada allow children, families and seniors to improve their physical health and social-emotional wellness regardless of their income or background. We couldn't do what we do without the ongoing support of Findlay Automotive," YMCA President/CEO Mike Lubbe said,
Findlay is active with organizations focusing on helping those with special needs. Sandra Findlay serves on the board of Grant a Gift Autism. Grant a Gift Autism Foundation's mission is to help children, young adults and their families live with autism by providing assessment and treatment funding, combined with support services, vocational training and transition planning.
"Every donation we've received from Findlay Automotive helps families from Southern Nevada cope with autism. We are grateful for their contribution," Peter Krauss, president and CEO of Grant a Gift Autism Foundation, said.
These are just a few examples of how Findlay team members volunteer and contribute to charities. While Findlay is pleased to have been able to support many good causes with financial donations, they feel it is equally important for its employees to be personally involved. Findlay looks forward to continuing its community support and as the organization continues growing so will their involvement.
To learn more about Findlay Automotive visit www.FindlayAuto.com