Allegiant COO, executive vice president Jude Bricker resigns
Updated May 26, 2017 - 4:23 pm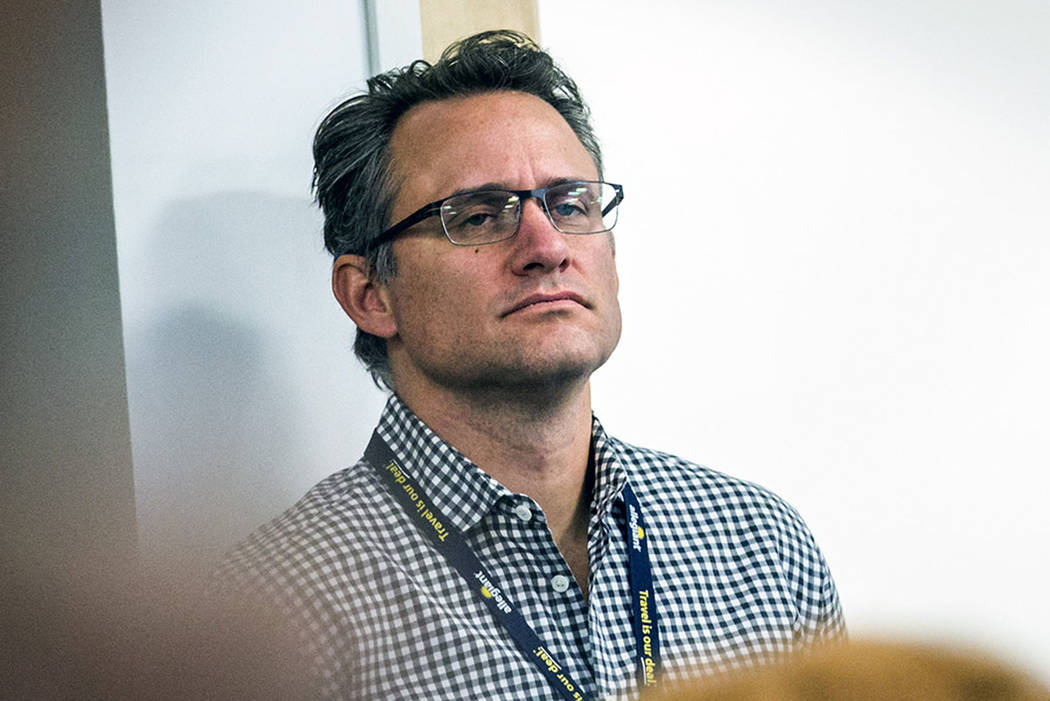 Jude Bricker resigned Friday as executive vice president and chief operating officer at Allegiant Travel Co. after working 11 years with the Las Vegas-based budget carrier, company officials said.
A reason for Bricker's departure was not provided by Allegiant executives. Scott Sheldon, Allegiant's executive vice president and chief financial officer, will temporarily fill Bricker's role until a replacement is hired.
"I'm honored to have been at the forefront of building the Allegiant model, which has provided millions of travelers an affordable, accessible means to vacation or visit loved ones, while at the same time bringing tremendous business success to the company," Bricker said in a statement released Friday afternoon.
"Looking at what we've accomplished in eleven years is amazing, and I'm humbled and proud to have served with such a talented and hard-working team of professionals every step of the way," he said. "Though I've made a difficult decision to leave Allegiant, I see a company with a future as bright as it was when I first joined the team."
Bricker was hired by Allegiant in May 2006 as the company's manager of fleet planning. He rose through the ranks in roles as director of fleet planning, vice president of corporate finance and senior vice president of planning until he was named chief operating officer in January 2016. Prior to working at Allegiant, Bricker worked at American Airlines and served in the Marines from 1996 to 2002.
Maurice Gallagher, Allegiant's chairman and CEO, said he was "deeply saddened" by Bricker's resignation.
Allegiant executives on Friday credited Bricker as a "key architect" of the company's industry-defying strategy to concentrate service at airports in small and midsize cities. When flights are canceled in these far-flung areas, travelers are sometimes forced to wait for several days until the next available plane headed to their desired destination.
During an interview with the Review-Journal last August, Bricker acknowledged the strategy has led to problems with on-time performance.
"Our reliability, which we've been very public about, has failed to meet our own expectations," Bricker said in August. "We're making all the right investments toward, what I think over time, will be a better customer experience. The important thing is that we recognize it, and we're making all the right moves to get there."
The company is in the midst of purchasing used and new Airbus A320 and A319 planes by mid-2019 while retiring its older fleet of McDonnell-Douglas MD-80 and Boeing 757 planes.
Allegiant is also expanding the company's workforce from the current 550 pilots to employing about 800 pilots by 2019. The move comes as Allegiant enacts its first labor contract reached last summer.
"His efforts were critical to achieving a contract for our pilots — the first collective bargaining agreement in company history — and to designing and implementing a fleet transition which will bring operational efficiencies and economic benefits across the organization," Allegiant president John Redmond said.
In regular trading, Allegiant shares fell 60 cents, or 0.41 percent, to $145.95. They rose slightly in extended trading.
Contact Art Marroquin at amarroquin@reviewjournal.com or 702-383-0336. Follow @AMarroquin_LV on Twitter.
"With Jude at the wheel of operations, we've seen network growth of over 200 incremental markets and world-leading profit margins," Maurice Gallagher, Allegiant chairman and CEO, said about the resignation of Jude Bricker as the company's second-in-command.