Architecture as a calling: Ed Vance's Las Vegas firm growing again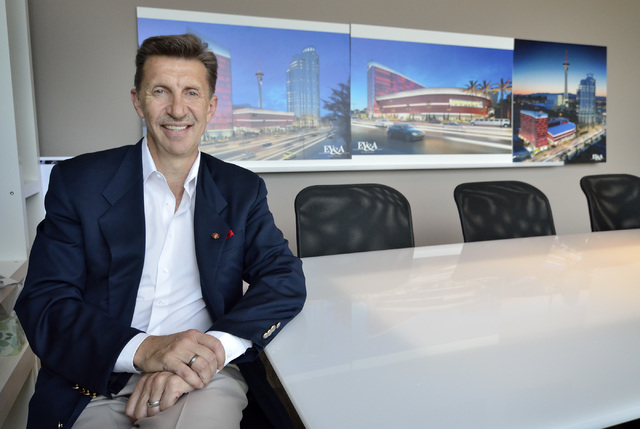 As a child, Ed Vance built tree forts and sketched drawings to express himself.
He was born in a small town in South Dakota and raised in Minnesota, where his mother — an artist — encouraged his artistic abilities.
He discovered that he had an uncanny ability for spatial recognition.
While in the ninth grade, he knew that he would become an architect.
"It wasn't my decision," he said. "I think it chose me."
Vance earned a bachelor of arts degree in 1979 from North Dakota State University, then studied in Western Europe and returned to North Dakota State University and earned a bachelor's degree in architecture.
By 1985, he was working for an architectural firm in Dallas. He helped design a $500 million high-rise office building and gained experience on large-scale projects. But his tenure in Texas was short-lived. During an economic downturn two years later, Vance followed a friend to Las Vegas.
In 2006, after more than 20 years in the industry, he founded Ed Vance &Associates Architects in Las Vegas. The firm started with five employees and grew to 30 in about two years, designing commercial buildings and office space for the health care and hospitality business.
Vance turns words into images and rotates those two-dimensional images in his mind, turning them into three-dimensional images on paper.
"For me, drawing is visual thinking," Vance said. "It allows me to communicate my ideas on paper. To not just my client but myself to say that what I'm proposing is the right thing."
But as the recession hit, projects came to a halt. By 2013, the firm had only six architects.
His firm has since rebounded, and is back to 18 employees, as the economy has improved and demand for new development has risen locally.
"It's been exciting," Vance said. "I haven't used the word growth in four years, let alone margins. It's been a blast."
Vance exudes a passion for the industry, particularly when he talks of a "Las Vegas approach to architecture," using "desert-appropriate" materials such as concrete and metal and incorporating shading devices against the unrelenting sun.
One of the firm's latest projects is the Lucky Dragon Hotel and Casino, an Asian-themed resort planned for about a block west of the Strip facing Sahara Avenue.
The 10-story, 201-room hotel is expected to connect with an 18,900-square-foot casino.
Question: What's the thought process behind your casino project just off the Strip, the Lucky Dragon?
Answer: The project will be catering toward an Asian clientele. Red is a very lucky color. We're employing as much feng shui into the project as possible. So that the flow of traffic and pedestrians is very carefully considered.
Question: Do you have a style?
Answer: We just do good architecture, that's all. Style is something that to me more or less gets in the way. If you're trying to make sure people recognize the work you do because of your style, that becomes, in my opinion, a handicap.
Question: What's it like to draw something and then see it in its physical form?
Answer: When we see our buildings go up and we see the people working in them, that's a reward that you can't even put a price tag on. To have an impact on somebody's life like that, it's beyond measure. To help them be more productive in their work or just being in a happy environment, or a healing environment. To help those people going through a very scary experience, to give them a little touch of nature, to calm them, to quiet them, to center them. It's something they weren't expecting. It's thrilling to see your building go up, yes.
Question: Why did you get into this business?
Answer: Why did it choose me? I was always taking things apart and putting them back together. It was just natural. Nothing else was an option. I loved to build things. So drawing and building, you put those two together coupled with an off-the-charts ability for spatial relationships, it's just a matter of how you see.
Question: What goes through your mind when you're designing a building?
Answer: It all begins with a client who has a need for a building of some nature. A site, in other words a piece of land, and a desire to either provide a building that's going to be leased by someone. … We coalesce all of those needs, that program, into an idea and into three dimensions, within the confines of the agencies having jurisdiction.
You've got all these code requirements that tend to act as restraints and tend to keep us from doing everything we'd love to, but they also require us to be very creative in our solutions. Then the final constraint is really budget. … You don't just start drawing and not think about what it's going to cost to build. It's a challenging profession that we find ourselves in, but I personally can't find anything else I'd rather do.
Question: When did you design your first building?
Answer: When you get out of school, clients don't seek you out to do anything too large. I did a 5,000-square-foot home with solar collectors for a woman in North Dakota in 1982.
Question: How much can the design of a building change from start to finish?
Answer: I tend to have the constraint analysis done up front before I start putting pen to paper. Then you can start to draw your initial sketches or concepts on paper. Then it just evolves from there. You come up with three or four ideas and one that tends to be your favorite.
Question: Is Las Vegas a competitive architectural city?
Answer: One of the challenges the local firms have is that we compete with the larger firms that come in from out of state despite the fact that most of our local firms are capable of doing large-scale work. The clients that come here choose to hire from firms in neighboring states. The architectural community in Southern Nevada has really matured over the years. Collectively, we can provide design services that rival anyone in the world. I always like the home-grown firms that contribute to our community, so that we keep our hard-earned dollars here at home. We're all friendly competitors. We get along well, and we share our knowledge.
Question: Is Las Vegas more challenging because of the daring architecture you see on the Strip?
Answer: If you go to New York or L.A., they provide world-class architecture. We're doing the same. Daring is not the word I would choose. World-class architecture meets the needs of our city and its end users, whoever they may be. One of my favorite buildings is the Clark County Government Center, or the Las Vegas Springs Preserve.
Question: What do you admire about the government center and the Springs Preserve?
Answer: We developed a desert-appropriate architect that is unique and appropriate for the valley. L.A., Albuquerque (N.M.), Phoenix — those have been our influences. Today, our merry band of architects here has really matured and (we have) found our own voice.
Question: Do you have a favorite project in Las Vegas or one that you're proudest of?
Answer: My partner and I designed our own office building, which we're still owners of. But my favorites aren't really that important. My favorite project is always the next one.
Question: Who are your architectural influences?
Answer: The thing that influences me the most is just good architecture. And it could come from the most famous architect in the world to the least- known. It doesn't matter.
Question: What are your goals for the company?
Answer: Sustainability. Our health care studio is growing. I added a vice president recently. He excels within the health care sector, understanding all the regulations and guidelines. Bringing on more key staff for the firm not only to do more quality work but to acquire and maintain our existing clients and acquire new clients so the company is sustainable. And then to continue having fun doing what we do.
Question: What do you do that makes it fun?
Answer: We do meaningful things. We do meaningful work, and no project's ever the same. We are a combination of artists and technicians. That's really the bridge that architecture provides. We have to be technically savvy as well as artful. We have constraints where artists don't. I bring my dog (a shih tzu named Pepper) in every day so that kind of softens the environment. He grew up here. He's just kind of part of the family.
Contact reporter David Ferrara at 702-387-5290 or dferrara@reviewjournal.com. Follow @randompoker on Twitter.