Atari founder inducted into Amusement Expo International Hall of Fame
Updated March 31, 2023 - 4:22 pm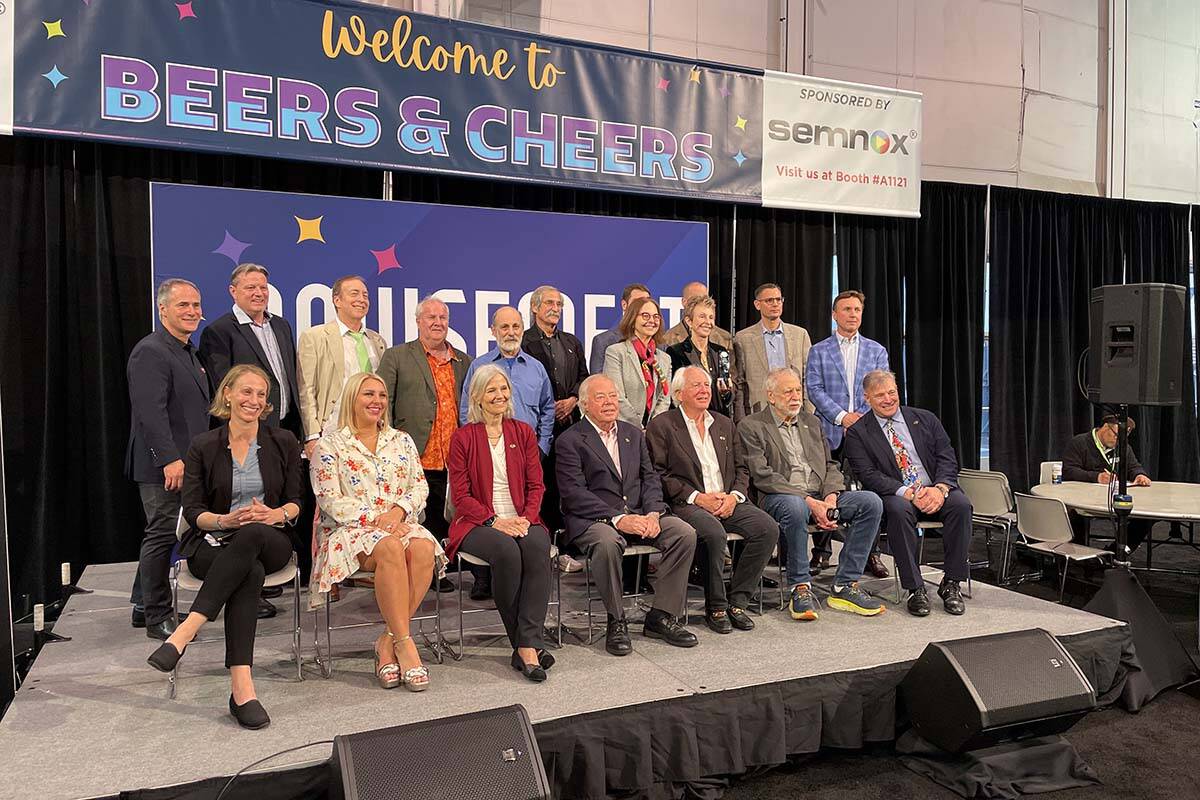 When Nolan Bushnell founded Atari in 1972, few people could have imagined the impact the company would have. But Bushnell had a feeling that the gaming industry was exactly where he needed to be.
"When you're young and dumb, it's always difficult to predict the future, but I knew that games were going to be a part of my DNA forever in a lot of different forms," Bushnell said.
Time has proven that correct. Atari became one of the biggest and most influential gaming companies in history and Bushnell continues to work in the industry. Over the years, Bushnell also founded Chuck E. Cheese family entertainment centers and is considered by many to be the "father of electronic gaming."
The industry veteran was honored during the Amusement Expo International's inaugural Hall of Fame induction ceremony on Tuesday.
"I have a very good fondness for coin operated and the public space business," Bushnell said. "It's really where Atari was founded. We started in coin op long before consumer (home game systems were) even possible, and so this group of people are my friends and to be honored by your friends is always better than being honored by a bunch of strangers."
'Living legend'
Bushnell was one of 10 individual members inducted, along with six legendary entities/products and 21 legacy inductees.
"I've known Nolan since I was 15 when my dad was a distributor and sold his product," fellow inductee Joe Kaminkow said. "With the exception of Ralph Baer, who made the first home game or video game, Nolan created the modern video game that we play in the arcade. He is truly the living legend we all bow down to."
While honored by the induction, Bushnell is still going strong. He is working on multiple projects, including ExoDexa, which aims to gamify learning in schools.
"It turns out that people who play games have stronger brains than people who don't," Bushnell said. "Games exercise your brain. I'm getting older so you worry about dementia and things like that. If you exercise your brain, you can kind of put off some of that stuff."
And, he added, "Kids who play games tend to do better in school. They just have better brains."
While Kaminkow may describe Bushnell as a living legend, he is accomplished in his own right.
With four decades of experience, Kaminkow is a member of four different Halls of Fame. Among his numerous accomplishments include c0-founding Data East Pinball, which was eventually required by SEGA; revolutionizing the slot industry at IGT through game design and use of licensed game and entertainment titles; founding Spooky Cool Labs, which was sold to Zynga; and serving as a senior advisor for Aristocrat Technologies.
"It was so special to be recognized for my contributions over multiple decades in an industry," Kaminkow said Thursday. "More importantly, to be recognized with the pillars of the industry. This industry has been around for a long time and, until yesterday, we hadn't taken the time to recognize the foundation of our business. Hundreds of millions of people throughout their lives have played coin operated, pinball and video games. It's very important."
On the upswing
The Amusement Expo International, which wrapped up on Wednesday, showcased the latest in amusement machines, ranging from arcade cabinets to virtual reality.
Las Vegas resident Brandon Pertile, who works for Ares Technology, attended the show for the first time.
"It's been cool to see all the different games," Pertile said. "I like all the VR stuff. My company works with some of the coin pushers and claw manufacturers, so getting to see all the different variations of that has been fun as well."
Virtual reality in particular was impressive, he said.
"It's cool to see where VR has come," Pertile said. "I haven't really seen those machines for quite awhile and it's crazy to see the technology advancements."
After a few difficult years due to the pandemic, this year's show reinforced that not only are coin-operated games, pinball machines and video games returning in full force, they are experiences you can't replicate at home.
"Like a lot of companies, businesses really went through a lot of pain throughout the COVID era," Kaminkow said. During that time, he said, family entertainment centers and movie theaters — places you play games — closed down, and people started buying more games for their home.
"But it's good to see the business side on the rebound," Kaminkow said. "There's a lot of creativity and a lot of really immersive games that you can't do at home."
Contact Lukas Eggen at leggen@reviewjournal.com. Follow @LukasEggen on Twitter.
AAMA honors inaugural class of Amusement Industry Hall of Fame
The American Amusement Machine Association on Wednesday inducted 31 individuals and six legendary products/games into the inaugural class of the Amusement Industry Hall of Fame in Las Vegas.
"Each has made a positive and lasting difference to our business of fun," according to a news release from the Cary, Illinois-based AAMA.
The six legendary products inducted into the Hall of Fame are:
— The Wurlitzer 1015 Juke Box
— Donkey Kong by Konami
— Space Invaders by Taito
— PacMan by Namco
— Skee Ball, originally manufactured by Skee Ball, Inc. and today by Bay Tek Entertainment
— The Touchtunes Juke Box
Ten living individuals were inducted during the ceremony, along with 21 Legacy Inductees who are no longer alive.
Current HOF Inductees
— David Rosen – Co-founder of Sega
— Jules Millman – Creator of the Mall Arcade with Aladdin's Castle
— Eddie Adlum – Founder of Replay Magazine
— Gary Stern – Co-founder of Data East Pinball and Stern Pinball and Co-Founder of the AAMA
— Nolan Bushnell – Founder of Atari, Chuck-e-Cheese and Sente
— Elaine Hodgson – Co-founder of Incredible Technologies
— Richard Ditton – Co-founder of Incredible Technologies
— Eugene Jarvis – Creator of some of the best video games ever made while a game designer with
Williams Electronics, and founder of Raw Thrills.
— Joe Kaminkow – Game design engineer with Williams Electronics, co-founder of Data East
Pinball, which became Sega Pinball. He is widely credited with the return of licensing pop-culture movies, plays, and musical acts for amusement games.
— Malcolm Steinberg – Founder of LAI Games, Embed, and Time Zone Family Amusement Centers
Legacy Inductees
— David Rockola – Founder of Rockola Juke Boxes
— Harry Williams – Founder of Williams Manufacturing
— Bill O'Donnell, Sr. – President of Bally Manufacturing
— Hank Ross – Co-Founder of Midway Manufacturing
— Marcine "Iggy" Wolverton – Co-founder of Midway Manufacturing
— JP Seeburg – Founder of Seeburg Juke Boxes
— Lynn Durant – Founder of United Manufacturing
— Michael Kogan – Founder of Taito
— Ray Maloney – Founder of Lion Manufacturing, which became Bally Manufacturing
— George Miller – Founder of the AMOA
— Marty Bromley – Co-Founder of Sega
— Ralph Coppola – Founder of Innovative Concepts in Entertainment
— Dave Corriveau – Co-founder of Dave and Busters
— Buster Corley – Co-founder of Dave and Busters
— Joe Robbins – Executive with Empire Distributing, Atari, and a co-founder of the AAMA
— David Gottlieb – Founder of Gottlieb Pinball
— Chuck Milhem – President of Valley Manufacturing Co. and founder of the VNEA
— Earl Feddick – Founder of Valley Pool Tables
— Masaya Nakamura – Founder of NAMCO and the leader of the company when PAC-MAN was
introduced
— Sam Stern – Co-owner of Williams Electronics and founder of Stern Electronics
— Humbert "Bert" Betti – Founder of H. Betti Industries