Big banks entering payday loan fray
September 11, 2011 - 1:00 am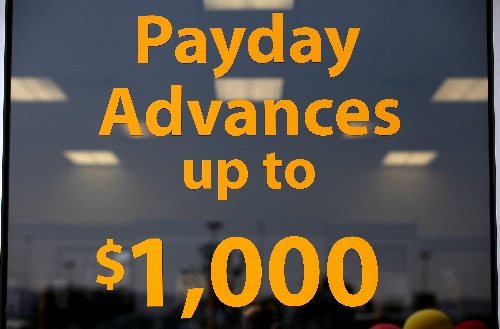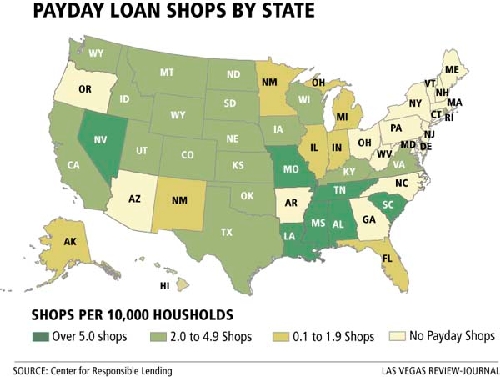 Payday loans, traditionally offered by check cashing stores with names like Advance America, Dollar Loan Center or Check City, have gone mainstream. Known for interest rates that can run as high as 391 percent and short repayment periods, these loans are now available at your local bank.
They might be marketed under a different name, but Wells Fargo & Co. and U.S. Bank are now offering the loans by letting customers borrow against their paycheck — for a fee.
Consumer advocates say these loans are similar to those typically offered to low- to moderate-income customers by lenders such as Advance America or Dollar Loan Center.
Those in the industry say the spread of the high-interest loans are a fact of life in the Great Recession.
"There is a growing need for access to short-term credit," said Jaime Fulmer, an Advance America spokesman. "Credit unions and banks offering short-term loans is a reflection of consumer demand."
Because borrowers who use payday loans are often struggling to make ends meet, it's common for them to seek another loan by the time of their next paycheck. Critics say this creates a cycle where borrowers continually pay mounting fees to stay afloat.
But banks offering "direct deposit loans" say they're intended for emergencies and come with safeguards to prevent borrows from being crushed by the short-term rates.
"We have been offering these loans for a while," said Richele Messick, a Wells Fargo spokeswoman. "To be eligible, you have to be an established Wells Fargo checking customer with recurring direct deposit or a tax refund."
Messick said Wells Fargo needs to know that there is money coming in from a job or a an annual tax return so the customer can repay the loan.
She said the bank doesn't advertise this service, but does have information posted on its website.
Nevada's relaxed regulatory environment makes it a leader in the nontraditional lending industry. The Center for Responsible Lending estimates that Nevada has more than five payday loan shops per 10,000 households.
As of Sept. 2, there were 582 lending businesses registered with the state, according to the Nevada Department of Business and Industry. The state's list includes check cashing businesses, along with those offering deferred deposit, high interest rate loans and title loans, but excludes banks.
PAYDAY FEES
Nevada limits payday loans to no more than 25 percent of expected gross monthly income and a maximum term of 60 days. However, there's no limit on the finance rate. Finance charges for a 14-day, $100 loan are unlimited.
At Advance America, a customer pays $18.50 to borrow $100.
Both Dollar Loan Center and Wells Fargo charge $7.50 for every $100 borrowed, which amounts to a 261 percent annualized interest rate over a typical two-week pay cycle. The bank automatically deducts the advance and fee from the next deposit.
Messick said Wells Fargo also limits customers to borrowing no more than half their direct deposit amount, and no more than $500.
"This is an expensive form of credit that is designed to be a short-term loan," Messick said. "We don't want them to use this to try and solve their long-term financial situation."
Wells Fargo customers can max out their loans continually for as long as six months before they're cut off. She said after a one-month break, they can resume taking advances. The bank operates 82 branches in the Las Vegas area.
U.S. Bank, with 70 locations in Southern Nevada, offers similar loans and restrictions. The bank charges $10 for every $100 borrowed, with a $500 limit.
Debate over cash advances reached a new level in June after the Office of the Comptroller of the Currency, which regulates national banks, proposed guidelines for banks making such loans. The agency found that some practices associated with these loans "raise operational and credit risks and supervisory concerns."
The office warns banks not to automatically enroll customers and says they should limit repeat loans while clearly disclosing fees. The agency also cautioned against "steering customers who rely on direct deposit of federal benefits payments as their principal source of income to deposit advance products."
The growth of nontraditional financial products comes as the banking industry searches for new revenue streams. Congress last year moved to rein in big money makers such as overdraft fees that brought in $37.1 billion in 2009, before declining to $35.4 billion last year, Moebs Services Inc. reports.
A cap on interchange fees, the payment merchants make to banks to process customer debit card transactions, is scheduled to go into effect Oct. 1. The new maximum fee of 21 cents, down from the current average of 44 cents, is expected to cost banks $16.2 billion.
LOCAL CREDIT UNIONS OPT OUT
Credit unions have also entered the payday loan business. In September 2010, the National Credit Union Administration raised the annual interest rate cap to 28 percent from 18 percent for members that offer these loans.
According to NCUA guidelines, payday loans are a voluntary program and customers must be given at least one month to repay. Credit unions cannot make more than three of these loans to a single borrower in a six-month period.
More than 500 credit unions nationwide offer payday loans. None are in Las Vegas, according to the NCUA.
Wayne Tew, president and CEO of Clark County Credit Union, is no fan of the expensive, short-term loans.
"I'm concerned offering payday lending smacks of desperation," Tew said. "I understand that if we don't offer it, someone will fill that gap."
But, he said, a credit union's mission isn't strictly to make money. They also should help meet the financial needs or wants of members.
Brad Beal, president and CEO of Nevada Federal Credit Union, said his institution doesn't currently offer the loans, but "there is a need for it in our community. No question about it."
Beal said Nevada Federal got out of the payday business a couple of years ago because the "risks were a bit too steep."
Known as ADVANCpay, Nevada Federal would offer loans of up to $500 for up to two weeks for a $40 fee.
SOME STATES CAP LOANS
The Center for Responsible Lending typically warns against borrowing at interest rates higher than 36 percent per year. That's the maximum allowed by 16 states and the District of Columbia and by the U.S. Department of Defense for loans to active-duty military.
Fulmer said Advance America won't offer payday loans to military personnel because of the rate cap.
The cap amount — $1.38 for a two-week $100 loan — wouldn't be enough to support the company's brick-and-mortar operations, he said.
Arizona was among the 16 states that capped annual interest rates for all loans at 36 percent. A decade-old law allowing payday loans expired June 30, 2010, and the Legislature declined to extend it.
"We've seen a constant demand for our products," Fulmer said. "We've also seen a shift in the demographics of our average client. A couple of years ago, the average client's median income was $41,000 to $43,000. Now it's $48,000 to $50,000."
He attributed the shift to the economic recession, a tightening of credit and consumers having a tougher time making ends meet.
"We fit a niche," Fulmer said. "We give consumers access to loans when they find themselves with a short-term financial problem."
Contact reporter Chris Sieroty at csieroty@reviewjournal.com or 702-477-3893.
Here is a comparison of short-term credit options and rates offered by non-traditional lenders and banks:
Payday Advance: Unsecured and short-term, generally under $500 and typically due on the borrower's next payday. The fee is usually $15 per $100 borrowed; 391 percent applied APR.
Wells Fargo Direct Deposit Advance: A cash advance for customers who do direct deposit. The fee is $7.50 for $100 borrowed; 261 percent applied APR.
U.S. Bank Checking Account Advance: A cash advance for checking customers with direct deposit. The fee is $2.00 for every $20 borrowed; 120 percent applied APR.